Moral Combat: Good and Evil in World War II (Paperback)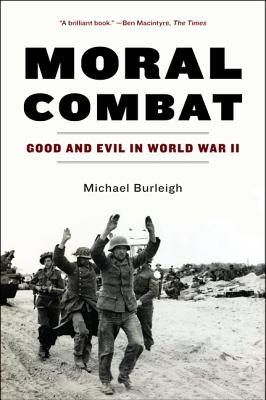 $18.99
Email or call for price.
Description
---
"Magnificent. . . . Seldom has a study of the past combined such erudition with such exuberance." —The Guardian 
"No-one with an interest in the Second World War should be without this book; and indeed nor should anyone who cares about how our world has come about." —The Daily Telegraph 
Pre-eminent WWII historian Michael Burleigh delivers a brilliant new examination of the day-to-day moral crises underpinning the momentous conflicts of the Second World War. A magisterial counterpart to his award-winning and internationally bestselling The Third Reich, winner of the Samuel Johnson prize, Moral Combat offers a unique and riveting look at, in the words of The Times (London), "not just the war planners faced with the prospect of bombing Dresden or the atrocities of the Holocaust, but also the individuals working at the coalface of war, killing or murdering, resisting or collaborating."
About the Author
---
Michael Burleigh is the author of Earthly Powers, Sacred Causes, and The Third Reich: A New History, which won the Samuel Johnson Prize for Nonfiction. He is married and lives in London.
Praise For…
---
"A bold, blunt, and sometimes beautiful defense of morality in history . . . . Mr. Burleigh poses the moral questions to the people that mattered at the great turning points of a vast war."
— Timothy Snyder, The Wall Street Journal

"Chilling. . . . A deeply researched and vividly written book."
— The Cleveland Plain Dealer

"This is a superb work of scholarship with fresh insights on nearly every page that will likely leave the reader asking hard and troubling questions long after finishing it. . . . An exceptionally important book."
— The Christian Science Monitor

"Burleigh has written a powerful, gripping book that will be essential reading for an understanding of World War II. It is worthy of anyone's attention who is interested in that war."
— The Washington Times

"Burleigh serves up an array of new interpretations which is not simply a new overview of the war, but rather an examination of the prevailing moral sentiments of entire societies and their leaderships."
— The Tucson Citizen

"Michael Burleigh has long been one of our foremost writers on the importance of ethics in history, and in this deeply researched, closely argued and well-written analysis of the moral issues thrown up by the Second World War he has reached the zenith of his career."
— Andrew Roberts, National Review