A Tale of Two Castles (Paperback)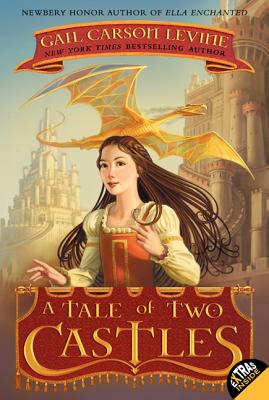 $6.99
Usually Arrives in Store in 1-5 Days
Summer 2011 Kids' Next List
---
"Fourteen-year-old Elodie leaves the family farm to gain an apprenticeship in the bustling city of Two Castles. Her parents tell her to apprentice to a weaver, but she wants to act. But by the end of her first day, she has been robbed by a cat, run into a shape-shifting ogre, and becomes an apprentice -- to a dragon! Levine turns fantasy conventions upside down in this surprising, charming, and fun tale, and, like Elodie, the reader finds that good and evil are sometimes not easy to tell apart, and that both friends and enemies can come in every shape and size."
— Jocelyn Koehler, Boswell Book Company, Milwaukee, WI
Description
---
Mysteries abound, especially in two castles. . . .
Elodie journeys to the town of Two Castles to become a mansioner—an actress—but the master of the troupe turns her away. The only one who will take Elodie in is Meenore, a dragon who happens to be a brilliant detective. To crack Meenore's newest case, Elodie goes undercover on a dangerous mission within an ogre's castle. There, disguised as a kitchen maid, Elodie plays the role of a lifetime, pitted against a foe intent on murder.
About the Author
---
Gail Carson Levine's first book for children, Ella Enchanted, was a Newbery Honor Book. Levine's other books include Ever, a New York Times bestseller; Fairest, a Best Book of the Year for Publishers Weekly and School Library Journal, and a New York Times bestseller; Dave at Night, an ALA Notable Book and Best Book for Young Adults; The Wish; The Two Princesses of Bamarre; A Tale of Two Castles; and the six Princess Tales books. She is also the author of the nonfiction books Writing Magic: Creating Stories That Fly and Writer to Writer: From Think to Ink, as well as the picture books Betsy Who Cried Wolf and Betsy Red Hoodie. Gail Carson Levine and her husband, David, live in a two-centuries-old farmhouse in the Hudson Valley of New York State.
Praise For…
---
"A thoroughly delicious romp from the author of Ella Enchanted. The plot is winningly unpredictable, the characters easy to relate to, the humor subtle and the action well-paced. Newbery Honor-winner Levine has once again breathed new life into old stories."
— Kirkus Reviews (starred review)

"Readers are certain to be pulled, like Elodie herself, right into the midst of the rich and swirling life of Two Castles."
— School Library Journal

"Levine's strength lies in her transparent language and the candid, uncomplicated voice of her narrator, who brings younger readers along with her as she questions assumptions, grows in friendship, works out the mystery, and makes brave escapes."
— The Horn Book

"With a faint echo of Puss in Boots, [Levine] crafts a persuasive fantasy realm and a capable heroine. Readers should enjoy watching Elodie hone her powers of deduction to unravel the mystery of the ogre's sudden disappearance, and will likely anticipate further sleuthing adventures with this companionable duo."
— Publishers Weekly

Praise for Ever: "The power of love and courage to overcome seemingly impossible odds and to bridge ostensibly untraversable differences are at the heart of this compelling, intensely satisfying fantasy."
— School Library Journal (starred review)

Praise for Ever: "Levine's (Ella Enchanted) original mythological tale works as romance, adventure and exploration of faith. [She] conducts a riveting journey, offering passion and profound pondering along the way."
— Publishers Weekly (starred review)

Praise for Ever: "An action-packed love story set in an elaborate, challenging world, this richly imagined story will engage fantasy and romance readers alike."
— Booklist

Praise for Ever: "The striking beauty of the Mediterranean-like landscape sets the stage for heroic quests and romantic picnics, adding atmosphere to this compelling tale."
— Bulletin of the Center for Children's Books

Praise for Ever: "Strong and good."
— Kirkus Reviews

Praise for Fairest: "Readers will instantly fall in love with the heroine, whose heart proves to be as warm as her voice."
— Publishers Weekly (starred review)

Praise for Fairest: "Readers will enjoy the fairy-tale setting while identifying with the real-life problems of living in an appearance obsessed society. A distinguished addition to any collection."
— School Library Journal (starred review)

Praise for Fairest: "[Readers will] sink into the fairy-tale romance, the remarkable characters, and the wild, magical adventures."
— ALA Booklist

Praise for Fairest: "A song-filled, fast-paced fairy tale."
— Kirkus Reviews

Praise for Ella Enchanted: "This refreshing take on one of the world's most popular fairy tales preserves the spirit of the original but adds plenty of humorous twists and a spunky, intelligent female lead."
— Kirkus Reviews (starred review)

Praise for Ella Enchanted: "A thoroughly enchanting novel that deepens and enriches the original tale."
— School Library Journal (starred review)

Praise for Ella Enchanted: "As finely designed as a tapestry, with a heroine so spirited that she wins readers' hearts."
— Booklist (starred review)