The Eyes of Willie McGee: A Tragedy of Race, Sex, and Secrets in the Jim Crow South (Hardcover)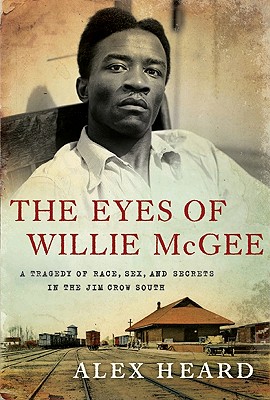 $26.99
Email or call for price.
Description
---
In this gripping saga of race and retribution, Alex Heard (editorial director of Outside magazine) tells a moving and unforgettable story of the deep South that says as much about Mississippi today as it does about the mysteries of the past. In doing so, he evokes the bitter conflicts between black and white, north and south in America.
About the Author
---
Alex Heard is the editorial director of Outside magazine. He has worked as an editor and writer at The New York Times Magazine, Slate, Wired, and The New Republic, and is the author of Apocalypse Pretty Soon. He lives in Santa Fe, New Mexico.
Praise For…
---
"Alex Heard, a veteran journalist who grew up in Mississippi, uncovers a story that is a good deal more intriguing than Harper Lee's iconic Southern novel. . . . He surrounds the legal narrative with a rich and knowing context of historical truths. . . . Heard has produced a book that, in arresting prose, captures a significant slice of the past and a case whose verdict was all but preordained."
— Michael Kazin, The Washington Post

"The Eyes of Willie McGee should be must reading for serious students of 20th century U.S. history. . . . A vivid, and essential, story of a rape trial and conviction, lynch mobs and complex personal relationships."
— Chicago Tribune

"A complicated, emotionally charged story. . . . Journalist and Mississippi native Alex Heard tells in fascinating detail how this small-town trial snowballed into a landmark battle of the burgeoning civil rights movement. . . . Heard is a great storyteller and a meticulous historian."
— Mother Jones

"The case of Willie McGee is an enduring mystery, but there's no doubt he was the victim of a primitive and unfair judicial system. Alex Heard's excellent account of his life and death is tragic, sad, and very compelling."
— John Grisham, author of The Innocent Man

"In this gripping story of a world at once remote yet painfully familiar, Alex Heard has crafted a memorable narrative of a civil rights case that deserves a larger place in American memory."
— Jon Meacham, author of American Lion

"In this riveting personal journey, Alex Heard explores the political and social forces at play and then reveals the fascinating human drama underneath it all. It's like a real-life To Kill a Mockingbird, but with even more subtlety and complexity."
— Walter Isaacson, author of Einstein

"The Eyes of Willie McGee re-creates a drama of race, class, crime, and politics that helped set the stage for both the McCarthy Era and the civil rights revolution. Heard's story reads like "Radical Chic" in 1940s Mississippi. It's a gripping, disturbing treat."
— Jacob Weisberg, author of The Bush Tragedy

"A stout argument can now be made that the execution of Willie McGee in 1951 launched the civil rights movement. A stunning narrative achievement based on a bevy of new documentary evidence. Essential reading for all Americans."
— Douglas Brinkley, author of The Great Deluge

"The story of Willie McGee was one of the most haunting cases to come out of the forcibly segregated, violence-ridden South in its time. Alex Heard uses McGee's story to shed light on an America we'd like to forget—a time when mob rule and lynching prevailed. A magisterial book."
— Susan Brownmiller, author of Against Our Will

"Alex Heard has peeled back the tarp on the American South ten long years before Rosa Parks boarded the bus. Willie McGee is the epicenter of an addictive mystery that draws you in even as it repels you. This is an extraordinary book."
— Mary Roach, author of Stiff

"Heard succeeds impressively. . . . Through gritty, precise reporting, he reveals the human cost of mob violence and 'legal lynchings' in Mississippi. . . . Heard tells of those who fought against lynchings and of those who died in their midst. . . . A rich narrative."
— New York Times Book Review