The Family Fang: A Novel (Hardcover)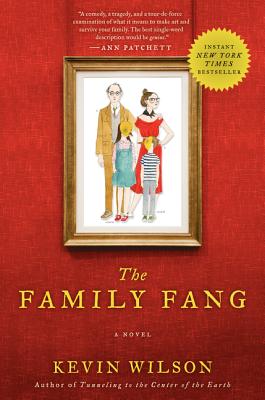 $23.99
Email or call for price.
August 2011 Indie Next List
---
"If Salinger's fabled Glass siblings had been raised by avant-garde 1980's performance artists they might have turned out like Annie and Buster - Child A and Child B in their parents' performance art happenings. All families are odd in their own ways, and Kevin Wilson simply amplifies the confusion that all parents induce in their children. I loved the fringe art world setting with its weird blend of humor and discomfort, but the very familiar quest of adult children coming to grips with the legacy of flawed parents is at the hear of this funny, disquieting novel."
— Robert McDonald, The Book Stall At Chestnut, Winnetka, IL
Description
---
NEW YORK TIMES BESTSELLER • NAMED ONE OF THE TEN BEST BOOKS OF THE YEAR BY TIME, PEOPLE, SALON, AND ESQUIRE
"The Family Fang is a comedy, a tragedy, and a tour-de-force examination of what it means to make art and survive your family….The best single word description would be brilliant."
—Ann Patchett, author of Bel Canto
A funny, poignant, laugh-and-cry-out-loud (sometimes at the same time) novel about the art of surviving a masterpiece of dysfunction. Meet The Family Fang, an unforgettable collection of demanding, brilliant, and absolutely endearing oddballs whose lives are risky and mischievous performance art. Basis for the major motion picture starring Nicole Kidman, Jason Bateman and Christopher Walken.
Annie and Buster Fang have spent most of their adult lives trying to distance themselves from their famous artist parents, Caleb and Camille. But when a bad economy and a few bad personal decisions converge, the two siblings have nowhere to turn but their family home. Reunited under one roof for the first time in more than a decade and surrounded by the souvenirs of their unusual upbringing, Buster and Annie are forced to confront not only their creatively ambitious parents, but the chaos and confusion of their childhood.
"It's The Royal Tenenbaums meets Who's Afraid of Virginia Woolf? I'd call The Family Fang a guilty pleasure, but it's too damn smart….A total blast."
—Hannah Pittard, author of The Fates Will Find Their Way
About the Author
---
Kevin Wilson is the author of the novels The Family Fang, a New York Times bestseller adapted into an acclaimed film starring Nicole Kidman, and Perfect Little World, as well as the story collections Tunneling to the Center of the Earth, winner of the Shirley Jackson Award, and Baby, You're Gonna Be Mine. He lives in Sewanee, Tennessee, with his wife and two sons.
Praise For…
---
"[A] delightfully quirky novel…completely relatable."
— People, Top 10 Books of 2011

"In his debut novel, Kevin Wilson expertly navigates between pathos and black comedy while negotiating a smart debate about the human cost of sacrificing all for one's art. Fang has bite but is also incredibly fun."
— Time magazine, Top 10 Fiction Books of 2011

"Wilson writes stylishly...but his real skill is...building up a slow-drip mystery....And [this] isn't the kind of book you [can] set aside....(I'm looking at you, Swamplandia!) It's the kind of book in which you need to know what happens...It's not what you think."
— Esquire, 10 Best Books of 2011

"First-time novelist Wilson mixes dire humor and melancholy in this satirical portrait of the uniquely dysfunctional Fangs––husband-and-wife performance artists Caleb and Camille and their children, Annie and Buster—and offers a scathing critique of how the baby-boom generation maltreated Gen X."
— Booklist Top Ten First Novels of 2011

"This book was my favorite for the sheer force of its creativity… powerful, funny and deeply strange. You won't read anything else like it."
— Ann Patchett's Favorite Books of 2011 on Salon.com

"A wacky, wonderful debut about a performance artist couple and their long suffering kids."
— People

"My favourite novel so far this year: Kevin Wilson's THE FAMILY FANG. Funny, smart, ingenious, moving, altogether great. Just buy it."
— Nick Hornby

"Wilson writes with the studied quirkiness of George Saunders or filmmaker Wes Anderson, and there's some genuine warmth beneath all the surface eccentricity."
— Entertainment Weekly

"What can you say for a novel about performance artists that begins "Mr. and Mrs. Fang called it art. Their children called it mischief"? ... That it's totally weird, and pretty wonderful. Most of all, that it manages to be brainy without sacrificing heart."
— O, the Oprah Magazine

" [A] revitalizing blast of original thought; robust invention; screwball giddiness.... a family story that's out-of-the-box, and funny, and, also, genuinely moving. Wilson's inventive genius never stops for a rest break.... [a] strange and wonderful novel...that will linger in your mind long after."
— NPR.org

"Irresistible…This strange novel deserves to be very successful…. Wilson's trim and intriguing narrative [captures] the selling out of one's life and children for the sake of notoriety…. I'd love to be able to see Annie's movies and read Buster's books, but I'll settle for being Wilson's fan instead."
— Time magazine

"A proud descendant of the Sycamores in Kaufman and Hart's You Can't Take It With You....[T]he poignant truth...beneath the humor of this peculiar family: Our crazy parents' offenses sometimes loom so large that we don't realize just what they did for us until it's too late."
— Washington Post

"Wilson's writing has a Houdini-like perfection, wherein no matter how grim the variables, each lovely sentence manages to escape with all its parts intact…Wilson keeps his plot moving swiftly enough to keep readers absorbed. And those sentences are really something."
— Boston Globe

"This is not another novel about an educated upper-middle-class family wracked with dysfunction beneath the surface. Ma and Pa Fang, Camille and Caleb, are oddballs for all to see."
— New York Post

"Inventive and hilarious. This is complex psychological ground, and the 32-year-old Mr. Wilson navigates it with a calm experience that his tender age shouldn't allow."
— Wall Street Journal

"Great art is difficult, Caleb Fang likes to say, but with this wonder of a first novel, Kevin Wilson makes it look easy."
— Los Angeles Times Magazine

"[Wilson] has created a memorable shorthand for describing parent-child deceptions and for ways in which creative art and destructive behavior intersect. But he never generalizes.... Whenever this book refers to "a Fang thing," Mr. Wilson is utterly clear about what that means."
— Janet Maslin, New York Times

"Wilson's creative and funny novel examines two young lives in the process of getting skewed, all in the pursuit of art with a capital A."
— The Must List, Entertainment Weekly

"Wilson, who drew comparisons to Shirley Jackson with his 2009 story collection Tunneling to the Center of the Earth, brilliantly and hilariously explores the "art for art's sake" argument."
— Fiction Chronicle, New York Times

"[A] wildly original new novel… bizarre, unique, unerringly comic, breathtakingly wonderful.... It's the sort of book you love so much you want to compose sonnets in its name….If The Family Fang is any indication, [Wilson's] got a long and productive career ahead, one we will enjoy immensely."
— Miami Herald

"Kevin Wilson introduces THE FAMILY FANG, a winningly bizarre clan on the brink."
— Vanity Fair

"Funny and fast-paced, Kevin Wilson's debut brims with just-so observations about the anxiety of influence, parental and artistic."
— Financial Times

"With his debut story collection, Tunneling to the Center of the Earth, Kevin Wilson demonstrated that he traffics in weirdness. His stories find space between plausibility and absurdity, and their strange plots have an easy pull. Wilson's enjoyable first novel, The Family Fang, offers similar pleasures…"
— Cleveland Plain Dealer

"Wilson's wheelhouse is whimsy, and as in his story collection, Tunneling to the Center of the Earth, his characters' quirks are both metaphors for and products of various larger maladies."
— Time Out Chicago

"Wild.... Kudos for wit and quirky imagination."
— Christian Science Monitor

"[Wilson's] imagination shines as he concocts the book's many detailed pieces of art—from Camille's darkly disturbed paintings to Annie's film project about children who spontaneously combust—and playfully describes them…The Family Fang is fun, and nothing other than exactly what Wilson wants it to be."
— Time Out New York

"…deliciously odd, delightfully unhinged and surprisingly warm-hearted…this year's book to read."
— NBCMiami

"The kids are not all right in this debut novel about a brother and sister poorly navigating the bizarre world of their parents — obsessive performance artists who force their children to participate in their kooky pieces."
— Los Angeles Magazine

"Funny and off-kilter….What could devolve into little more than slapstick becomes, in Wilson's skilled hands and, let's face it, somewhat strange imagination, a rich and textured read. He brings us to the brink of absurdity, then turns on a dime and delivers a deeper, darker novel."
— Chicago Tribune

"Something so calculated, so choreographed, so wickedly comic should feel fake. But oddly enough, as Annie and Buster stagger about in the warped but jaunty confines of The Family Fang... they gradually become so real you want to call them up and give them your therapist's number."
— Atlanta Journal-Constitution

"[Wilson's] imagination shines as he concocts the book's many detailed pieces of art—from Camille's darkly disturbed paintings to Annie's film project about children who spontaneously combust—and playfully describes them…. The Family Fang is fun, and nothing other than exactly what Wilson wants it to be."
— Time Out New York

"[A] big-hearted and endlessly strange look into a family of artists…. With humor and adoration, Wilson... deftly realiz[es] each character's emotional capacities and motivations....[A] taut and marvelously entertaining book."
— Dallas Morning News

"The Family Fang is a delicious book by a stunningly nimble writer. It never fails to entertain, but at the same time raises serious questions about art, interpretation, child-rearing, privacy, publicity and leaving home. I can't wait to read what Kevin Wilson writes next."
— Houston Chronicle

"The Family Fang [is] at times is reminiscent of Wes Anderson's quirky, R-rated comedy, The Royal Tenanbaums, without losing its arch originality."
— Christian Science Monitor

"Wilson's widely praised novel about performance artists gives a whole new meaning to the term dysfunctional family and may just leave you thinking more fondly of your own relatives in time for those summertime family reunions."
— CBSnews.com

"[B]rilliant…a well-plotted and intriguing story…intricate and funny...Wilson probes art by constructing art."
— Rain Taxi

"Literary fiction can be so straight-laced and serious that reading The Family Fang feels like sneaking a treat: here is a well-written, intelligent, and involving novel that's also tremendously fun."
— Ploughshares

"A highly engaging and imaginative first novel…Wilson has a gift for characterization and dialogue."
— Art in America

"If I could marry a book, this would be the one."
— Three Guys, One Book Blog

"Beneath the surface of the fun and fast-paced The Family Fang, Wilson explores self-identity and families in the context of life lived as art… [A] well-crafted novel that examines what happens to a family when the line between art and life is erased."
— Shelf Awareness

"The comparisons of Wilson to other writers says less about his work than it does about our desire to understand his imagination. In simple terms, he is very funny, generous to all his characters, and the author of books you feel an immediate urge to reread."
— Bookslut

"The premise of this book is so perfect I can't believe it hasn't been done before …a hugely likable book -funny, colorful, and memorable, if not beautiful and strange…I read this book swiftly and compulsively, like sipping thirstily at a fruity cocktail on a hot summer evening."
— BookBrowse.com review

"The subtlety of the comedy is flawless, channeling the filmmaking of Wes Anderson or Rian Johnson. A fantastic first novel that asks if the kids are alright, finding answers in the most unexpected places."
— Kirkus Reviews (Starred Review)

"[A] bizarre, mirthful debut novel…leavened with humor."
— Publishers Weekly (starred review)

"[FAMILY FANG] allows Wilson to dazzle and amuse us with some very inventive and provocatively imagined performance art."
— BookPage

"Don't be surprised if this becomes one of the most discussed novels of the year."
— Booklist

"In The Family Fang, Kevin Wilson presents a slyly hilarious novel that's part social satire, part detective story, and part plain good storytelling. More engaging than A Visit from the Goon Squad, this family saga manages to be both hip and sweet at the same time."
— Publishers Weekly

"I recently read Kevin Wilson's novel THE FAMILY FANG, which is so strange and original and hysterically funny. It's about a husband and wife who are performance artists and force their young children to be part of their art project. It's a book like nothing else."
— Ann Patchett, Time Magazine

"It's The Royal Tenenbaums meets Who's Afraid of Virginia Woolf? I'd call The Family Fang a guilty pleasure, but it's too damn smart. Here, finally, is a much needed reminder that astute fiction can still be a total blast."
— Hannah Pittard, author of The Fates Will Find Their Way

"Wilson commands the cavalry riding around the vastly important Army of the Loopy... rides slashing from the Implausible to the Plausible, and from there quickly to the Necessary and on to the True. The Family Fang will appear Coenized out of Hollywood but you should catch them here first."
— Padgett Powell, author of The Interrogative Mood

"Each page feels like unearthing a discovery. This is the kind of novel you fall in love with: tender-hearted, wonder-filled, a world all its own.... Wilson is such [a] talent, so rare and beautiful and big."
— Josh Weil, author of The New Valley

[Kevin Wilson] tells his madcap story with straight-faced aplomb, highlighting the tricky intersection of family life and artistic endeavor. All fiction readers will enjoy this comic/tragic look at domesticity."
— Library Journal

"Kevin Wilson's novel, The Family Fang, was one of the most talked about titles at BEA…[The Family Fang has] the whimsy reminiscent of a Wes Anderson flick…Wilson pulls the fuzzy line between art and life very taut…"
— Publishers Weekly Fall Preview: Top Ten Literary Fiction

"The Family Fang is a comedy, a tragedy, and a tour-de-force examination of what it means to make art and survive your family. Like everything else Kevin Wilson does, I have never seen anything like it before. The best single word description would be genius."
— Ann Patchett, bestselling author of Bel Canto and State of Wonder