Bringing Adam Home: The Abduction That Changed America (Hardcover)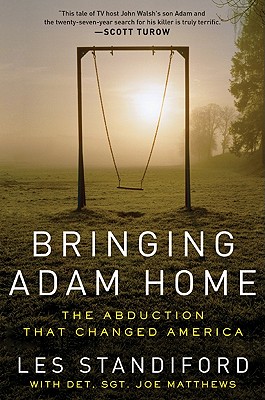 $24.99
Email or call for price.
March 2011 Indie Next List
---
"As riveting as any thriller, as poignant as any memoir, and as powerful as any investigative journalism, Bringing Adam Home is impossible to put down. The key scenes are beautiful, simple renderings of vulnerability and truth laid bare. This is a gripping work which should become a classic of the genre, not because of the crimes it explores, but for how it casts light into darkness."
— Aaron John Curtis, Books & Books, Coral Gables, FL
Description
---
"Les Standiford's account of the decades-long attempt to solve the murder of Adam Walsh is chilling, heartbreaking, hopeful, and as relentlessly suspenseful as anything I've ever read. A triumph in every way."
—Dennis Lehane, author of Mystic River
"The most significant missing child case since the Lindbergh's….A taut, compelling and often touching book about a long march to justice."
—Scott Turow, author of Presumed Innocent
The abduction that changed America forever, the 1981 kidnapping and murder of six-year-old Adam Walsh—son of John Walsh, host of the Fox TV series America's Most Wanted—in Hollywood, Florida, was a crime that went unsolved for a quarter of a century. Bringing Adam Home by author Les Standiford is a harrowing account of the terrible crime and its dramatic consequences, the emotional story of a father and mother's efforts to seek justice and resolve the loss of their child, and a compelling portrait of Miami Beach Homicide Detective Joe Matthews, whose unwavering dedication brought the Adam Walsh case to its resolution.

About the Author
---
Les Standiford is the bestselling author of twenty books and novels, including the John Deal mystery series, and the works of narrative history The Man Who Invented Christmas (a New York Times Editors' Choice) and Last Train to Paradise. He is the director of the creative writing program at Florida International University in Miami, where he lives with his wife, Kimberly, a psychotherapist and artist. Visit his website at www.les-standiford.com.
Det. Sgt. Joe Matthews, a thirty-year veteran of the Miami Beach Police Department, is a former Miami-Dade County Police Officer of the Year, credited with solving the infamous Baby Lollipop homicide, among many others. He is the founder and CEO of DNA LifePrint, Inc., a corporate-sponsored, national child-safety program. He also heads his own consulting firm, advising the media, the academic community, public safety organizations, and the private sector on security issues, investigation techniques, and cold-case homicides. 
Praise For…
---
"[A] page turner…hopeful and heartbreaking, Bringing Adam Home is tough to forget."
— People

"A riveting, harrowing, tautly suspenseful book that reads like a crime novel…but is all the more chilling for being fact, not fiction."
— St. Petersburg Times

"Intertwined with this true-crime chronicle is the important story of how Adam's abduction turned his parents into powerful advocates for crime victims and how law enforcement agencies across the country changed their response to missing children cases."
— Orlando Home and Leisure

"An essential read for those interested in forensic science and true crime."
— Library Journal

"[M]ystery writer Les Standiford, in collaboration with Detective Sgt. Joe Matthews, has written a riveting and page-turning account of this heart-wrenching story."
— BookReporter.com

"Les Standiford's account of the decades-long attempt to solve the murder of Adam Walsh is chilling, heartbreaking, hopeful, and as relentlessly suspenseful as anything I've ever read. A triumph in every way."
— Scott Turow, author of Presumed Innocent

"Les Standiford's account of the decades-long attempt to solve the murder of Adam Walsh is chilling, heartbreaking, hopeful, and as relentlessly suspenseful as anything I've ever read. A triumph in every way."
— Dennis Lehane, author of MYSTIC RIVER and SHUTTER ISLAND

"I didn't live far from the mall where Adam Walsh was kidnapped. I remember that story as if it were yesterday. It terrified me as a kid. But it's the details that Les Standiford has found that terrify me as an adult. Insightful, horrifying, and just beautifully written."
— Brad Meltzer, New York Times bestselling author of THE BOOK OF FATE

"BRINGING ADAM HOME is a maddening, terrifying and ultimately triumphant book. Les Standiford explores the injustice and finally justice surrounding the murder of Adam Walsh. You will cry and rage but you will not be able to put this book down until you finish it. My God! What a book!"
— Ann Hood, author of THE RED THREAD and THE KNITTING CIRCLE

"BRINGING ADAM HOME is a riveting account of a child abduction and murder that goes unsolved for twenty-seven years—both an unsettling expose of police incompetence and a portrait of an extraordinary and dedicated detective."
— Joyce Carol Oates

"Not since IN COLD BLOOD has the story of a terrible crime been told with such elegance and power....Heartbreaking and hypnotically suspenseful."
— Joseph Finder, New York Times bestselling author of VANISHED

"Charts with devastating precision the decades-long search for the killer and the evolution of Revé and John Walsh... from grieving parents into powerful advocates for missing children...Standiford's account is riveting, heartbreaking, and supports John Walsh's statement: "it's not about closure; it's about justice."
— Publishers Weekly (starred review)

"While many true-crime books claim to shine a light on society by examining one particular case, this account actually does. No reader can come away from this without appreciating what it takes to keep pursuing an investigation, against the obstacles of police politics and bureaucracy. Wrenching and riveting."
— Booklist

"Compelling, bittersweet… ably fleshes out the difficult yet familiar story with style, pathos and relevant historical detail."
— Miami Herald

"Bringing Adam Home is one of the finest true-crime books since Thomas Thompson's Blood and Money…This remarkable story will bring readers to tears of grief - and rage."
— Lisa Ko, author of The Leavers

"[A] heartbreaking story of incompetent police and determined parents… Novelist and nonfiction author Les Standiford does a masterful job of re-creation, reporting and research… readers will be haunted by the maladroit investigation and the added anguish this caused the Walshes."
— Los Angeles Times

"Standiford and Matthews relate Matthews' quest skillfully."
— Dallas Morning News