Ninja: 1,000 Years of the Shadow Warrior (Hardcover)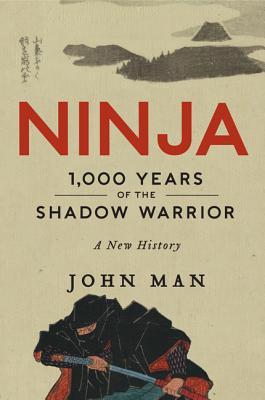 Description
---
The first major pop history of the Japanese stealth assassins, John Man's Ninja is a meticulously researched, entertaining blend of mythology, anthropology, travelogue, and history of the legendary shadow warriors.
Spies, assassins, saboteurs, and secret agents, Ninja have become the subject of countless legends that continue to enthrall us in modern movies, video games, and comics—and their arts are still practiced in our time by dedicated acolytes who study the ancient techniques.
Ninja: 1,000 Years of the Shadow Warrior, by British historian John Man, is as colorful and intriguing as the warriors it so vividly brings to life.
About the Author
---
John Man is the author of Attila, Genghis Khan, The Great Wall, Gobi: Tracking the Desert, Ninja, Samurai, and other works. Educated at Oxford and the University of London's School of Oriental and African Studies, he was awarded Mongolia's Friendship Medal in 2007.
Praise For…
---
"An immensely entertaining history, packed with splendidly blood-thirsty tales of derring-do, feats of endurance and self-sacrifice."
— The Guardian

"Ninja is a racy popular history of a difficult and often mythologised subject and should appeal to the armchair warrior in us all."
— Literary Review

"One could ask for no better storyteller than John Man."
— Simon Sebag Montefiore, author of Jerusalem: The Biography

"An intriguing look at the enigmatic world of the deadly Asian assassin. ... Fascinating. ... A thoroughly researched, appealing examination of the original 'men in black.'"
— Kirkus Reviews

"As colorful and intriguing as the warriors it so vividly brings to life."
— Bookreporter.com