You're Welcome, Cleveland: How I Helped Lebron James Win a Championship and Save a City (Hardcover)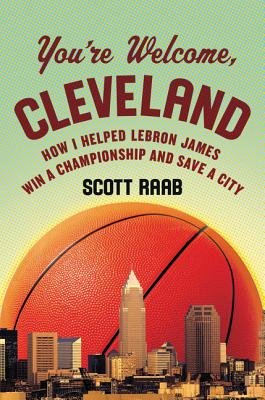 Description
---
"If I had a chance to return to Cleveland, and those fans welcomed me back, that'd be a great story." —LeBron James in 2010, days after "The Decision"
You're Welcome, Cleveland is Scott Raab's big-hearted companion to his darkly comic "sports-jeremiad-slash-memoir" The Whore of Akron and follows the first two years of LeBron James's return to Cleveland. Everybody just loves a good story of forgiveness—especially when you fulfill your promise and bring home an NBA Championship, the first major title for a Cleveland team since 1964.
In 2010, when LeBron James announced to the world that he was leaving for Miami, he broke the collective heart of his native city and destroyed the hopes of an entire tortured generation.
As LeBron headed south, unofficial spokesman Scott Raab sent him off with a middle-finger salute of his own—a deliciously obscene aria of sports fandom, Jewishness, and weight gain that became infamous as The Whore of Akron.
Four years—and two NBA championships later—LeBron came home to the Rust Belt faithful who had vilified him mercilessly, none more so than Raab. You're Welcome, Cleveland is the story of both LeBron's and Scott's redemption as they pursue the one thing they crave more than anything in life—an NBA title for the city that made them men.
LeBron is back. So is Scott Raab. It's a great story.
You're Welcome, Cleveland.
About the Author
---
Scott Raab, a writer-at-large for Esquire since 1997, is a graduate of Cleveland State University and the Iowa Writers' Workshop. His work has been widely anthologized, including in The Best American Sports Writing. Born and bred in Cleveland, he now lives in Glen Ridge, New Jersey. This is his first book.
Praise For…
---
Praise for The Whore of Akron: "A powerful storyteller in full command of his game...wonderfully immoderate."
— New York Times

"In pursuing James pre- and post-'Decision'...the author never does complete the subtitle's mission to find James' soul. Instead, Raab...discovers his own. And, in some twisted sense, maybe ours, too."
— Cleveland Plain Dealer

"[A] pleasure to read. Raab is an inspired, energetic writer. . . . . The Whore of Akron is a poignant exploration of sports fandom. It?s insane. . . . . And it's also redeeming. . . . . After reading The Whore of Akron, you'll be hard pressed to think sports don't matter."
— Time magazine

"[A] splenetic wonder?For all of its rousing, air-clearing invective, The Whore of Akron is strangely celebratory, making a particularly Jewish-American case for family and place, and for waiting and hoping past the point of reason."
— Will Blythe, New York magazine