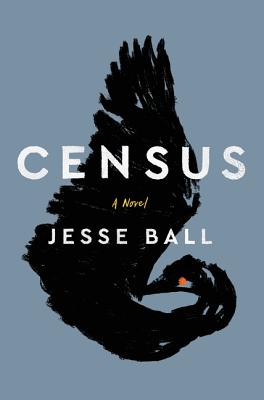 $25.99
Email or call for price.
March 2018 Indie Next List
---
"Jesse Ball, you brilliant weirdo, how did you do it? Census is a novel about everything big, told in the miniature, heart-wrenching tableau of a census. We are grazed by the notion that something is a bit different in this world, breathing down our necks. Sentences inspire double takes, characters jump from the page into life, and a transformative journey is undertaken for both the reader and the characters. As the end of the alphabet approaches, the landscape becomes more haunting, and the reader learns more about love and death than I thought was possible in a single book."
— Halley Parry, Parnassus Books, Nashville, TN
Description
---
NAMED A RECOMMENDED BOOK OF 2018 BY
The New York Times • Buzzfeed • Esquire • Nylon •  The Boston Globe • The Huffington Post • The Chicago Tribune • The Rumpus  • The AV Club • Southern Living • The Millions • The Chicago Reader • Kirkus • Publishers Weekly • NPR
A powerful and moving new novel from an award-winning, acclaimed author: in the wake of a devastating revelation, a father and son journey north across a tapestry of towns
When a widower receives notice from a doctor that he doesn't have long left to live, he is struck by the question of who will care for his adult son—a son whom he fiercely loves, a boy with Down syndrome. With no recourse in mind, and with a desire to see the country on one last trip, the man signs up as a census taker for a mysterious governmental bureau and leaves town with his son. 

Traveling into the country, through towns named only by ascending letters of the alphabet, the man and his son encounter a wide range of human experience. While some townspeople welcome them into their homes, others who bear the physical brand of past censuses on their ribs are wary of their presence. When they press toward the edges of civilization, the landscape grows wilder, and the towns grow farther apart and more blighted by industrial decay. As they approach "Z," the man must confront a series of questions: What is the purpose of the census? Is he complicit in its mission? And just how will he learn to say good-bye to his son? 
Mysterious and evocative, Census is a novel about free will, grief, the power of memory, and the ferocity of parental love, from one of our most captivating young writers.
About the Author
---
Jesse Ball is the author of fifteen books, and his works have been translated into more than a dozen languages. He is on the faculty at the School of the Art Institute of Chicago, a winner of The Paris Review's Plimpton Prize for Fiction and the Gordon Burn Prize, and was long-listed for the National Book Award. 
Praise For…
---
"[Ball's] most personal and best to date... [A] point — about the beautiful varieties of perception, of experience — made without sentimentality, burns at the core of the book, and of much of Ball's work, which rails against the tedium of consensus, the cruelty of conformity."
— New York Times

"Census is a vital testament to selfless love; a psalm to commonplace miracles; and a mysterious evolving metaphor.  So kind, it aches."
— David Mitchell, author of Cloud Atlas

"If there's a refrain running through [Ball's] large body of work, it's that compassion, kindness and empathy trump rules and authority of any kind...this damning but achingly tender novel holds open a space for human redemption, never mind that we have built our systems against it."
— Los Angeles Times

"With echoes of Paul Auster and Cormac McCarthy, Jesse Ball's road novel is anything but traditional. The prolific, award-winning author tells the story of a father and his son who has Down syndrome, bringing out their connection in luminous and unexpected ways."
— Entertainment Weekly

"Strange and wonderful ... A melancholy and grief-filled book, Census also serves a healthy helping of compassion. I highly recommend it for fans of Paul Auster and Samantha Hunt."
— LitHub

"Ball is too smart… to rely on cheap tricks of sentimentality...the result is an understated feat."
— Washington Post

"Ball writes dystopia and fabulism with a hushed, poetic grace; as with his other work, Census promises to be beautifully and precisely wrought."
— AV Club

"Emotionally riveting and shot through with the most pressing issues of our time, Ball's exploration of humanity in modern America is not to be missed."
— Popsugar

"[Ball is] a writer of an elegantly poetic bent… Explore with Ball, fall into his quirky rhythms, and you'll discover a burning plea for empathy. It will break your heart."
— Entertainment Weekly

"Ball's poignant dedication to his late older brother Adam, who had Down syndrome, adds yet another layer of complexity to this surreal and powerful story....grounded by the most enduring theme of familial love."

— Esquire

"Each new book from Jesse Ball reveals a new facet of his abilities as a writer; each one takes bold structural risks even as it ventures into heart-rending territories."
— Vol 1Brooklyn

"Heart-breaking."
— BBC.com

"What there's no question about is Ball's alternately fierce and tender portrayal of parental love, of how we grieve for the things we haven't yet lost...This is a book that will give you an expanded sense of what it means to have compassion, and what it means to love."
— Nylon Magazine

"This is a novel about how compassion and love move far beyond familial duty...Ball does an excellent job of revealing his [narrator's] experience of life's aches and joys...Ball provides a finish suitably heartbreaking and redeeming...An odd, poignant, vitalizing novel well worth the journey.
— Los Angeles Review of Books

"Stirring...the book's singular brilliance lies in its blending of fiction and memoir...Enchanting....This wise, category-defying book eloquently argues that we must also resist categorizing one another."
— O, the Oprah Magazine

"Opens onto startling depths, posing a profound inquiry into the nature and the stakes of both observation and representation...Absorbing, reflective and deeply moving, Census is the most necessary kind of book--one that urges us to see and feel with all the wonder that the world deserves."
— The Outline

"Extraordinary...A thrilling, imaginative work that explores both the limits and powers of language and empathy."
— The National Book Review

"Ball's latest is an intensely moving and dazzlingly imagined journey...This novel is a devastatingly powerful call for understanding and compassion."
— Publishers Weekly (starred review)

"In sync with Italo Calvino, Paul Auster, and Howard Norman, Ball takes a matter-of-fact approach to surreal situations, which he deepens with finely rendered and realistic thoughts and emotions. His latest mysterious, mesmerizing, and insightful fairy tale… [is] mind-bending, gorgeously well told, and profoundly moving."  
— Booklist (starred review)

"An ethereal meditation on love, the duty of a caretaker, and mortality."
— Kirkus Reviews
Coverage from NPR