Don't Skip Out on Me: A Novel (Paperback)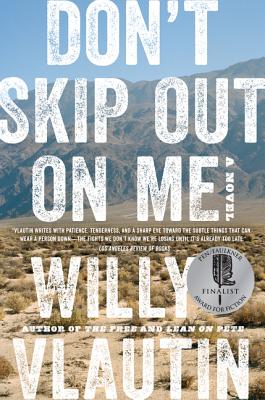 Staff Reviews
---
Willy Vlautin always manages to throw light on the invisible working class scraping by and trying to catch up with their dreams of a life and an America that is seemingly just out of reach. His latest novel is the story of Horace Hopper, a loner who wants more than anything to become a champion boxer. As we follow Horace on his journey from the mountains of Nevada to Arizona then Mexico and ultimately Las Vegas, we see him struggle to make it on the circuit only to find out that in the end you can't change who you really are. Beautiful, heart-wrenching yet full of tenderness and compassion.
— From
Cody's 2018 Picks
March 2018 Indie Next List
---
"Horace Hopper, the Irish-Paiute Indian protagonist in Don't Skip Out on Me, dreams of erasing the shame of childhood abandonment by reinventing himself as a professional boxer. His boss and surrogate father, an elderly sheep rancher, wrestles with the choices of his own history, and does his best to maintain a way of life that is rapidly disappearing. Vlautin intertwines the lives and fates of these two men in a work of astonishing beauty and heartbreak, and guides the reader to an ending that is as true and real as it gets. Willy Vlautin has been literature's best-kept secret for far too long. He may well be our own Steinbeck, but with a haunting steel-guitar sensibility all his own."
— Patrick Millikin, The Poisoned Pen, Scottsdale, AZ
Summer 2019 Reading Group Indie Next List
---
"Once again, Willy Vlautin bears witness to a vulnerable population that so often goes unseen and unheard in America. With his characteristically raw narrative style, Vlautin takes the reader into the mind of Horace, a young ranch hand and aspiring boxer who leaves behind an aging and struggling rancher and father figure. If you haven't already discovered Vlautin, you're in for a treat."
— Jeanne Costello, Maria's Bookshop, Durango, CO
Description
---
A FINALIST FOR THE PEN/FAULKNER AWARD
An ALA Notable Book
From award-winning author Willy Vlautin, comes this moving novel about a young ranch hand who goes on a quest to become a champion boxer to prove his worth. 
Horace Hopper is a half-Paiute, half-Irish ranch hand who wants to be somebody. He's spent most of his life on the ranch of his kindly guardians, Mr. and Mrs. Reese, herding sheep alone in the mountains. But while the Reeses treat him like a son, Horace can't shake the shame he feels from being abandoned by his parents. He decides to leave the only loving home he's known to prove his worth by training to become a boxer.
Mr. Reese is holding on to a way of life that is no longer sustainable. He's a seventy-two-year-old rancher with a bad back. He's not sure how he'll keep things going without Horace but he knows the boy must find his own way.
Coming down from the mountains of Nevada to the unforgiving desert heat of Tucson, Horace finds a trainer and begins to get fights. His journey to become a champion brings him to boxing rings of Mexico and finally, to the seedy streets of Las Vegas, where Horace learns he can't change who he is or outrun his destiny. 
Willy Vlautin writes from America's soul, chronicling the lives of those who are downtrodden and forgotten with profound tenderness. Don't Skip Out on Me is a beautiful, wrenching story about one man's search for identity and belonging that will make you consider those around you differently.
About the Author
---
Willy Vlautin is the author of the novels The Motel Life, Northline, Lean on Pete, The Free, and Don't Skip Out on Me. He is the founding member of the bands Richmond Fontaine and The Delines. He lives outside Portland Oregon.
Praise For…
---
"Vlautin. . . . strips away our defenses with close-to-the bone prose that leaves us utterly exposed to the tragedy of being alive—and every bit as thankful for those moments of aching humanity before the curtain falls."
— Booklist (starred review)

"[T]here's a distinct sense of foreboding in the air as Vlautin slowly lets this poignant tale unwind to its inevitable, heartbreaking conclusion. A powerful, haunting portrayal of lives rendered in unflinching, understated prose."
— Kirkus Reviews

"An emotionally wrenching story of a ranch hand who dreams of being a championship boxer and an elderly couple trying to hold on in central Nevada."
— Oregonian

"Vlautin writes with patience, tenderness, and a sharp eye toward the subtle things that can wear a person down — the fights we don't know we're losing until it's already too late."
— Los Angeles Review of Books

"Vlautin unerringly captures the heartbreak of the generational divide — as every older generation realizes it cannot protect its younger charges from making their own mistakes as they forge their own way."
— Coast Weekend

"I absolutely loved Don't Skip Out On Me, just as I have loved all of Vlautin's previous novels. Vlautin's gritty, scrappy world bursts with a tenderness that will hook you in from the first line to the last. This is a writer who should never be ignored."
— Jessica Anya Blau, author of The Trouble with Lexie and Drinking Closer to Home

"No one anywhere writes as beautifully about people whose stories stay close to the dirt. Willy Vlautin is a secular—and thus real and profoundly useful—saint."
— Lidia Yuknavitch, author of The Book of Joan

"Magnificent…. Willy Vlautin is now one of America's great writers."  
— Roddy Doyle

"Beautifully crushing and complete."
— John Doe, author of Under the Big Black Sun and co-founder of X

"The world needs more Willy Vlautin, and Dont' Skip Out on Me is his best novel yet."  
— Jonathan Evison, author of This is Your Life, Harriet Chance and The Revised Fundamentals of Caregiving

"In this powerful novel, Vlautin (The Free) writes about characters whose big dreams and plans are often stunted by fate and circumstance, but who've managed to find a way to push through, bruised but with hard-won wisdom. . . . excellent."
— Publishers Weekly (starred review)

"Singer-songwriter Vlautin's latest (The Free) is another quietly devastating addition to his growing canon of spare and heartrending contemporary Westerns... Vlautin's unerring ability to write without artifice or judgment about hardscrabble people trying to do good makes him the literary heir to the late Kent Haruf."
— Library Journal (starred review)

"The straightforward beauty of Vlautin's writing, and the tender care he shows his characters, turns a story of struggle into indispensable reading. I couldn't recommend it more highly."
— Ann Patchett

"Few contemporary western writers tell the truth with the unerring eye of Willy Vlautin, a literary realist whose emotionally charged characters achieve that rarest of goals in fiction—to tell a great story..."
— Craig Johnson, author of the Walt Longmire Mysteries

"With straightforward economy, he draws us into [the characters'] seemingly intractable problems, revealing their persistence and decency... Vlautin's unadorned narrative is affecting; these unassuming characters bore into us in surprising ways."
— New York Times Book Review on The Free

"Vlautin's prose is deceptively simple, his clipped descriptions loaded with meaning. The narrative is as unsparing as Hopper's fights, but what stays standing is a profound sense of hope, a hope that drives society's downtrodden and provides the theme for much of Vlautin's work."
— Financial Times

"Northline shines with naked honesty and unsentimental humanity. The character of Allison Johnson, and the wounded-but-still-walking people she encounters on her journey, will stay with me for a long while. Vlautin has written the American novel that I've been hoping to find."
— George Pelecanos

"I love Willy Vlautin's novels. Downbeat and plaintive as they are, the tenderness holds on like the everlasting arms…. Willy's voice is pure and his stories universal. He never loses hope or heart and I believe every word he's written."
— Barry Gifford

"Willy Vlautin is one of the bravest novelists writing... An unsentimental Steinbeck, a heartbroken Haruf, Willy Vlautin tells us who really lives now in our America, our city in ruins."
— Ursula K. Le Guin

"Vlautin is a writer with incredible heart, and The Free is his best achievement yet, a profound look at characters living on the margins, honest people who have been hit hard by the dark realities of a difficult world."
— Los Angeles Review of Books

"Lean on Pete riveted me. Reading it, I was heartbroken and moved; enthralled and convinced. This is serious American literature."
— Cheryl Strayed, The Oregonian

"Vlautin's eye for detail is sharp: every character is distinctly drawn and memorable.... for sheer cinéma-vérité detailing of American life right now, Lean on Pete is a good place to start."
— Jane Smiley, The Guardian

"A debut road-trip novel that echoes the spare, bleak style of such writers as Denis Johnson and Raymond Carver…[Vlautin] conveys the pain and desolate lives of his characters without a hint of melodrama"
— Washington Post (on The Motel Life)

"Willy's novel Lean on Pete was one of my favorite reads of the last decade. I might love The Free even more. 'Cinematic minimalism' in the grand tradition of Fat City, Ironweed, and the works of the great Raymond Carver.
— Patterson Hood, songwriter and musician, Drive-By Truckers

"(Willy Vlautin) is the literary version of a Neil Young or a Tom Petty, bearing a ragged standard for empathy, compassion and decency, defending notions of the story as a sorting office for the soul. "
— Irish Times

'Willy Vlautin is the poet laureate of the downtrodden and disenfranchised underclass of American society, detailing with real empathy and insight the daily struggle of his characters in modern society."
— Big Issue

"Vlautin is on to something about what's wrong with America, and with many Americans, especially in the age of Trump..."
— Spectator UK

"Vlautin steers his characters down their hard path like a veteran scrive of the American road."
— The Times (UK)

"Vlautin's sparse, plan sentences are well-matched to the brusque world he depicts. At the same time, his compassion for his characters never wavers."
— Sunday Times (London)

"Vlautin's latest novel…inches ever closer to a literary equivalent of his unrivalled ability to make us believe in the characters in his songs long after they've stopped believing in themselves."
— Yorkshire Evening Post

"Willy Vlautin has been literature's best-kept secret for far too long. He may well be our own Steinbeck, but with a haunting steel-guitar sensibility all his own."
— Shelf Awareness

"(The book is) written in the sort of scorched, bare-bones prose, stripped of metaphors and similes, that has won him fans such as Roddy Doyle, Donna Tartt and Colm Tóibín."
— The Guardian