What Jesus Meant (Paperback)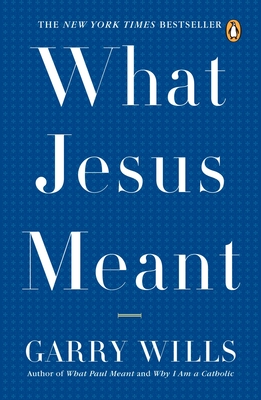 $16.00
Email or call for price.
Description
---
"Garry Wills brings his signature brand of erudite, unorthodox thinking to his latest book of revelations. . . . A tour de force and a profound show of faith." (O, the Oprah Magazine)
 
Look out for a new book from Garry Wills, What The Qur'an Meant, coming fall 2017.

In what are billed "culture wars," people on the political right and the political left cite Jesus as endorsing their views. But in this New York Times-bestselling masterpiece, Garry Wills argues that Jesus subscribed to no political program. He was far more radical than that. In a fresh reading of the gospels, Wills explores the meaning of the "reign of heaven" Jesus not only promised for the future but brought with him into this life. It is only by dodges and evasions that people misrepresent what Jesus plainly had to say against power, the wealthy, and religion itself. But Wills is just as critical of those who would make Jesus a mere ethical teacher, ignoring or playing down his divinity. An illuminating analysis for believers and nonbelievers alike, What Jesus Meant is a brilliant addition to our national conversation on religion.
About the Author
---
Garry Wills is a historian and the author of the New York Times bestsellers What Jesus Meant, Papal Sin, Why I Am a Catholic, and Why Priests?, among others. A frequent contributor to the New York Review of Books and other publications, Wills is a Pulitzer Prize winner and a professor emeritus at Northwestern University. He lives in Evanston, Illinois.
Praise For…
---
A NEW YORK TIMES BESTSELLER

Praise for What Jesus Meant:

"Fascinating . . . Like a long, rich conversation with a learned friend . . . that engages the heart and mind, to the ultimate benefit of both."
—Jon Meacham, The New York Times Book Review

"A spiritual workout."
—Newsweek

"Faithful to the heart of tradition, yet entirely original, Garry Wills's meditation cuts through cant, piety and political exploitation to bring Jesus alive in all his urgent significance."
—James Carroll, author of Constantine's Sword
 
"With characteristic clarity, Garry Wills gets to the heart of the Gospel, and through a critical reading of what Jesus says in the gospels, surprises and provokes all of us who claim to know what Jesus meant. It is plainer than we might like, and thus harder both to take and to avoid."
—Peter Gomes, Plummer Professor of Morals at Harvard University

"Intellectually stimulating . . . The author offers a fresh and somewhat startling reading of the New Testament. He challenges readers to explore the true meaning of the 'reign of heaven' that Jesus promised not only for the future but actually brought with him into this life here on earth."
—Catholic Explorer
 
"Prophetic . . . Compact, coherent, and clearly written . . . Engaging and provocative reading."
—Chicago Tribune
 
"Addressing the meaning of Jesus' teachings in the first century C.E., the book serves as a tool to combat the politicization of Jesus in the modern world . . . A fresh look at an old topic . . . Recommended."
—Library Journal
 
"Wills has brought religion back into the public arena with books that combine historical acumen and insight into the practice of faith."
—The New York Sun
 
"A fascinating example of a clearheaded close reading, and a blistering indictment of contemporary religion and the political abuses of Jesus . . . The clarity of What Jesus Meant—with its humor, anger, and sadness—make it a necessary read for believers and nonbelievers alike."
—Albany Times Union

"Provocative."
—Esquire

"[A] stimulating, fresh look into the life and message of Jesus of Nazareth."
—Publishers Weekly
 
"Garry Wills brings his signature brand of erudite, unorthodox thinking to his latest book of revelations. . . . A tour de force and a profound show of faith."
—O, the Oprah Magazine