Its Day Being Gone (Penguin Poets) (Paperback)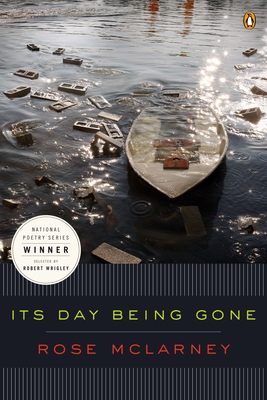 $20.00
Email or call for price.
Description
---
Selected as a winner of the National Poetry Series by Robert Wrigley

Rose McLarney has won acclaim for image-rich poems that explore her native southern Appalachia and those who love and live and lose on it. Her second collection broadens these investigations in poems that examine the shape-shifting quality of memory, as seen in folktales that have traveled across oceans and through centuries, and in how we form recollections of our own lives. An opening sequence presents contemporary ghost stories: men who gather at dawn in the gas station parking lots of small towns; the mountain lion that paces the edge of a receding tree line. A middle section draws connections between Appalachia and Latin America, places that share qualities of biological and cultural richness—places that are threatened by modernization. A final sequence retells the stories of earlier poems, posing questions about how we construct our landscapes and frame our views.
About the Author
---
Rose McLarney is the author of The Always Broken Plates of Mountains. Her poems have appeared in the Kenyon Review, Orion, Slate, and the New England Review. A graduate of Warren Wilson's MFA Program for Writers, she currently teaches poetry at Oklahoma State University.
Praise For…
---
Praise for Its Day Being Gone:

"A beautiful book, and a haunting one too.  McLarney makes things matter. Her poems make you feel very deeply connected – under the skin, in the bone – and therefore more acutely alive." —Robert Wrigley

"It's easy to say that McLarney loves the land and the people who live close to it, and though that's true, her intelligence and feelings are also always subject to reappraisal in the light of her own constantly questioning and enlarging vision. Her important poems sing not just with the 'the somber percussion / of feed in buckets,' but also with the lyric wisdom of the best poetry." —Andrew Hudgins
 
"In poems that are often both celebration and lament, McLarney speaks with an elemental alertness, with sharp-edged perception of the contemporary as well as the folkloric." —Robert Morgan
 
"McLarney is a poet who understands that the beautiful things are difficult, and that we must suffer into truth. . .[her] grim lyricism keeps us rapt, agog, and sometimes frightened." —Richard Joines, The Rumpus