American Sonnets for My Past and Future Assassin (Penguin Poets) (Paperback)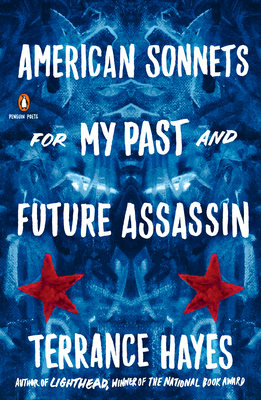 Staff Reviews
---
A collection of 70 sonnets that have the same title, these poems command your attention and do not disappoint. Written in the age of the Trump presidency, Terrance Hayes explores Americanness, violence, love, survival, as well as important cultural markers, figures and moments in our history. Each sonnet changes how we see and break open doors that look to the past and where it may lead us. In one poem, the speaker says: "I mean to leave / a record of my raptures." This book is indeed a record one may find themselves called to revisit again and again.
— From
Nadia
Description
---
Finalist for the National Book Award and the National Book Critics Circle Award in Poetry

One of the New York Times Critics' Top Books of 2018

A powerful, timely, dazzling collection of sonnets from one of America's most acclaimed poets, Terrance Hayes, the National Book Award-winning author of Lighthead

"Sonnets that reckon with Donald Trump's America." -The New York Times

In seventy poems bearing the same title, Terrance Hayes explores the meanings of American, of assassin, and of love in the sonnet form. Written during the first two hundred days of the Trump presidency, these poems are haunted by the country's past and future eras and errors, its dreams and nightmares. Inventive, compassionate, hilarious, melancholy, and bewildered--the wonders of this new collection are irreducible and stunning.
About the Author
---
Terrance Hayes is the author of Lighthead, winner of the 2010 National Book Award and finalist for the National Book Critics Circle Award. His other books are Wind In a Box, Hip Logic, and Muscular Music. His honors include a National Endowment for the Arts Fellowship, a Guggenheim Fellowship, and a 2014 MacArthur Fellowship. How To Be Drawn, his most recent collection of poems, was a finalist for the 2015 National Book Award and received the 2016 NAACP Image Award for Poetry.
Praise For…
---
"Hayes set himself the challenge of writing political poems in the guise of love poems.  Each one is distinct:  Some are sermons, some are swoons.  They are acrid with tear gas, and they unravel with desire . . . These poems play with different registers, but they return to lamentation, to annihilating grief for 'all the black people I'm tired of losing,' one narrator says." – Parul Sehgal, The New York Times

"A diary of survival during a period when black men are in constant danger . . . This is one of the deepest accounts I have read in poetry of what it feels like to have one's body fetishized as an object but criminalized as a force." – Dan Chiasson, The New Yorker

"The right poetry collection for right now . . . Hayes' writing demonstrates a serious commitment to revising, extending, and advancing American poetry while recording, celebrating, and mourning black American life.  These aesthetic and intellectual preoccupations also charge American Sonnets." –Walton Muyumba, The Los Angeles Times

"American Sonnets for My Past and Future Assassin is a gift in a fraught moment. These sonnets, existential, political, personal, retain a moral ferocity and urgency . . . Hayes' inhabits the deeply troubling historical moment.  But these poems are timeless, by which I mean these sonnets annihilate any difference between past and future." – Faraz Rizvi, The Millions

"Hayes reinvigorates a classic form . . . [he] examines what it means to be an American, to belong, and how it feels to be haunted and hunted by violent racism . . . expect to be challenged on nearly every page." – Elizabeth Lund, The Washington Post
 
"Overwhelming in every sense.  Overwhelming in its brilliance, yes, but also overwhelming in its pacing, its style . . . The book, despite its breadth and clever turns, is a confrontation . . . His poems are like the slow and steady picking of a lock, until the door handle clicks." – Hanif Abdurraqib, Poets and Writers

"You will find all of [Hayes's] signature pleasures and provocations in this new collection: dense lyricism, associative word play, the political, the interpersonal, explorations and interrogations of race and gender and sex and the body and violence and power and history and time." – Kenyon Review 

"A wild work, effervescent and despondent, Hayes's collection of sonnets reminds us that the mastery of time is one of poetry's important functions, though sonnets only buy it back in hasty fourteen-line bursts." – Dan Chiasson, The New Yorker, "The Poetry I was Grateful for in 2018"

"[Hayes] speaks with urgency and authority, bearing witness to the absurdities and cruelties of the present moment . . . [American Sonnets] doesn't just combine style and substance; style becomes substance . . . These poems reminded me what poetry is capable of: of being revelatory and inscrutable all at once, of speaking truth to power—but speaking it slant." —Tara McEvoy, The Guardian

"Pain and poignancy collide in this collection of seventy sonnets . . . perhaps the takeaway of Mr. Hayes' work here is that what lies in between is heart – a pounding of poems that stays in the chest long after the pages are set down. These poems stay with me, they linger, they poke and ask questions, and this is the book's success.  What more can one ask from poetry?" – Cameron Barnett, The Pittsburgh Post-Gazette
 
"Hayes addresses this marvelous series of 70 free-verse sonnets to his potential assassin: a nameless, faceless embodiment of America's penchant for racially motivated violence. The poems are redolent of his signature rhythmic artistry and wordplay . . . Inventive as ever, Hayes confronts America's myriad ills with unflinching candor, while leaving space for love, humor, and hope." – Publishers Weekly

"With this incomparable collection, Hayes  joins others in taking on the sonnet, reinvigorating its form and reimagining the possibilities of American literature." – Booklist