Fowler's Dictionary of Modern English Usage (Hardcover)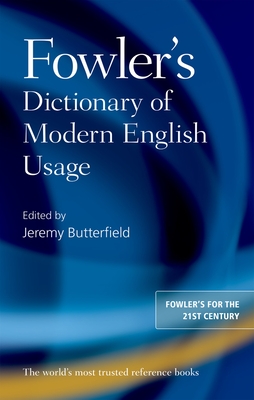 $39.95
Usually Arrives in Store in 1-5 Days
Description
---
Why literally shouldn't be taken literally. Why Americans think home in on something is a mistake and Brits think hone in is. Is it OK to spell OK okay? What's wrong with hence why? Was Alanis Morrisette ever ironic? Fowler's Dictionary of Modern English Usage is the world-famous guide to English usage, loved and used by writers, editors, and anyone who values correct English since it first appeared in 1926. Fowler's gives comprehensive and practical advice on complex points of grammar, syntax, punctuation, style, and word choice.
Now enlarged and completely revised to reflect English usage in the 21st century, it provides a crystal-clear, authoritative picture of the English we use, while illuminating scores of usage questions old and new. International in scope, it gives in-depth coverage of both British and American English usage issues, with reference also to the English of Australia, Canada, India, New Zealand, and South Africa. The thousands of authentic examples in the book vividly demonstrate how modern writers tackls debated usage issues. They come on the one hand from established literary figures such as Chinua Achebe, Peter Ackroyd, Raymond Carver, Iris Murdoch, Harold Pinter, and Vikram Seth. On the other, they are drawn from a vast range of newspapers, journals, books, broadcast material, websites, and other digital sources from across the globe, and include references to topical personalities such as Stephen Fry, Prince Harry, Jeremy Paxman, and Wayne Rooney. Based on the evidence and research of the Oxford Dictionaries Programme, this is the most comprehensive and authoritative guide to usage available.

About the Author
---
Jeremy Butterfield is an author, language expert, writer, and lexicographer. For many years he worked in senior editorial positions in Collins Dictionaries. He is the author of the popular book on the English language, Damp Squid: The English Language Laid Bare (2009), as well as the Oxford A-Z of English Usage (2013). Robert Burchfield (1923-2004) was born in Wangannui, New Zealand. He edited the third and the revised third edition of Fowler's Modern English Usage. His distinguished lexicographical career included a number of key publications: The Oxford Dictionary of English Etymology (1966, with C. T. Onions and G. W. S. Friedrichsen) and The English Language (1985). Henry Watson Fowler (1858-1933) worked as a teacher and freelance writer before going to Guernsey to form a remarkably successful writing partnership with his brother Francis. Most notably, the Fowler brothers wrote The King's English, and compiled the first edition of the Concise Oxford Dictionary (1911). Henry Fowler finished the Pocket Oxford Dictionary in 1924, and Modern English Usage, which made him a household name, in 1926.