Citizen Brown: Race, Democracy, and Inequality in the St. Louis Suburbs (Paperback)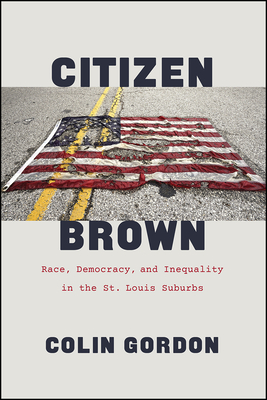 Usually Arrives in Store in 1-5 Days
Description
---
The 2014 killing of Michael Brown in Ferguson, Missouri, ignited nationwide protests and brought widespread attention police brutality and institutional racism. But Ferguson was no aberration. As Colin Gordon shows in this urgent and timely book, the events in Ferguson exposed not only the deep racism of the local police department but also the ways in which decades of public policy effectively segregated people and curtailed citizenship not just in Ferguson but across the St. Louis suburbs.

Citizen Brown uncovers half a century of private practices and public policies that resulted in bitter inequality and sustained segregation in Ferguson and beyond. Gordon shows how municipal and school district boundaries were pointedly drawn to contain or exclude African Americans and how local policies and services—especially policing, education, and urban renewal—were weaponized to maintain civic separation. He also makes it clear that the outcry that arose in Ferguson was no impulsive outburst but rather an explosion of pent-up rage against long-standing systems of segregation and inequality—of which a police force that viewed citizens not as subjects to serve and protect but as sources of revenue was only the most immediate example. Worse, Citizen Brown illustrates the fact that though the greater St. Louis area provides some extraordinarily clear examples of fraught racial dynamics, in this it is hardly alone among American cities and regions.

Interactive maps and other companion resources to Citizen Brown are available at the book website.
About the Author
---
 Colin Gordon is the F. Wendell Miller Professor of History at the University of Iowa.
Praise For…
---
"Citizen Brown is an important contribution to the literatures on segregation, suburbanization, and local politics. Gordon creates a compelling and well-documented account of the ways in which local governments first refuse to provide services to certain neighborhoods and then use that lack of services as evidence of blight and grounds for slum clearance. He then offers an excellent, structural explanation for Michael Brown's murder that is linked to this same connection between public services and local policy."
— Jessica Trounstine, author of Segregation by Design

"Citizen Brown arrives at a propitious moment, when many Americans are still trying to make sense of how and why one of the most explosive incidents in American race relations—the 2014 killing of Michael Brown in Ferguson, Missouri—occurred not in a center city, where so many of the nation's best-known racial dramas have played out over the last fifty years, but in a suburb. What Gordon accomplishes here is a much needed, much deeper understanding of what happened there, even when Ferguson isn't front and center. Citizen Brown is a pioneering foray into a larger, more complicated consideration of the recent history of race relations in American suburbs."
— Mark Krasovic, author of The Newark Frontier

"This innovative study is informed by the deep understanding of legal processes and familiarity with St. Louis's unique geography that Gordon showed in his previous book Mapping Decline: St. Louis and the Fate of the American City (2008). Citizen Brown also benefits from being grounded in political theory about citizenship and its many meanings."
— Missouri Historical Review