Spirit of Rebellion: Labor and Religion in the New Cotton South (Working Class in American History) (Paperback)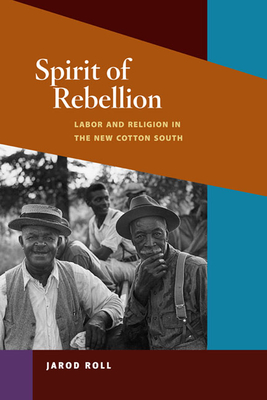 Description
---
Winner of the Herbert G. Gutman Prize from the Labor and Working-Class History Association 
In
Spirit of Rebellion,
Jarod Roll documents an alternative tradition of American protest by linking working-class political movements to grassroots religious revivals. He reveals how ordinary rural citizens in the south used available resources and their shared faith to defend their agrarian livelihoods amid the political and economic upheaval of the first half of the twentieth century. 
On the frontier of the New Cotton South in Missouri's Bootheel, the relationships between black and white farmers were complicated by racial tensions and bitter competition. Despite these divisions, workers found common ground as dissidents fighting for economic security, decent housing, and basic health, ultimately drawing on the democratic potential of evangelical religion to wage working-class revolts against commodity agriculture and the political forces that buoyed it. Roll convincingly shows how the moral clarity and spiritual vigor these working people found in the burgeoning Pentecostal revivals gave them the courage and fortitude to develop an expansive agenda of workers' rights by tapping into the powers of existing organizations such as the Socialist Party, the Universal Negro Improvement Association, the NAACP, and the interracial Southern Tenant Farmers' Union.
About the Author
---
Jarod Roll teaches American history at the University of Sussex, England, where he is founder and director of the Marcus Cunliffe Center for the Study of the American South.
Praise For…
---
 "Spirit of Rebellion offers a compelling interpretation to explain sharecroppers' bold protests in the late 1930s and early 1940s. . . . [A] meticulously researched book."--Arkansas Historical Quarterly 
 "Roll illuminates the socialist traditions of the region as well as the impact of Pentecostal religious movements of the farmers' worldview.  Recommended."--
Choice
"An important contribution to religious studies. . . . Roll has uncovered a story worth telling."--
The Journal of Southern Religion
 "Roll's work is highly ambitious. . . . This is a skillful book."--
The Journal of American History
  "Roll successfully convinces that understanding agrarian protests in the Missouri Bootheel, and the rural South more broadly, is essential to comprehending twentieth-century American protest traditions."--Arkansas Review
"An important book. . . . The willingness of sharecroppers and tenants in the 1930s to confront a powerful elite in order to remain on the land suggests an intense commitment to an agricultural way of life, despite the odds against securing landownership.  Roll has given us a way to understand the ideology behind their struggle.-- Labor: Studies in Working-Class History
"Roll successfully knits together labor and religious history to create a compelling account of labor organizing.  His is a story little heard:  black and whites joining forces and overcoming their differences by dint of shared struggle and faith."--
Register of the Kentucky Historical Society
"A terrific book. Roll's emphasis on agrarian protest as a labor struggle is refreshing and informative, and his reading of the religious terrain of this important social movement is pathbreaking. The engaging topic and intriguing characters make
Spirit of Rebellion
a must read for historians of labor, civil rights, social change, and rural societies."--Ken Fones-Wolf, author of
Glass Towns: Industry, Labor, and Political Economy in Appalachia, 1890-1930s
"Roll rightly insists that work, labor, economy, and community are and have been deeply religious issues.  His interesting, strong book sets up future historians of religion and labor to explore more fully the
work
of religious practice in producing, maintaining, and transforming such beliefs in their relationship to emerging material conditions."--
The Journal of Southern History