History of a Pleasure Seeker (Hardcover)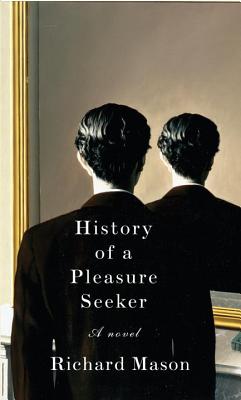 $25.95
Email or call for price.
February 2012 Indie Next List
---
"Set in Amsterdam during the Belle Epoque, History of a Pleasure Seeker follows Piet Bartol, the poor but cultured young tutor to a wealthy Dutch family. Piet is determined to drink life to the fullest, and this ambition alters not only his own life, but also the lives of those around him. Skillfully and evocatively rendered, this novel feels like its own guilty pleasure, redolent of lazy afternoons and late night liaisons."
— Stesha Brandon, University Book Store, Seattle, WA
Description
---
From the acclaimed author of The Drowning People ("A literary sensation" —The New York Times Book Review) and Natural Elements ("A magnum opus" —The New Yorker), an opulent, romantic coming-of-age drama set at the height of Europe's belle époque, written in the grand tradition with a lightness of touch that is wholly modern and original.
 
The novel opens in Amsterdam at the turn of the last century. It moves to New York at the time of the 1907 financial crisis and proceeds onboard a luxury liner headed for Cape Town.
 
It is about a young man—Piet Barol—with an instinctive appreciation for pleasure and a gift for finding it. Piet's father is an austere administrator at Holland's oldest university. His mother, a singing teacher, has died—but not before giving him a thorough grounding in the arts of charm.
 
Piet applies for a job as tutor to the troubled son of Europe's leading hotelier: a child who refuses to leave his family's mansion on Amsterdam's grandest canal. As the young man enters this glittering world, he learns its secrets—and soon, quietly, steadily, finds his life transformed as he in turn transforms the lives of those around him.
 
History of a Pleasure Seeker is a brilliantly written portrait of the senses, a novel about pleasure and those who are in search of it; those who embrace it, luxuriate in it, need it; and those who deprive themselves of it as they do those they love. It is a book that will beguile and transport you—to another world, another time, another state of being.
About the Author
---
Award-winning novelist RICHARD MASON was born in South Africa and raised in England. He wrote his first novel "The Drowning People" the year before he went to Oxford.

With the proceeds from the book's success, he set up the Kay Mason Foundation, which helps disadvantaged children attend the best schools in Cape Town. In 2010 he broadened the KMF's scope by founding an eco-project in the country's Eastern Cape.

"The Lighted Rooms "and "History of a Pleasure Seeker" are the first in a constellation of related novels. The next in the series will follow Piet Barol to South Africa's Wild Coast.

Mason lives between New York, Cape Town and Glasgow, Scotland.

www.richard-mason.org
Praise For…
---
"The book charms as much as its main character does, and should have readers eagerly awaiting the sequel."
—The Gay and Lesbian Review

"Beautifully observed, perfectly paced, genuinely sexy, and in the end, a terrifically fun read. Mason's ability to inhabit the inner voices of the servants and those they serve lends the book a rich realism."
 —The Boston Globe
 
"An engaging picaresque romp . . . funny, touching, and arousing . . . Mason does a stellar job of creating a particular time and place." 
—Edmonton Journal

"A masterpiece. Like Henry James on Viagra. Not only gripping, but brilliantly arranges that the imagined world of Maarten and Jacobina's household sits entirely within Amsterdam of the belle epoque. Piet was wonderfully drawn—rogueish and yet wholly sympathetic."
—Alex Preston, author of This Bleeding City
 
"A ripping literary romp about the adventures of a dashing, athletic and sexually ambiguous young man."
—The Evening Standard
 
"Hugely accomplished . . . Rich with period detail and characterised by pitch-perfect dialogue and a cast of carefully drawn characters, it explores themes of ambition, fidelity and class, and ratchets up the tension as our young hero walks a knife-edge between social and financial success and total ruin."
—Waterstones.com
 
"This bildrungsroman is as smart as it is seductive . . . Readers will savor final scenes aboard the gilded ocean-liner Eugenie and welcome the undercurrent that perhaps Piet's good fortune isn't luck at all but a lesson that pleasure exists for those who seek it."
 —Booklist 
 
"As if plucked from a patisserie display case, Mr. Mason's novel is a gorgeous confection."
—The New York Times

History of a Pleasure Seeker "is the best new work of fiction to cross my desk in many moons. Mason . . . has written an unabashed romance, a classic . . . There is an almost magical quality to it that had me thoroughly engaged from first page to last . . . Mason has an appealingly playful quality that has never been more evident than it is here; he likes all of his characters and mostly gives them what they deserve; he conjures up early-20th-century Amsterdam and, more briefly, New York, with confidence and exceptional descriptive powers."
—The Washington Post
 
"Mason writes in a beautifully turned, classical style that yields pleasing phrases and psychological complexity…  Genuinely moving."
—The New York Times Book Review
 
"It's hard to imagine a better connoisseur of late 19th-century Europe's gilded delights than Piet Barol, the bisexual hero at the heart of Richard Mason's witty fourth novel, History of a Pleasure Seeker . . . Think Balzac, but lighter and sexier – an exquisitely laced corset of a novel with a sleek, modern zipper down the side."
—Marie Claire
 
"Richard Mason is the rare novelist who can write a very sexy book that never quite turns prurient . . . This book about pleasure is a provocative joy."
—O, The Oprah Magazine. Find of the Month.
 
"Highly recommended as an engaging portrait of an individual, a family, and time . . . At once windswept historical romance and focused social commentary."
—Library Journal, starred review
 
"Some of the month's best fiction . . . An alluring stranger liberates a wealthy Dutch family's libido in Richard Mason's Belle Époque Valentine, History of a Pleasure Seeker."
—Vogue
 
"Delicious . . . as polished as the Vermeulen-Sickerts' silver, a literary guilty pleasure."
—Los Angeles Times
 
"Mason displays a sharp eye and a wit to rival Oscar Wilde."
—Kirkus Reviews
 
"The operative word . . . is pleasure, which comes in abundance to both the reader and the seductively handsome Piet Barol. Mason evokes . . . delightful period detail . . . [and] writes with sensuality and humor."
—Publishers Weekly
Coverage from NPR