Little Brother (Compact Disc)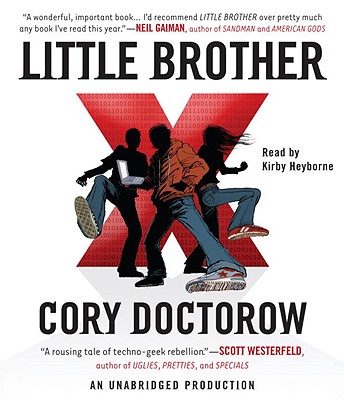 Special Order -- Email or Call for Availability
Description
---
Marcus, aka "w1n5t0n," is only seventeen years old, but he figures he already knows how the system works–and how to work the system. Smart, fast, and wise to the ways of the networked world, he has no trouble outwitting his high school's intrusive but clumsy surveillance systems.
But his whole world changes when he and his friends find themselves caught in the aftermath of a major terrorist attack on San Francisco. In the wrong place at the wrong time, Marcus and his crew are apprehended by the Department of Homeland Security and whisked away to a secret prison, where they're mercilessly interrogated for days. When the DHS finally releases them, Marcus discovers that his city has become a police state, where every citizen is treated like a potential terrorist. He knows that no one will believe his story, which leaves him only one option: to take down the DHS himself.
Can one teenage hacker fight back against a government out of control? Maybe, but only if he's really careful . . . and very, very smart.
About the Author
---
Canadian-born Cory Doctorow has held policy positions with Creative Commons and the Electronic Frontier Foundation and been a Fulbright Fellow at the University of Southern California. He is a co-editor of the popular weblog ""BoingBoing"" (boingboing.net), which receives over three million visitors a month. His science fiction has won numerous awards, and his YA novel ""Little Brother"" spent seven weeks on ""the New York Times"" bestseller list. "From the Audiobook Download edition."