The Ring of Solomon: A Bartimaeus Novel: A Bartimaeus Novel (Compact Disc)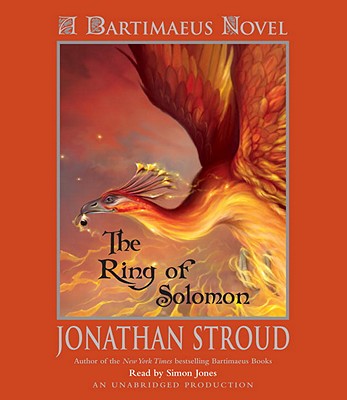 Email or call for price
Special Order -- Email or Call for Availability
Description
---
It is 950 B.C.E., and King Solomon rules Jerusalem with a steely hand; a hand on which gleams a magic ring of immense and unforgiving power. Solomon has just begun work on his marvelous temple, charging Khaba, a formidable magician in his royal court, to oversee its construction. The workforce is an ill-behaved bunch of demons, a particularly unruly djinni named Bartimaeus among them. True to form, Bartimaeus promptly gets kicked off the temple project and assigned the even more miserable task of hunting bandits in the desert. There he crosses paths with Asmira, a highly skilled and loyal captain of the Queen of Sheba's guard, on a suicidal mission to save her country from Solomon's imminent attack. Of course, Bartimaeus has no intention of helping her. That is, until Asmira makes him an offer he cannot refuse. . . .

A spellbinding addition to Jonathan Stroud's New York Times bestselling Bartimaeus audiobooks, The Ring of Solomon brims with dazzling wit, unforgettable characters, and powerful themes of freedom and slavery, with or without magical bonds.
About the Author
---
Jonathan Stroud is the author of the "New York Times" bestselling Bartimaeus books: "The Amulet of Samarkand," "The Golem's Eye," and "Ptolemy's Gate," as well as "The Amulet of Samarkand: A Bartimaeus Graphic Novel" (written with Andrew Donkin). His other books include "Heroes of the Valley," "The Last Siege," "The Leap," and "Buried Fire." Look for the entire Bartimaeus trilogy as well as "Heroes of the Valley" and "The Last Siege "on audio from Listening Library.