The Infatuations (Hardcover)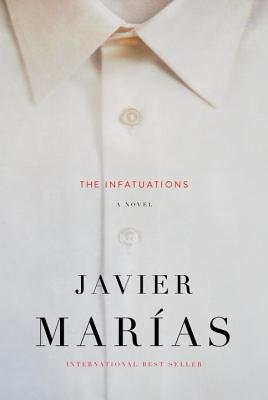 Email or call for price
Special Order -- Email or Call for Availability
Description
---
From the award-winning Spanish writer Javier Marías comes an extraordinary new book that has been a literary sensation around the world: an immersive, provocative novel propelled by a seemingly random murder that we come to understand—or do we?—through one woman's ever-unfurling imagination and infatuations.

At the Madrid café where she stops for breakfast each day before work, María Dolz finds herself drawn to a couple who is also there every morning. Though she can hardly explain it, observing what she imagines to be their "unblemished" life lifts her out of the doldrums of her own existence. But what begins as mere observation turns into an increasingly complicated entanglement when the man is fatally stabbed in the street. María approaches the widow to offer her condolences, and at the couple's home she meets—and falls in love with—another man who sheds disturbing new light on the crime. As María recounts this story, we are given a murder mystery brilliantly reimagined as metaphysical enquiry, a novel that grapples with questions of love and death, guilt and obsession, chance and coincidence, how we are haunted by our losses, and above all, the slippery essence of the truth and how it is told.

About the Author
---
Javier Marias was born in Madrid in 1951. The recipient of numerous prizes, including the International IMPAC Dublin Literary Award and the Prix Femina etranger, he has written thirteen novels, three story collections, and nineteen works of collected articles and essays. His books have been translated into forty-three languages, in fifty-two countries, and have sold more than seven million copies throughout the world.
Praise For…
---
"Whatever else we may think is going on when we read, we are choosing to spend time in an author's company. In Javier Marías's case this is a good decision; his mind is insightful, witty, sometimes startling, sometimes hilarious, and always intelligent . . . The masterly Spanish novelist [has] a penetrating empathy." —Edward St. Aubyn, on the cover of The New York Times Book Review
 
"The Infatuations is mysterious and seductive; it's got deception, it's got love affairs, it's got murder—the book is the most sheerly addictive thing Marías has ever written . . . Marías is a star writer in Europe, where his best-sellers collect prizes the way Kardashians collect paparazzi. He's been hailed in America, too, yet he's never broken through like Haruki Murakami or Roberto Bolaño. This should change with his new novel, The Infatuations, which is the ideal introduction to his work." —Fresh Air/NPR

"The work of a master in his prime, this is a murder story that becomes an enthralling vehicle for all the big questions about life, love, fate, and death." —The Guardian (Summer Reading Issue)

"Blindingly intelligent, engagingly accessible—it seems there's nothing Marías can't make fiction do . . . Marías's rare gift is his ability to make intellectual jousting as suspenseful as the chase scenes in a commercial thriller." —Kirkus Reviews (starred)

"A haunting masterpiece . . . The lasting challenge to literature is to achieve a satisfying marriage between high art and the low drives of a simple plot. The Infatuations is just such a novel . . . Just as Macbeth is a thriller that's also a great tragedy, The Infatuations is a murder story that's also a profound story of fatal obsession . . . Don Quixote was first published as long ago as 1620. I wouldn't be surprised if The Infatuations soon acquired an equally devoted following." —The Observer
 
"Extraordinary . . . Marías has defined the ethos of our time." —Alberto Manguel, The Guardian 
 
"Marías [is] a consummate stylist . . . Magic, stupendous." —Booklist (starred)

"Absorbing and unnerving . . . A labyrinthine exploration, at once thrilling and melancholy, of the meanings of one man's death—and a vivid testimony to the power of stories, for good or ill, to weave the world into our thoughts and our thoughts into the world." —The Sunday Times (London)
 
"A novel that further secures Marías's position as one of contemporary fiction's most relevant voices." —Publishers Weekly

"Hypnotic . . . The Infatuations plays off Marías's enchantingly sinuous sentences. They suck you in and lull you along with their rhythm, which gives the unusual and palpable awareness of how masterfully Marías has made time itself his peculiar object of investigation . . . Powerful." —Bookforum

"A masterpiece . . . Here, great literature once again shows its true face."  —ABC Cultural (Spain)
 
"Keeps us guessing until almost the last page. Yet what lingers in the reader's mind is not the murder mystery, compelling though it is. Rather, it is the author's examination of the ebb and flow of flawed relationships; the chances that bring us together and the fates (in this case, murderous intent) that pull us apart." —Financial Times
 
"I ended up getting angry with myself for not having rationed the reading so it would last longer." —El País

"Uniquely luminous . . . Like Beethoven, Marías is a brilliant escape artist . . . But Marías is original; he cannot help it." —Times Literary Supplement (London)
 
"The Infatuations is a metaphysical exploration masquerading as a murder mystery . . . Quietly addictive." —Spectator
 
"Smart, thoughtful, morally challenging, and consistently surprising in its tense twists." —Scotland on Sunday