The Bus Driver Who Wanted to Be God: and Other Stories (Hardcover)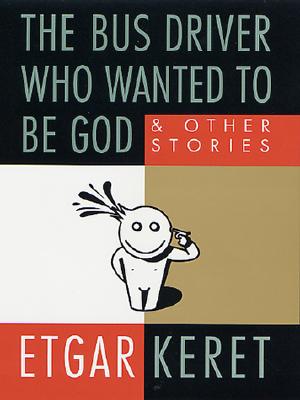 Email or call for price
Special Order -- Email or Call for Availability
Description
---
Israel's hippest bestselling young writer today, Etgar Keret is part court jester, part literary crown prince, part national conscience. The Bus Driver Who Wanted to Be God gathers his daring and provocative short stories for the first time in English.

Brief, intense, painfully funny, and shockingly honest, Keret's stories are snapshots that illuminate with intelligence and wit the hidden truths of life. As with the best comic authors, hilarity and anguish are the twin pillars of his work. Keret covers a remarkable emotional and narrative terrain-from a father's first lesson to his boy to a standoff between soldiers caught in the Middle East conflict to a slice of life where nothing much happens.

Bus Driver includes stories from Keret's bestselling collections in Israel, Pipelines and Missing Kissinger, as well as Keret's major new novella, "Kneller's Happy Campers," a bitingly satirical yet wistful road trip set in the afterlife for suicides.
About the Author
---
Born in Tel Aviv in 1967, Etgar Keret is one of the leading voices in Israeli literature and cinema. In the last ten years he has published three books of short stories and novellas, two comics books, two feature screenplays, and numerous teleplays. Bestsellers in Israel, his story collections have been published in eight different languages. His movie, "Malka Red-Heart," won the Israeli "Oscar," as well as acclaim at several international film festivals. Keret lectures at Tel Aviv University's School of Film.
Praise For…
---
"These wry writings wring the truth out of the fabric of everyday life." (Boston Herald)

"One couldn't have hoped for a finer way to herald this major new voice in world literature." (San Francisco Chronicle)

"...hard to resist, with its distinctive mix of insight, humor, tenderness, indelicate language, and a hopeful kind of cynicism. . . . Exceptional." (Boston Globe)

"If you have a desire to indulge your taste for dark humor, you can't beat this book." (Baltimore Sun)

"Keret's stories are extremely short and witty, like comic sketches." (Wall Street Journal)

"Keret serves us plenty of good laughs." (New York Times Book Review)

"Twenty-two short, wonderfully surreal, laugh-out-loud-funny stories...all of them witty gems from a singular storyteller." (Elle)

"Keret serves us plenty of good laughs." (New York Times Book Review)

"The most successful stories capitalize on their brevity, their irony sharpening as the plot turns on a dime." (Publishers Weekly)

"Keret's prose comes straight out of the gate, a marvel of verbal economy that never loses its heart." (Flaunt Magazine)

"Witty, quirky and off-beat...In a society founded by ideology, Keret takes a satirical swipe at uncompromising idealogues..." (Chicago Jewish News)