The Honey Trail: In Pursuit of Liquid Gold and Vanishing Bees (Hardcover)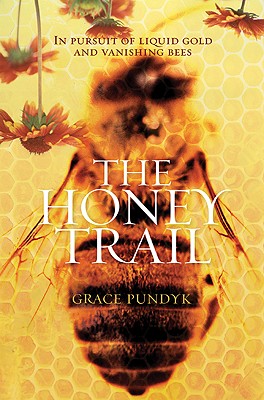 $27.99
Email or call for price.
Description
---
A unique look at the history, culture, tradition, and environmental impact of honey
The Honey Trail is a global travel narrative that looks at different aspects of how honey and bees are being affected by globalization, terrorism, deforestation, the global food trade, and climate change. This unique book not only questions the state of our environment and the impact it is having on bees and honey, it also takes readers on an adventure across Yemeni deserts and Borneo jungles, through the Mississippi Delta and Tasmania's rainforests, over frozen Siberian snowscapes and ancient Turkish villages all in search of the liquid gold known as honey. Including fascinating insights such as: • A bee produces only a teaspoon of honey in its lifetime • China is the world's largest honey producer • Honey is only used as medicine in Borneo • There are more than thirty-five mono-floral honeys in Tuscany.
About the Author
---
GRACE PUNDYK's work has appeared in travel publications, magazines, and newspapers. She lives on the island of Tasmania.
Praise For…
---
Praise for The Honey Trail: "Honey is one of our first foods, and perhaps no other offers such a window onto the world and its ways. In The Honey Trail, Grace Pundyk undertakes a mind-boggling journey to capture a global snapshot of honey, from the fabled deserts of Yemen to wild honey hunters in Borneo, high-tech honey factories in Beijing, and the migrant beekeepers of the American West. She gets places few have been, asks tough questions, and describes her experiences in lively and lambent prose. If you want to understand why honey has captivated humanity for millennia,  The Honey Trail is the book for you." --Rowan Jacobsen, author of Fruitless Fall: The Collapse of the Honey Bee and the Coming Agricultural Crisis "Opening The Honey Trail is like opening a gorgeous flower, petal by petal, page by page, photo by photo. Pundyk's book is a pointed but optimistic tribute not just to honey but to those concerned individuals working to resolve the myriad of problems facing bees."--Tammy Horn, author of Bees in America "Grace Pundyk leads us on a fearless trek to exotic places where she exposes the truth behind the world of beekeeping and the decision makers in the business of honey. Jam packed with little known facts, readers will be captivated by Pundyk's marvelous stories and the glories of indulging in some of the world's finest honeys at their source. The Honey Trail is well worth the trip."--C. Marina Marchese, author of Honeybee: Lessons from an Accidental Beekeeper
"Lifting the veil on beekeeping and honey production throughout the world, Pundyk skillfully makes vicarious travelers of us all. The Honey Trail is by turns colorful and complex, delightful and thought-provoking."--Susan Brackney, author of Plan Bee
"Pundyk's passion for honey is as deep as a wine fanatic's dreams of Romanee Conti. I read the book with increasing fascination..." –
Eat and Drink Magazine
"A gorgeous book, which is not only an eye opener but also a delight to read, [it]will forever change the way you look...honey." —The Snail, Slow Food USA