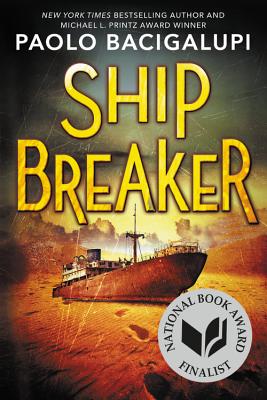 $12.99
Usually Arrives in Store in 1-5 Days
Description
---
This thrilling bestseller and National Book Award Finalist is a gritty, high-stakes adventure of a teenage boy faced with conflicting loyalties, set in a dark future America devastated by the forces of climate change.

In America's flooded Gulf Coast region, oil is scarce, but loyalty is scarcer. Grounded oil tankers are being broken down for parts by crews of young people. Nailer, a teenage boy, works the light crew, scavenging for copper wiring just to make quota--and hopefully live to see another day. But when, by luck or by chance, he discovers an exquisite clipper ship beached during a recent hurricane, Nailer faces the most important decision of his life: Strip the ship for all it's worth or rescue its lone survivor, a beautiful and wealthy girl who could lead him to a better life....

In this powerful novel, Hugo and Nebula Award winning author Paolo Bacigalupi delivers a fast-paced adventure set in the vivid and raw, uncertain future of his companion novels The Drowned Cities and Tool of War.

"Suzanne Collins may have put dystopian literature on the YA map with The Hunger Games...but Bacigalupi is one of the genre's masters, employing inventively terrifying details in equally imaginative story lines." --Los Angeles Times

A New York Times Bestseller
A Michael L. Printz Award Winner
A National Book Award Finalist
A VOYA 2010 Top Shelf Fiction for Middle School Readers Book
A Rolling Stone 40 Best YA Novels Book
About the Author
---
Paolo Bacigalupi is the author of the highly acclaimed The Drowned Cities, Tool of War,and Ship Breaker, a New York Times bestseller, Michael L. Printz Award winner, and National Book Award finalist. He is also the author of the Edgar Awards nominee The Doubt Factory; a novel for younger readers, Zombie Baseball Beatdown; and two bestselling adult novels for adults, The Water Knife and The Windup Girl. His first work of collected short fiction was Pump Six and Other Stories. He co-wrote The Tangled Lands with Tobias S. Buckell. The winner of the Hugo, Nebula, Locus, Compton Crook, John W. Campbell Memorial, and Theodore Sturgeon Memorial Awards, he lives in western Colorado with his wife and son. The author invites you to visit his website at windupstories.com.
Praise For…
---
Praise for Ship Breaker
A Michael L. Printz Award Winner
A National Book Award Finalist
A VOYA 2010 Top Shelf Fiction for Middle School Readers Book
A Rolling Stone 40 Best YA Novels Book
"Bacigalupi's future earth is brilliantly imagined and its genesis anchored in contemporary issues...The characters are layered and complex, and their almost unthinkable actions and choices seem totally credible. Vivid, brutal, and thematically rich, this captivating title is sure to win teen fans for the award-winning Bacigalupi." --
Booklist
(starred review)
"Bacigalupi (
The Windup Girl
) makes a stellar YA debut with this futuristic tale of class imbalance on the Gulf Coast...Bacigalupi's cast is ethnically and morally diverse, and the book's message never overshadows the storytelling, action-packed pacing, or intricate world-building." --
Publishers Weekly
(starred review)
-
* "This thriller will grab and keep readers' attentions as Nailer and Nita 'crew up' in their fight to survive."
The Horn Book, starred review
"Exciting, poetic, and breathtaking."
Sherman Alexie, author of The Absolutely True Diary of a Part-Time Indian
"A riveting tale of adventure in a broken world."
Scott Westerfeld, author of the Uglies series and Leviathan
"Barely a chapter into this novel, readers may feel as if they're deep inside the black hold of an oil tanker--in a good way."
New York Times Book Review
"A top-notch dystopian thriller, from its claustrophobic opening pages to its race-against-the-waves ending."
Barry Lyga, author of The Astonishing Adventures of Fanboy and Goth Girl and Boy Toy
"Tough, tense, and terrific--a story that keeps you turning pages while you read, and returning to the tale long after you're done."
John Scalzi, author of Old Man's War
"This gripping novel is all about the nature of trust and of family. . . . Nailer and his intense, beautiful world will linger in your mind for a long time."
Kim Stanley Robinson, author of the Mars trilogy