The Dinosaur Artist: Obsession, Betrayal, and the Quest for Earth's Ultimate Trophy (Hardcover)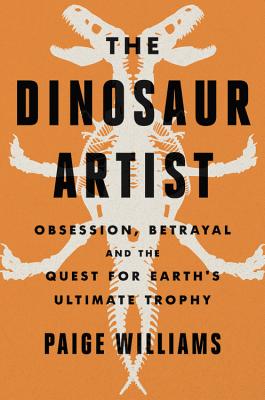 $28.00
Email or call for price.
Staff Reviews
---
The Dinosaur Artist: Obsession, Betrayal, and the Quest for Earth's Ultimate Trophy is the first book by New Yorker staff writer, Harvard Neiman Fellow, graduate of Columbia and the University of Mississippi, and Tupelo, Mississippi native Paige Williams. We knew she had a book in her, but we didn't know she had this book in her, the fascinating story of Eric Prokofi, whose Florida childhood as a shark's tooth diviner would lead him to Wyoming, Montana, Canada, and eventually Mongolia in search of Tarbosaurus bataar, first cousin to T-Rex and worth $1.5 million on the "gray" market, where international law was unclear and even unformed until now, 65 million years after these magical creatures roamed our planet. A riveting story of intrigue and adventure, a pleasing primer on paleontology, and a masterful portrait of its characters, The Dinosaur Artist will be an enormous hit this fall, with its publication in September. —RH
— From
Paige Williams with THE DINOSAUR ARTIST
Description
---
In this 2018 New York Times Notable Book,Paige Williams "does for fossils what Susan Orlean did for orchids" (Book Riot) in her account of one Florida man's attempt to sell a dinosaur skeleton from Mongolia--a story "steeped in natural history, human nature, commerce, crime, science, and politics" (Rebecca Skloot).

In 2012, a New York auction catalogue boasted an unusual offering: "a superb Tyrannosaurus skeleton." In fact, Lot 49135 consisted of a nearly complete T. bataar, a close cousin to the most famous animal that ever lived. The fossils now on display in a Manhattan event space had been unearthed in Mongolia, more than 6,000 miles away. At eight-feet high and 24 feet long, the specimen was spectacular, and when the gavel sounded the winning bid was over $1 million.

Eric Prokopi, a thirty-eight-year-old Floridian, was the man who had brought this extraordinary skeleton to market. A onetime swimmer who spent his teenage years diving for shark teeth, Prokopi's singular obsession with fossils fueled a thriving business hunting, preparing, and selling specimens, to clients ranging from natural history museums to avid private collectors like actor Leonardo DiCaprio.

But there was a problem. This time, facing financial strain, had Prokopi gone too far? As the T. bataar went to auction, a network of paleontologists alerted the government of Mongolia to the eye-catching lot. As an international custody battle ensued, Prokopi watched as his own world unraveled.

In the tradition of The Orchid Thief, The Dinosaur Artist is a stunning work of narrative journalism about humans' relationship with natural history and a seemingly intractable conflict between science and commerce. A story that stretches from Florida's Land O' Lakes to the Gobi Desert, The Dinosaur Artist illuminates the history of fossil collecting--a murky, sometimes risky business, populated by eccentrics and obsessives, where the lines between poacher and hunter, collector and smuggler, enthusiast and opportunist, can easily blur.

In her first book, Paige Williams has given readers an irresistible story that spans continents, cultures, and millennia as she examines the question of who, ultimately, owns the past.
About the Author
---
Paige Williams is a staff writer at the New Yorker and a Mississippi native. A National Magazine Award winner for feature writing, she has had her journalism anthologized in various volumes of the Best American series, including The Best American Magazine Writing and The Best American Crime Writing. She is the Laventhol/Newsday Visiting Professor at Columbia University's Graduate School of Journalism, and has taught at schools including the University of Mississippi, New York University, the Missouri School of Journalism, and, at M.I.T., in the Knight Science Journalism program. Williams has been a fellow of The MacDowell Colony and was a Nieman Fellow at Harvard. At the New Yorker, she has written about suburban politics in Detroit, the death penalty in Alabama, paleoanthropology in South Africa, and the theft of cultural palimony from the Tlingit peoples of Alaska.
Praise For…
---
"Paige Williams is that rare reporter who burrows into a subject until all of its dimensions, all of its darkened corners and secret chambers, are illuminated. With The Dinosaur Artist, she has done more than reveal a gripping true crime story; she has cast light on everything from obsessive fossil hunters to how the earth evolved. This is a tremendous book."—David Grann, #1 NewYork Times bestselling author of Killers of the Flower Moon

"The Dinosaur Artist is a breathtaking feat of writing and reporting: a strange, irresistible, and beautifully written story steeped in natural history, human nature, commerce, crime, science, and politics. It's at once laugh-out-loud funny and deeply sobering. I was blown away by the depth of its characters, its vivid details, and Paige Williams' incredible command of the facts. Bottom line: this is an extraordinary debut by one of the best nonfiction writers we've got."—Rebecca Skloot, #1New York Times bestselling author of The Immortal Life of HenriettaLacks

"What began for [Williams] as the tale of an unusual court case
involving a rogue fossil hunter unspools in this book into a wide-ranging
examination of the ways that commercialism, ambition, politics and science
collide... As a reader, being given entry by Williams into this underworld, privy
to the secret knowledge of a black market, is a thrill.... The strange
underground world Prokopi inhabits inevitably brings us in contact with some
serious oddballs, each of whom is introduced by Williams with the economy and
evocative precision of a haiku.... the book's most memorable character may be Mongolia
itself, a rugged physical and political terrain that defies easy
generalization."—New York Times

"The Dinosaur Artist is a tale that has everything: passion, science, politics, intrigue, and, of course, dinosaurs. Paige Williams is a wonderful storyteller."—Elizabeth Kolbert,Pulitzer Prize-winning author of The Sixth Extinction

"The Dinosaur Artist is a triumph. With peerless prose and sharp-eyed reporting, Paige Williams weaves a story that, even as it spans continents and transcends geological epochs, is deeply anchored in the passion and hubris of a rich cast of characters. Captivating, funny, and profound, it is easily one of the strongest works of non-fiction in years."—Ed Yong, staffwriter, The Atlantic; New York Times bestselling author of IContain Multitudes

"Vivid storytelling.... A triumphant book."—Publishers Weekly

"An astonishing tangle of financial gain, national identity, scientific
fervour and, above all, the obsessional need to possess pieces of the past."—Nature

"Williams's writing is often concise and evocative.... [The Dinosaur Artist] is gripping and cinematic."—Wall Street Journal

"A tale so expansive that Nicolas Cage, Preet Bharara, and a colossal carnivorous dinosaur that lived some 70 million years ago are all entangled in its web. That alone should pique your curiosity, but it barely scratches the surface of the paleontological true crime story that unfolds in The Dinosaur Artist by Paige Williams."—Vice

"Williams writes elegantly on the importance of fossils to science."—NPR

"The Dinosaur Artist is about a poached fossil and the folks--paleontologists and commercial fossil hunters--who try to protect and possess natural history. [Paige Williams'] layering of science upon story is so crafted that the book itself could pass as a geological act."—The Paris Review

"Like
a massive trove of fossils, each skeleton with dozens of stories to tell, this
phenomenal book is at once natural history and a history of paleontology."—Politics & Prose

"Compelling .... absorbing.... Williams
effectively tells the story of people living out their passions."—Outside

"Williams tells the fascinating story of the Tarbosaurus skeleton and of how its seller, Eric Prokopi, became the most infamous commercial fossil trader in the world.... Painstakingly detailed reporting."—Los Angeles Review of Books

"Vivid detail.... At [The Dinosaur Artist's] core is this friction between commercial fossil collectors ... and the scientific community that snubs them for profiting off of a finite and priceless source of knowledge. Williams weaves that conflict into a meaty epic spanning the history of paleontology and the political environment that primed Mongolia for fossil poaching."—The Verge

"As she excavates the story of a young Florida man's
obsession with dinosaur fossils and his escalating hunger for bigger and bigger
payouts, Williams uncovers a murky world of smugglers, collectors, and covert
black-market transactions."—NationalGeographic.com

"Complex and multi-layered.... Much as The Feather Thief did for fly-tying and The Orchid Thief did for orchid collecting, this book exposes readers to the little known but highly lucrative trade of finding and selling the remnants of an extinct world..... Fascinating glimpses of paleontology, geology and mineralogy as well as the clandestine market for dinosaur fossils.... The true strength of the book is the author's talent in describing the characters and scenes of the tale she unravels."—Lincoln Journal Star

"The Dinosaur Artist is a compelling, nuanced look at the surprisingly complex politics that surround fossil collecting. It should be required reading for both professional paleontologists and fossil enthusiasts and is a gripping read for anyone interested in the interplay between culture, history, and science."—Science

"The Dinosaur Artist infectiously captures mankind's fascination with fossils as both tangible items to treasure and artifacts that can reveal a wealth of data about the planet's prehistory, geology, zoology and more."—Atlanta Journal-Constitution

"[Williams] skillfully navigates
this unique nexus of paleontology and law along with its notorious black
markets."—Science Friday

"[A] heist story... with plenty of fascinating details about the way that the market for fossils has distorted the incentives in paleontology."—Stephen L. Carter, Bloomberg