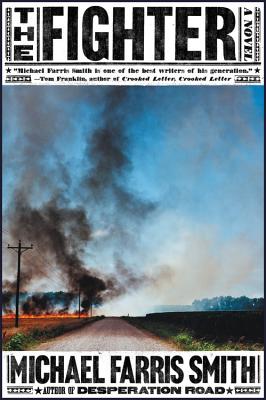 Staff Reviews
---
Michael Farris Smith has inherited the rough south of Larry Brown and created his own rugged terrain. It is a world populated by people with few choices in life, not many of them good. Violence, physical, mental and social, is prevalent and the response to it shapes lives. Jack Boucher is immersed in this world and has to enter it one final time to have his last chance at redemption. This is another spare, powerful, beautifully composed work by a writer who can probe the dark side of the American dream like no other.
— From
Bill's 2018 Picks
Description
---
A Clarion-Ledger Top Reads of 2018
One of More 2 Read's Best Fiction of 2018
A Writer's Bone Best Book of 2018
One of Raven Crime Reads Top 10 of 2018
A Kirkus Review Must Read Short Novel
One of BookPage's Top Summer Mysteries and Thrillers
Named a Best Summer Read by The Bitter Southerner
A blistering novel of violence and deliverance set against the mythic backdrop of the Mississippi Delta

The acres and acres of fertile soil, the two-hundred-year-old antebellum house, all gone. And so is the woman who gave it to Jack, the foster mother only days away from dying, her mind eroded by dementia, the family legacy she entrusted to Jack now owned by banks and strangers. And Jack's mind has begun to fail, too. The decades of bare-knuckle fighting are now taking their toll, as concussion after concussion forces him to carry around a stash of illegal painkillers and a notebook of names that separates friend from foe.
But in a single twisted night, Jack loses his chance to win it all back. Hijacked by a sleazy gambler out to settle a score, Jack is robbed of the money that will clear his debt with Big Momma Sweet--the queen of Delta vice, whose deep backwoods playground offers sin to all those willing to pay--and open a path that could lead him back home. Yet this sudden reversal of fortunes introduces an unlikely savior in the form of a sultry, tattooed carnival worker. Guided by what she calls her "church of coincidence," Annette pushes Jack toward redemption, only to discover that the world of Big Momma Sweet is filled with savage danger.
Damaged by regret, crippled by twenty-five years of fists and elbows, heartbroken by his own betrayals, Jack is forced to step into the fighting pit one last time, the stakes nothing less than life or death. With the raw power and poetry of a young Larry Brown and the mysticism of Cormac McCarthy, Michael Farris Smith cements his place as one of the finest writers in the American literary landscape.
About the Author
---
Michael Farris Smith is the author of Desperation Road, Rivers and The Hands of Strangers and is the recipient of the 2014 Mississippi Author Award. His short fiction has twice been nominated for a Pushcart Prize, and his essays have appeared in the New York Times, Catfish Alley, Deep South Magazine, and more. He lives in Oxford, Mississippi, with his wife and two daughters.
Praise For…
---
Praise for The Fighter

"One of those wonderful and rare books that's both a page-turner and a novel of great depth and emotion. The Fighter is Southern noir at its finest."—Ace Atkins, New York Times bestselling author of The Fallen and The Sinners

"It is a devastatingly efficient novel that coils and releases its mammoth punches in blinding succession - the literary equivalent of a first-round knockout. It's over before you're ready to let it go, but it remains viscerally satisfying in its brutality and brevity."—Winnipeg Free Press

"Michael Farris Smith is so good, I might actually hate him a little bit. The Fighter is a book I wish I'd written but am deeply grateful I got to read. It is a masterful portrait of place and character and how one influences the other, with language that is both brutal and tender at once. Smith loves Jack Boucher and the Mississippi Delta to the bone."—Attica Locke, author of Bluebird, Bluebird

"I loved The Fighter. Michael Farris Smith is one of the most exciting new voices in American fiction. Just as I couldn't put down Desperation Road till I finished, I tore through this novel as well. I'm hooked."
—Brad Watson, author of Miss Jane

"The Fighter is a beautifully written parable of a man, abandoned as a child, at war with himself. Hiding behind the expertly-handled plot and poetic meditations on violence and substance abuse is the notion that lack of family can send you on a continuous tumble through darkness. With its tension-filled and enlightening final chapters, The Fighter delivers a powerful and engaging read from one of our newest and finest writers."
—Tim Gautreaux, author of The Missing


"Michael Farris Smith is continuing the Southern Gothic tradition of William Gay and Flannery O'Connor. Drenched in sorrow and written with complex language, The Fighter moves toward a conclusion both surprising and inevitable."—Chris Offutt, author of Country Dark and Kentucky Straight

"Like living language, literary modes have both a formal and a demotic form. What we call 'noir' is high tragedy brought down to the forgotten and disavowed--the fallen, who can do little but go on falling. Ours to witness the beauty and power of their fall. With The Fighter, Michael Farris Smith brings that tradition brilliantly into the present."—James Sallis, author of Drive

"This resourceful writer weds violence, despair, and glimmers of hope during a few tense days in the life of a once-legendary bare-knuckle fighter... A gifted storyteller who parses battered dreams and the legacies of abandonment with a harsh realism that is both saddening and engaging."—Kirkus (starred review)

"This crisply written tale of thwarted lives and rawboned courage will sit comfortably alongside the similarly hardscrabble work of Daniel Woodrell and Chris Offutt."—Booklist (starred review)

"Ferocious... vivid descriptions never slow the pace of the plot, which moves swiftly toward an inevitable but still surprising climax. As violent as it is poetic, Smith's novel draws the reader in from beginning to end."—Publishers Weekly

"A dark bluesy tale, The Fighter is the raw story of a broke-down Mississippi cage fighter searching for deliverance in whatever form it appears."—Shelf Awareness

"Michael Farris Smith cements his place as one of the finest writers in the American literary landscape."—Fantastic Fiction

"A grizzled, brown liquor-drenched gem."—Dallas Morning News