Mrs.: A Novel (Hardcover)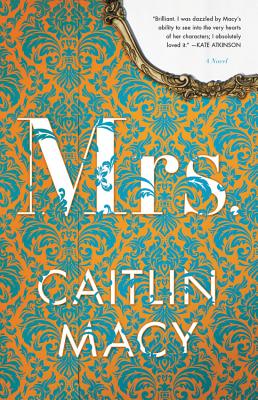 Description
---
In the well-heeled milieu of New York's Upper East Side, coolly elegant Philippa Lye is the woman no one can stop talking about. Despite a shadowy past, Philippa has somehow married the scion of the last family-held investment bank in the city. And although her wealth and connections put her in the center of this world, she refuses to conform to its gossip-fueled culture.

Then, into her precariously balanced life, come two women: Gwen Hogan, a childhood acquaintance who uncovers an explosive secret about Philippa's single days, and Minnie Curtis, a newcomer whose vast fortune and frank revelations about a penurious upbringing in Spanish Harlem put everyone on alert.

When Gwen's husband, a heavy-drinking, obsessive prosecutor in the US Attorney's Office, stumbles over the connection between Philippa's past and the criminal investigation he is pursuing at all costs, this insulated society is forced to confront the rot at its core and the price it has paid to survive into the new millennium.

Macy has written a modern-day House of Mirth, not for the age of railroads and steel but of hedge funds and overnight fortunes, of scorched-earth successes and abiding moral failures. A brilliant portrait of love, betrayal, fate and chance, Mrs. marries razor-sharp social critique and page-turning propulsion into an unforgettable tapestry of the way we live in the 21st Century.

"Mrs. could be the next Big Little Lies."-EW

"Macy skewers power parents in this entertaining, sharp-eyed portrayal of privilege and it's price"-People Magazine
About the Author
---
Caitlin Macy is the author of The Fundamentals of Play and Spoiled. A graduate of Yale, she received her MFA from Columbia. Her work has been published in The New Yorker, the New York Times Magazine, O, The Oprah Magazine, and Slate, among other publications. She lives in New York City with her husband and two children.
Praise For…
---
One of 12 Books We Recommend This Week by the NYTBR
"The boldest thing about 'Mrs'-as with
Big Little Lies
is that it focuses on the depths of women's experiences as wives and mothers. Their clashes with one another are entertaining, sure, but they're a diversion from the more important conflict with their husbands and with male power."—
New York Times Book Review
"Macy skewers power parents in this entertaining, sharp-eyed portrayal
of privilege and it's price"
—
People
"Inside a seductive microuniverse, the super competitive lives of three
very different women intersect at the exclusive preschool their children
attend. When one woman's husband, a U.S. attorney, launches an investigation
into the financial dealings of another's, shocking secrets threaten to disrupt
their lives in this smart skewering of
high society."
—
Marie Claire
"A fresh take on the society novel."—
Publisher's Weekly
"
Mrs.
could be the next
Big Little Lies
."
—
Entertainment Weekly
"Brilliant. I was dazzled by her ability to see into the very hearts of her characters; I absolutely loved it."
—
Kate Atkinson, author of Life After Life and A God in Ruins
"Deeply moving, hugely entertaining, utterly brilliant. As an observer of human behavior Macy rivals Tom Wolfe and Edward St. Aubyn.
Mrs.
is a major novel, and Macy is an essential American voice."
—
Lev Grossman, author of The Magicians
"I love novels that are both rousing and intelligent, and
Mrs.
was just that--a riveting, complex, and potent story of money, friendships, and family. Macy masters New York's Upper East Side because she goes beyond the vanities and delves into its layers, its distinct voices and characters. She puts you in the territory of the well-heeled and shows their heart and soul."
—
Kaui Hart Hemmings, author of The Descendants
"Wise and cryptic...Intriguing...(Smart, apt and slightly unexpected)...Sharply insightful."
—
Janet Maslin, New York Times