The Ice Harvest: A Novel (Paperback)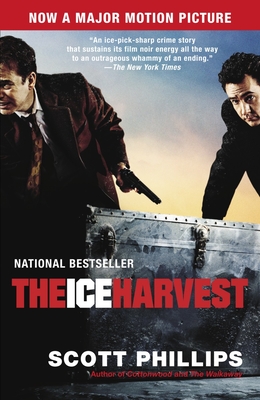 $16.00
Email or call for price.
Description
---
"BITTERLY FUNNY . . . [A] SLEEK FIRST NOVEL . . . NOIR CRIME . . . HAS FOUND A STERLING NEW CHAMPION IN PHILLIPS."
–The New York Times Book Review

"A FUTURE HARD-BOILED CLASSIC–TIGHT, COLD, AND CACKLING WITH IRONY. On Christmas Eve [in Wichita], a mob lawyer is skipping town with the cash. But in this boozy, neo-noir world–James M. Cain meets George V. Higgins–the best-laid plans of bagmen turn brutal."
–The Dallas Morning News

"OMINOUS, ACTION-PACKED. . . This is a confident, wry debut . . . [that] may remind readers of Fargo or Pulp Fiction."
–Detroit Free Press

"I SIMPLY CAN'T WAIT TO SEE WHAT SCOTT PHILLIPS WILL DO NEXT. [This] funny, tough first novel felt like it was written by an old pro, an Elmore Leonard we've never heard about who's discovered a place where the criminals are really dumb, the low-lifes are oh-so-fun to watch and, if somebody just happens to get what he deserves, there's no one to blame."
–RICHARD RUSSO
Author of Straight Man

"A DARKLY COMIC, SOMETIMES BRUTAL PIECE OF NOIR FICTION."
–The Denver Post

Finalist for the Hammett Prize

About the Author
---
Scott Phillips was born and raised in Wichita, Kansas, and lived for many years in France. He now lives with his wife and daughter in Southern California, where he is currently at work on his second novel.
Praise For…
---
?[A] funny, craftily malevolent first novel, an ice-pick-sharp crime story that sustains its film noir energy all the way to an outrageous whammy of an ending.?
?The New York Times

?[An] astonishing debut novel from a writer who manages to put a funny, modernist spin on a piece of our noir past: Jim Thompson frosted with a blast of Jonathan (Motherless Brooklyn) Lethem.?
?Chicago Tribune