Save Room for Pie: Food Songs and Chewy Ruminations (Hardcover)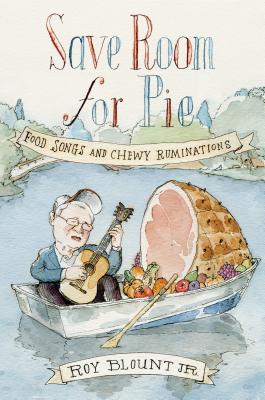 $26.00
Email or call for price.
Description
---
Our best-laid plans will yield to fate.
And we will say, "We lived. We ate."
Roy Blount Jr. is one of America's most cherished comic writers. He's been compared to Mark Twain and James Thurber, and his books have been called everything from "a work of art" (Robert W. Creamer, The New York Times Book Review) to "a book to read till it falls apart" (Newsweek). Now, in Save Room for Pie, he applies his much-praised wit and charm to a rich and fundamental topic: food.
As a lifelong eater, Blount always got along easy with food—he didn't have to think, he just ate. But food doesn't exist in a vacuum; there's the global climate and the global economy to consider, not to mention Blount's chronic sinusitis, which constricts his sense of smell, and consequently his taste buds. So while he's always frowned on eating with an ulterior motive, times have changed. Save Room for Pie grapples with these and other food-related questions in Blount's signature style. Here you'll find lively meditations on everything from bacon froth to grapefruit, Kobe beef to biscuits. You'll also find defenses of gizzards, mullet, okra, cane syrup, watermelon, and boiled peanuts; an imagined dialogue between Adam and Eve in the Garden of Eden; input from Louis Armstrong, Frederick Douglass, and Blaze Starr; and of course some shampooed possums and carjacking turkeys.
In poems and songs, limericks and fake (or sometimes true) news stories, Blount talks about food in surprising and innovative ways, with all the wit and verve that prompted Garrison Keillor, in The Paris Review, to say: "Blount is the best. He can be literate, uncouth, and soulful all in one sentence."
About the Author
---
Roy Blount Jr. is the author of Alphabet Juice and books covering subjects from the Pittsburgh Steelers to Robert E. Lee to what dogs are thinking. He is a regular panelist on NPR's Wait, Wait . . . Don't Tell Me! and is a member of the American Heritage Dictionary Usage Panel. Born in Indianapolis and raised in Decatur, Georgia, Blount lives in western Massachusetts with his wife, the painter Joan Griswold.
Praise For…
---
Praise for Save Room for Pie
"[Blount] knows from rhythm and melody. His prose can sing in deft comic rifts." —Robert Pinsky, The New York Times Book Review
"A distinct delight . . . Like a cook over a large stew pot, he loves stirring up a mess of words, swirling them this way and that, taking some out, putting some in, and then pouring his concoctions out in savory servings." —The Wall Street Journal
"Roy Blount, Jr., is smart and witty, no matter what subject he tackles" —Shelf Awareness

"Pithy and cleverly entertaining. . . . Blount revels in unabashed omnivorism. . . . Blount's southern upbringing takes center stage as he smacks his lips and his prose." —Booklist
Praise for Roy Blount, Jr.
"You'd be pulling off a major stunt / To hold in your laughter while reading Roy Blount." —DENNIS DRABELLE, The Washington Post
"Roy Blount Jr. is one of the most clever (see sly, witty, cunning, nimble) wordsmiths cavorting in the English language, or what remains of it." —CARL HIAASEN, author of Bad Monkey
"[Roy Blount Jr.'s] many columns celebrating food can cause a reader to salivate." —MERRITT MOSELEY, Sewanee Review
"Roy Blount Jr. is so funny, and he sounds like he's just talking, and the next thing you know he has tossed off an essay as elegant and intricately structured as a birdsong. His ear for American speech is better than anybody's." —IAN FRAZIER
"Reading a collection of articles by Roy Blount Jr. is like panning for gold at Tiffany's—you know the nuggets will be there, the only question is their brilliance." —DAVID E. JONES, Chicago Tribune