The Illumination (Hardcover)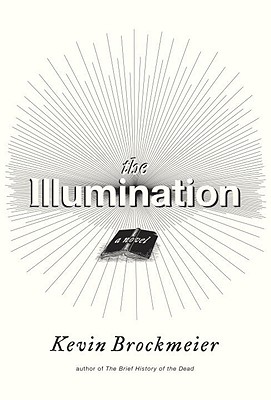 Email or call for price
Special Order -- Email or Call for Availability
February 2011 Indie Next List
---
"Brockmeier's latest novel weaves together disparate voices in a stunning meditation on pain and beauty. Like the best speculative fiction, it wields the paranormal to show us a very present truth. The Illumination is a reminder that, no matter how dramatically the world changes around us, people are and always will be people - and that there is a brightness in that, regardless of our failings."
— Jenn Northington, WORD, Brooklyn, NY
Description
---
What if our pain was the most beautiful thing about us?
 
From best-selling and award-winning author Kevin Brockmeier: a new novel of stunning artistry and imagination about the wounds we bear and the light that radiates from us all.
 
At 8:17 on a Friday night, the Illumination commences. Every wound begins to shine, every bruise to glow and shimmer. And in the aftermath of a fatal car accident, a private journal of love notes, written by a husband to his wife, passes into the keeping of a hospital patient and from there through the hands of five other suffering people, touching each of them uniquely.
 
I love the soft blue veins on your wrist. I love your lopsided smile. I love watching TV and shelling sunflower seeds with you.
 
The six recipients—a data analyst, a photojournalist, a schoolchild, a missionary, a writer, and a street vendor—inhabit an acutely observed, beautifully familiar yet particularly strange universe, as only Kevin Brockmeier could imagine it: a world in which human pain is expressed as illumination, so that one's wounds glitter, fluoresce, and blaze with light. As we follow the journey of the book from stranger to stranger, we come to understand how intricately and brilliantly they are connected, in all their human injury and experience.
About the Author
---
Kevin Brockmeier is the author of the novels "The View from the Seventh Layer, The Brief History of the Dead, ""The Truth About Celia," "Things That Fall from the Sky, " and two children's novels. His stories have appeared in "The New Yorker," "Tin House, " "McSweeney's," "The Oxford American," "The Best American Short Stories," "O. Henry Prize Stories "and Granta's "Best of Young American Novelists," among other publications. He has taught at the Iowa Writer's Workshop and lives in Little Rock, Arkansas.
Praise For…
---
Praise for The Illumination

"By the end, I imagined that if I tore a page from the novel itself, the binding would give off a sharp and penetrating light."
—Alan Cheuse, NPR's All Things Considered
 
"Spectacular . . . achingly beautiful . . . Underscoring (his characters') conflicts is the haunting, harrowing, and deeply hypnotic pull of Brockmeier's lush language, where even the direst pain becomes poetic."
—Boston Globe
 
"Stunningly original . . . this gorgeously written book will still stay with them long after the last page is turned."
—Portland Oregonian
 
"Brockmeier's book positively sparkles . . . We've never read anything like it."
—Daily Candy San Francisco
 
"The depth of this writer's scrutiny makes his fiction glow."
—Cleveland Plain Dealer
 
"The writing consistently astonishes . . . [a] sunlit novel."
—Time Out Chicago
 
"Brockmeier's literary ability lives up to the hauntingly appropriate epigraphs from great writers he uses to introduce each new section—from Hugh Blumenfeld ("The light is worth the pain"), to Whittaker Chambers ("There is nothing more important than this wound"), to J.G. Ballard ("The world was beginning to flower into wounds"), to Simone Weil ("Pain is the color of certain events"), to Joy Williams ("To eradicate the sickness would be to eradicate the self") or to Franz Kafka ("It is enough that the arrows fit exactly in the wounds they have made")."
—Iowa Press-Citizen
 
"Fresh and ingenious . . . Brockmeier has one of those imaginations that churns out picture-perfect imagery."
—ELLE
 
"In Brockmeier's spectacular latest . . .  pain manifests itself as visible light after a mysterious event called "the Illumination," revealing humanity to be mortally wounded, and yet Brockmeier finds in these overlapping, storylike narratives, beauty amid the suffering . . . Brockmeier's careful reading of his characters' hearts and minds gives readers an inspiring take on suffering and the often fleeting nature of connection."
—Publishers Weekly, starred review
 
"This is a radiant, bewitching, and profoundly inquisitive novel of sorrow, perseverance, and wonderment."
—Booklist, starred review
 
Praise for The View from the Seventh Layer

"Some writers show us the world we live in. Brockmeier shows us, instead, the one we might live in if only we had a little more imagination."
—Los Angeles Times
 
"Powerfully affecting . . .  Carefully observed . . . A field of sparks set ablaze by Brockmeier's artistic hand."
—The Miami Herald
 
"[Filled] with lyrical grace, indelible characters, and deep insight . . . Startlingly original."
—Tucson Citizen
 
"Devilishly addictive . . . Brockmeier slakes our thirst once again with rich language, measured telling, [and] a hint of wonder."
—The Seattle Times
 
Praise for The Brief History of the Dead

"Brilliant . . . Brockmeier's characters are wonderful and his images are dazzling."
—Detroit Free Press
 
"Thrilling . . . Inventive . . . Deftly told."
—The Washington Post Book World
 
"Extraordinary . . . Breathtaking . . . A gracefully written story that blends fantasy, philosophical speculation, adventure, and crystalline moments of compassion."
—Milwaukee Journal Sentinel
 
"Striking . . . Brave . . . Deliciously disquieting . . . Will stay alive in the memories of readers for years to come."
—The Atlanta Journal-Constitution