American Gods: A Novel (Hardcover)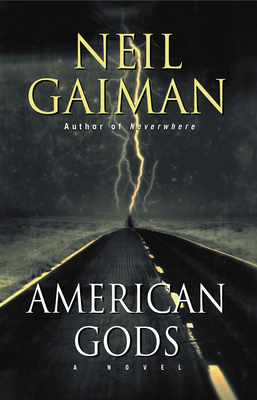 $26.99

Usually Arrives in Store in 1-5 Days
Staff Reviews
---
It's hard to summarize this book into a few lines, but the basic premise is this: as immigrants come to America, they bring their gods with them, and as they assimilate their gods become mostly normal people, having to work for a living while dreaming about their past lives. Enter into this world a man named Wednesday, who is preparing for a war between the old gods and the new ones that are growing more powerful in modern America--the gods of finance, technology, and Hollywood. Prepare to be blown away by this epic novel by the master of fantasy--seriously this novel deserves to be read, savored, and read again.
— Andrew
Description
---
Since it was first published, American Gods became an instant classic. Now discover the mystery and majesty of American Gods in this beautiful reissue of the Author's Preferred Text edition. Featuring a new preface by Neil Gaiman in honor of the novel's 20th anniversary, this commemorative volume is a true celebration of a modern masterpiece.
Locked behind bars for three years, Shadow did his time, quietly waiting for the magic day when he could return to Eagle Point, Indiana. A man no longer scared of what tomorrow might bring, all he wanted was to be with Laura, the wife he deeply loved, and start a new life. 
But just days before his release, Laura and Shadow's best friend are killed in an accident. With his life in pieces and nothing to keep him tethered, Shadow accepts a job from a beguiling stranger he meets on the way home, an enigmatic man who calls himself Mr. Wednesday. A trickster and a rogue, Wednesday seems to know more about Shadow than Shadow does himself. 
Life as Wednesday's bodyguard, driver, and errand boy is far more interesting and dangerous than Shadow ever imagined—it is a job that takes him on a dark and strange road trip and introduces him to a host of eccentric characters whose fates are mysteriously intertwined with his own.
About the Author
---
Neil Gaiman is a #1 New York Times bestselling author of books for children and adults whose award-winning titles include Norse Mythology, American Gods, The Graveyard Book, Good Omens (with Terry Pratchett), Coraline, and The Sandman graphic novels. Neil Gaiman is a Goodwill Ambassador for UNHCR and Professor in the Arts at Bard College.
Praise For…
---
"American Gods manages to reinvent, and reassert, the enduring importance of fantastic literature itself in this late age of the world. Dark fun, and nourishing to the soul."
— Michael Chabon

"Provocative yet fun . . . Gaiman has applied his vast breadth of knowledge about all things mythological to a truly high concept."
— Entertainment Weekly

"Gaiman returns to the fertile killing ground that nourished The Sandman: that peculiarly American crossroads where pop culture intersects with religion, violence and death."
— Village Voice Literary Supplement

"Immensely rewarding . . . . Suffused with . . . powerful imagery and deftly painted characters . . . . A finely crafted novel of weight and significance [with] poetic descriptions, sharp-eyed criticism, and first-rate storytelling. There is much to enjoy, to admire, and to ponder in this unforgettable tale."
— Cleveland Plain Dealer

"Pointed, occasionally comic, often scary, consistently moving and provocative . . . . American Gods is strewn with secrets and magical visions."
— USA Today

"Mystery, satire, sex, horror, poetic prose-American Gods uses all these to keep the reader turning the pages."
— Washington Post

"Original, engrossing, and endlessly inventive."
— George R. R. Martin

American Gods is sexy, thrilling, dark, funny and poetic."
— Teller, of Penn & Teller

"American Gods is like a fast run downhill through a maze -- both exhilarating and twisted."
— Jane Lindskold, author of Changer and