The Last Season: A Father, a Son, and a Lifetime of College Football (Hardcover)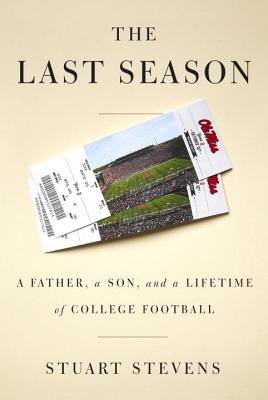 $24.95
Email or call for price.
Staff Reviews
---
Stuart Stevens has written five books on politics and travel, but this one's personal. THE LAST SEASON is an account of the year the author and his 95-year-old father set out to see every Ole Miss game in 2012. Stevens investigates the destinations life has taken him, especially regarding his relationship with his dad. As Pat Conroy says, "It's nuts, it's Ole Miss, it's outrageous, it's got depth and emotion."
— Richard
Description
---
Fathers, sons, and sports are enduring themes of American literature. Here, in this fresh and moving account, a son returns to his native South to spend a special autumn with his ninety-five-year-old dad, sharing the unique joys, disappointments, and life lessons of Saturdays with their beloved Ole Miss Rebels.
After growing up in Jackson, Stuart Stevens built a successful career as a writer and political consultant. But in the fall of 2012, not long after he turned sixty, the presidential campaign he d worked on suffered a painful defeat. Grappling with a profound sense of loss and mortality, he began asking himself some tough questions, not least about his relationship with his father. The two of them had spent little time together for decades. He made a resolution: to invite his father to attend a season of Ole Miss football games together, as they d done when college football provided a way for his father to guide him through childhood and to make sense of the troubled South of the 1960s. Now, driving to and from the games, and cheering from the stands, they take stock of their lives as father and son, and as individuals, reminding themselves of their unique, complicated, precious bond.
Poignant and full of heart, but also irreverent and often hilarious, The Last Season is a powerful story of parents and children and of the importance of taking a backward glance together while you still can.
About the Author
---
STUART STEVENS grew up in Mississippi, a seventh generation Mississippian. For a very long time he's been driven by a fascination and love of politics, film and writing and has pursued those interests throughout his life. He attended Colorado College; Pembroke College, Oxford; Middlebury College's Bread Loaf School of English; UCLA Graduate Film School and the American Film Institute, where he received a diploma signed by Charlton Heston. The Last Season: A Father, a Son and a Lifetime of College Football is his sixth book. His earlier books are: Night Train to Turkistan, Malaria Dreams, Feeding Frenzy: Around the World In Search of The Perfect Meal and the novel, Scorched Earth: A Political Love Story. He's written extensively for dramatic television series, starting with Northern Exposure and including I'll Fly Away, K. Street, Commander in Chief and others. His articles and essays have appeared in The New York Times, Esquire, Outside, The Washington Post, Food and Wine and many others. He has a long time interests in endurance sports which he pursues badly. He's skied the last 100 kilometers to the North Pole and ridden the 1200 km Paris-Brest-Paris cycling event and was the first person to complete all of the World Loppet (Nordic Ski Marathons) in a single season. He wishes he was good at this stuff but still enjoys it. Stuart Stevens is a partner in the consulting firm Strategic Partners Media (http: //strategicpartnersmedia.com) and a columnist for The Daily Beast."