House of Prayer No. 2: A Writer's Journey Home (Hardcover)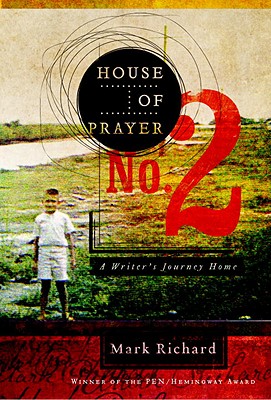 $23.95
Email or call for price.
Staff Reviews
---
One of my favorite books of 2011. A memoir that is compelling, different, candid, funny, and moving. Mark Richard is a great writer.
— Richard
March 2011 Indie Next List
---
"Mark Richard is the greatest writer you've probably never read, but with this book that will thankfully change! Richard writes with an otherworldly grasp of voice and description and uses his prose to deconstruct everything familiar. The result for the reader is a hyper-colored world rendered with the senses turned up. Reading House of Prayer No. 2 is like having a bucket of icy water poured over you: it forces your eyes open, sets you gasping for air, and leaves you utterly refreshed!"
— Rachel Meier, The Booksmith, San Francisco, CA
Description
---
In this otherworldly memoir of extraordinary power, Mark Richard, an award-winning author, tells his story of growing up in the American South with a heady Gothic mix of racial tension and religious fervor.
 
   Called a "special child," Southern social code for mentally—and physically—challenged children, Richard was crippled by deformed hips and was told he would spend his adult life in a wheelchair. During his early years in charity hospitals, Richard observed the drama of other broken boys' lives, children from impoverished Appalachia, tobacco country lowlands, and Richmond's poorest neighborhoods. The son of a solitary alcoholic father whose hair-trigger temper terrorized his family, and of a mother who sought inner peace through fasting, prayer, and scripture, Richard spent his bedridden childhood withdrawn into the company of books.   

   As a young man, Richard, defying both his doctors and parents, set out to experience as much of the world as he could—as a disc jockey, fishing trawler deckhand, house painter, naval correspondent, aerial photographer, private investigator, foreign journalist, bartender and unsuccessful seminarian—before his hips failed him.  While digging irrigation ditches in east Texas, he discovered that a teacher had sent a story of his to the Atlantic, where it was named a winner in the magazine's national fiction contest launching a career much in the mold of Jack London and Mark Twain. 

   A superbly written and irresistible blend of history, travelogue, and personal reflection, House of Prayer No. 2 is a remarkable portrait of a writer's struggle with his faith, the evolution of his art, and of recognizing one's singularity in the face of painful disability.  Written with humor and a poetic force, this memoir is destined to become a modern classic.
About the Author
---
MARK RICHARD is the author of two award-winning short story collections, "The Ice at the Bottom of the World" and "Charity," and the novel "Fishboy." His short stories and journalism have appeared in the" New York Times," "The New Yorker," "Harper's," "Esquire," "Vogue," and "GQ." He is the recipient of the PEN/Hemingway Award, a National Endowment for the Arts fellowship, and a Whiting Foundation Writer's Award. He lives in Los Angeles with his wife and their three sons.
Praise For…
---
A Wall Street Journal Best Book of the Year

"Read Richard's amazing memoir House of Prayer No. 2 — read it as soon as you can, you'll barrel through it — and you'll know after just two pages of his effortlessly killer prose that he's special all right ... Narrating, mostly, through the best use of second-person urgency since Jay McInerney's Bright Lights, Big City, he describes being a disc jockey, a deckhand, a private eye, a ditchdigger. The man can tell a full story in the flick of a phrase ... Hallelujah. A"
—Entertainment Weekly

"An absorbing account of growing up in the 1960s South, living with a disability, becoming a writer and finding faith. Richard's book attests to the power of words (and the Word) in shaping a life, while at the same time challenging some dearly held beliefs about memoir as a genre ... [His] special childhood results in considerable powers of observation, empathy and imagination ... Richard is a fiercely gifted writer."
—The New York Times Book Review

"A liberating demonstration of the power of faith."
—The Wall Street Journal

"Deploying the second person in a memoir, as Mark Richard does in the entrancing House of Prayer No. 2: A Writer's Journey Home, is like dropping an atomic bomb. Richard's prose is gorgeous – and hits with a force that sometimes stuns ... His propulsive prose makes House of Prayer No. 2 a surprising page turner ... Where other memoirists – evangelical and/or literary – just bluff and brag, he makes art."
—The Christian Science Monitor

"So varied, dramatic, and, at times, incredible that it is bound to leave almost every reader with the feeling that they haven't lived at all … I loved every word of it."
—The New Yorker
 
"House of Prayer No. 2 is a surreal and poetic memoir about faith, self-discovery and forming an artistic inner life."
—Fredericksburg Free Lance–Star

"Mark Richard's memoir, House of Prayer No.2, is the finest book he's ever written. No one writes like him. His prose style is both hammerblow and shrapnel. He has written the book of his life."
—Pat Conroy

"Hot damn! And Glory be! Both. This is a wonderful book."
—Roy Blount, Jr.

"The precision of the descriptions is marvelous in this memoir of growing up with infirmity. The depth of Richard's heart is profound, exhilarating, frightening, instructive. House of Prayer No. 2 is a work of high art."
—Rick Bass

"In this unconventional memoir, we see the yearning of the artist transfigured into faith—an authentic faith that is both struggled for and struggled against in the midst of ceaseless and necessary doubt. Mark Richard says important things about finding one's way, about love in action, about being a father, and he does so with the precision and grace of an artisan from another time. This is some of the finest writing you will ever read."
—Amy Hempel

"If Mark Richard could not write, you could not read this. Since he can, you can't not read it. It is unreal, and Mr. Richard has the wit to make it real."
—Padgett Powell