The Confession: A Novel (Hardcover)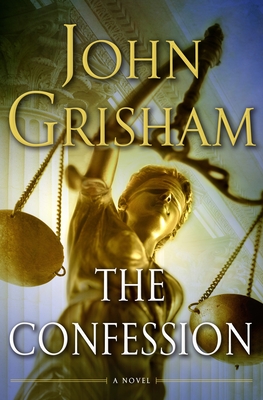 Description
---
An innocent man is about to be executed.

Only a guilty man can save him.

For every innocent man sent to prison, there is a guilty one left on the outside. He doesn't understand how the police and prosecutors got the wrong man, and he certainly doesn't care. He just can't believe his good luck. Time passes and he realizes that the mistake will not be corrected: the authorities believe in their case and are determined to get a conviction. He may even watch the trial of the person wrongly accused of his crime. He is relieved when the verdict is guilty. He laughs when the police and prosecutors congratulate themselves. He is content to allow an innocent person to go to prison, to serve hard time, even to be executed.

Travis Boyette is such a man. In 1998, in the small East Texas city of Sloan, he abducted, raped, and strangled a popular high school cheerleader. He buried her body so that it would never be found, then watched in amazement as police and prosecutors arrested and convicted Donté Drumm, a local football star, and marched him off to death row.

Now nine years have passed. Travis has just been paroled in Kansas for a different crime; Donté is four days away from his execution. Travis suffers from an inoperable brain tumor. For the first time in his miserable life, he decides to do what's right and confess.

But how can a guilty man convince lawyers, judges, and politicians that they're about to execute an innocent man?
About the Author
---
JOHN GRISHAM is the author of twenty-two novels, one work of nonfiction, a collection of stories, and a novel for young readers.  He is on the Board of Directors of the Innocence Project in New York and is the Chairman of the Board of Directors of the Mississippi Innocence Project at the University of Mississippi School of Law. He lives in Virginia and Mississippi.
Praise For…
---
"The Confession is the kind of grab-a-reader-by-the-shoulders suspense story that demands to be inhaled as quickly as possible. But it's also a superb work of social criticism in the literary troublemaker tradition of Upton Sinclair's "The Jungle....Brilliant"--Washington Post


"Grisham is the master of the legal thriller."--USA Today



NO ONE KEEPS YOU IN SUSPENSE LIKE AMERICA'S FAVORITE STORYTELLER
 
"The secrets of Grisham's success are no secret at all. There are two of them: his pacing, which ranges from fast to breakneck, and his Theme—little guy takes on big conspiracy with the little guy getting the win in the end." —Time magazine
 
"The law, by its nature, creates drama, and a new Grisham promises us an inside look at the dirty machineries of process and power, with plenty of entertainment" —Los Angeles Times
 
"With every new book I appreciate John Grisham a little more, for his feisty critiques of the legal system, his compassion for the underdog, and his willingness to strike out in new directions." —Entertainment Weekly
 
"John Grisham is about as good a storyteller as we've got in the United States these days." —The New York Times Book Review
 
"Grisham is a marvelous storyteller who works readers the way a good trial lawyer works a jury." —Philadelphia Inquirer
 
 "A mighty narrative talent and an unerring eye for hot-button issues." —Chicago Sun-Times
 
"A legal literary legend." —USA Today