No Regrets, Coyote: A Novel (Hardcover)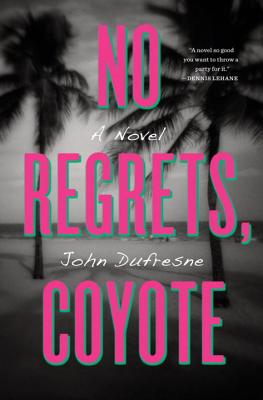 $25.95
Email or call for price.
Description
---
For readers of Elmore Leonard and Dennis Lehane, a South Florida noir from the best-selling author of Louisiana Power & Light.
On Christmas Eve in Eden, Florida, Wylie "Coyote" Melville, therapist and forensic consultant, is summoned to a horrific crime scene. Five members of the Halliday family have been brutally killed. Wylie's rare talent is an ability to read a crime scene, consider the evidence seen and unseen, and determine what's likely to have happened. The police are soon convinced that the deaths were a murder-suicide carried out by a broken and desperate Chafin Halliday, but Wylie's not so sure.
As Wylie begins his own investigation with the help of his friend Bay Lettique—a poker-playing sleight-of-hand artist with links to the Everglades County underworld—he discovers a web of corruption involving the police union, Ponzi-scheming lawyers, county politicians, and the Russian mob. What follows is a heart-stopping, edgy novel that introduces a completely original crime solver.
About the Author
---
John Dufresne is the author of eleven previous books, including three fiction writing guides. A professor in the MFA program at Florida International University, he lives in Dania Beach.
Praise For…
---
Ghoulishly funny… Dufresne is an original talent.
— Marilyn Stasio - New York Times Book Review

No Regrets, Coyote is a very cool ride. If Raymond Chandler was reincarnated as a novelist in South Florida, he couldn't nail it any better than John Dusfrene.

— Carl Hiaasen, author of Hoot

No Regrets, Coyote is a novel so good you want to throw a party for it. It's tense, unnerving, fearless, and funny as hell. Beautifully rendered on every page, it may be a crime novel in name but it's literature for the ages.

— Dennis Lehane, author of Mystic River

John Dufresne has created a unique and compelling sleuth in Wylie "Coyote" Melville. His quirky adventures will keep you reading.
— James O. Born, author of the Bill Tasker series

If anyone has a vision of the world as compellingly particular and compassionate as John Dufresne's, I don't know who. No Regrets, Coyote takes noir fiction and slivers it with shards of humor, ironic insight, and an almost hallucinogenic specificity. This is lean and honest storytelling that is as moving as it is engaging. Read this book. Believe me, you'll have no regrets!

— Andre Dubus III, author of Townie and House of Sand and Fog

Genuinely funny, genuinely suspenseful crime novels are rare, but No Regrets, Coyote succeeds on both counts. John Dufresne's hilariously dark vision of South Florida brings to mind the work of such masters as Donald Westlake and Elmore Leonard. It's a lurid pleasure from beginning to end.

— Tom Perrotta

Get ready to read this one twice, people—once to see what happens, and again to savor the sentences. Here American treasure John Dufresne has written a noir, but instead of playing by the rules of noir, he makes noir play by the Rules of Dufresne. And we are the beneficaries. So sit back, put a cooler of beer by your chair, and settle in, you'll be here awhile: No Regrets, Coyote is impossible to close.

— Tom Franklin

John Dufresne has turned his considerable artistic gifts to the crime novel, and the result, No Regrets, Coyote, is touching, nervy, richly detailed, and populated with a cast of characters who are utterly unique and terrifyingly real. Its humor is abundant and warm-hearted, and its detective hero is unlike any we've ever met before. American crime fiction has just gotten a lot more interesting.

— James W. Hall

No Regrets, Coyote is the total package—beautifully written, filled with unexpected twists, driven by crisp and edgy dialogue. The reader's happy dilemma is whether to savor the prose or tear through the pages. Nelson DeMille meets Carl Hiassan, and the result (like the ending) is totally satisfying.

— James Grippando

The ordinary crime novel narrows as it goes, the possibilities limited by deductive reasoning. But John Dufresne's No Regrets, Coyote is an extraordinary novel, expanding until anything seems possible and everyone connects. Steeped in place, wholly original, it is, line-by-line, one of the best books I've read in a long time.

— Laura Lippman

Engrossing crime drama from a gifted writer, No Regrets, Coyote will please readers of all tastes with its compelling storytelling, fascinating and often funny hero, and beautiful prose. John Dufresne is a writer of enormous talents.
— Michael Koryta

Fantastic, very sharp, very wry.
— Laura Lee Smith - Tampa Bay Times