Dragonfish: A Novel (Hardcover)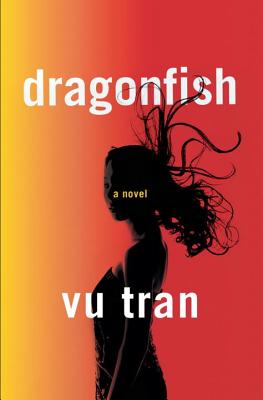 Staff Reviews
---
This is one hell of a debut novel. Smart, brutal, and intense with the pacing of a classic noir, yet it also manages to reveal human truths and insights into the heart with unexpected flashes of tenderness. In the end, none of the characters come out winners, but the reader sure does.
— Cody
Description
---
A New York Times Notable Book of 2015



"Vu Tran's Dragonfish is that rare hybrid marvel—a literary thriller, a narrative of migration and loss that upends the conventions of any form." —Dinaw Mengestu, author of All Our Names
Robert, an Oakland cop, still can't let go of Suzy, the enigmatic Vietnamese wife who left him two years ago. Now she's disappeared from her new husband, Sonny, a violent Vietnamese smuggler and gambler who's blackmailing Robert into finding her for him. As he pursues her through the sleek and seamy gambling dens of Las Vegas, shadowed by Sonny's sadistic son, "Junior," and assisted by unexpected and reluctant allies, Robert learns more about his ex-wife than he ever did during their marriage. He finds himself chasing the ghosts of her past, one that reaches back to a refugee camp in Malaysia after the fall of Saigon, as his investigation soon uncovers the existence of an elusive packet of her secret letters to someone she left behind long ago. Although Robert starts illuminating the dark corners of Suzy's life, the legacy of her sins threatens to immolate them all.
Vu Tran has written a thrilling and cinematic work of sophisticated suspense and haunting lyricism, set in motion by characters who can neither trust each other nor trust themselves. This remarkable debut is a noir page-turner resonant with the lasting reverberations of lives lost and lives remade a generation ago.
About the Author
---
Vu Tran was born in Saigon, Vietnam, and raised in Oklahoma. He is the winner of a Whiting Award, and his short stories have appeared in many publications, including The O. Henry Prize Stories and The Best American Mystery Stories. He teaches creative writing at the University of Chicago.
Praise For…
---
[A] strong first novel for its risk taking, for its collapsing of genre, for its elegant language and its mediation of a history that is integral to post-1960s American identity yet often ignored…. Above all, Tran's novel is a refreshing and entertaining story.
— Chris Abani

A superb debut novel…that takes the noir basics and infuses them with the bitters of loss and isolation peculiar to the refugee and immigrant tale.
— Maureen Corrigan

[R]ichly satisfying work…. A familiar noir trope—the missing woman—blooms darkly in Dragonfish as the story of a lost people, a theme that Tran renders exquisitely, rating the book a place on the top shelf of literary thrillers.

— Gerald Bartell

[A] hard-hitting debut novel…. [Suzy is] a mystery no one can solve, particularly the people turning all their efforts in the wrong direction. But while their efforts aren't fruitful, they're absorbing. And they speak to the way everyone is a bit of an enigma to other people, no matter how many words they put into the effort to be understood.

[T]ransfixing…. [L]ike such writers as Caryl Phillips, Dinaw Mengestu and Edwidge Danticat, [Tran] is devoted to capturing the immigrant experience and widening everyone's understanding of its particular as well as universal truths.
— Lloyd Sachs

A sophisticated mystery anchored in one woman's quest to make amends with the daughter she abandoned, Dragonfish delicately capsizes our notions of what it means to long for escape from the prisons of our own making.


Everything is perfect there, those quiet little garnishes of idiosyncratic detail are gifts, both amusing and full of character. Tran's novel is filled with this sort of inspired meticulousness, and reading it is to enter its world.

Like Gatsby, the characters in Tran's novel yearn for something unattainable…. This and the feeling that there will only be a tragic end are what elevate Dragonfish beyond its bookstore genre.


Nuanced and elegiac…. Vu Tran takes a strikingly poetic and profoundly evocative approach to the conventions of crime fiction in this supple, sensitive, wrenching, and suspenseful tale of exile, loss, risk, violence, and the failure of love.
— Donna Seaman

[A] most enjoyable mystery, from its distinct, dazzling premise all the way to its satisfying conclusion.

Tran's splendid first novel will quickly engage you with its suspenseful story…. Dark and gripping…. Dragonfish will keep you reading, out of fear that if you stop, you will never truly surface.

— Anne Morris
Coverage from NPR