Famous Writers I Have Known: A Novel (Hardcover)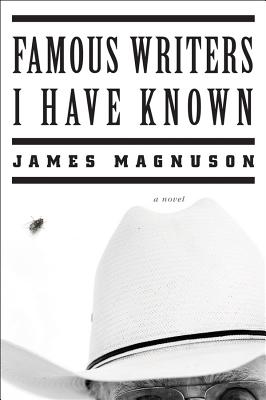 Staff Reviews
---
The unlikely protagonist and narrator in Famous Writers I Have Known is a petty New York con man who very accidentally finds himself in a position to pick up what seems to be an easy, fat check from a prestigious Texas MFA writing program. The faculty and students there have mistaken him for the very famous reclusive writer who is supposed to be their guest teacher for the semester, and to cash in all he has to do is play it cool, which is not that easy, as "All I knew about universities I'd learned from watching Fred MacMurray in Son Of Flubber." He further realizes that the program's emeritus writing character is the old arch rival to his doppelgänger, and, as things begin to unravel, that "Really, this whole writing thing was worse than heroin." A suspenseful send up of the MFA scene, this very well done novel is LOL funny and has a lot of heart. I can't wait to see the movie, and suggest you read the book now. 
— Richard
Description
---
"A gloriously farfetched tale, but alarmingly real to anyone who knows the weird world of MFA programs. Besides which, it's a shit-load of fun." —Peter Carey, two-time winner of the Booker Prize
In this brilliant mix of literary satire and crime caper, Frankie Abandonato, a small-time con man on the run, finds refuge by posing as V. S. Mohle—a famously reclusive writer—and teaching in a prestigious writing program somewhere in Texas. Streetwise and semiliterate, Frankie finds that being treated as a genius agrees with him.
The program has been funded by Rex Schoeninger, the world's richest novelist, who is dying. Buzzards are circling, angling for the remains of Rex's fortune, and Frankie quickly realizes that he has been presented with the opportunity of a lifetime. Complicating matters is the fact that Rex is haunted by a twenty-five-year feud with the shadowy Mohle. What rankles Rex is that, while he has written fifty bestsellers and never gotten an ounce of literary respect, Mohle wrote one slender novel, disappeared into the woods, and become an icon. Determined to come to terms with his past, Rex has arranged to bring his rival to Texas, only to find himself facing off against an imposter.
Famous Writers I Have Known is not just an unforgettable literary romp but also a surprisingly tender take on two men—one a scam artist frantic to be believed, the other an old lion desperate to be remembered.
About the Author
---
James Magnuson is the author of nine novels and the recipient of multiple fellowships and awards for fiction. He is the former director of the James A. Michener Center for Writers at the University of Texas and lives in Austin.
Praise For…
---
Mr. Magnuson spins his rambunctious tale with…evident glee.
— Christopher Kelly

Famous Writers I Have Known is the engaging story of an ingenious con-man who enters the world of Creative Writing with a mixture of innocence, nerve and talent. James Magnuson creates a character both cunning and warmhearted. He describes the Texan landscape with a loving and painterly eye, and he re-creates the world of writers and would-be writers with wit and knowledge and dark laughter.

— Colm Tóibín, author of Brooklyn

James Magnuson's mischievous comedy of novelists and conmen—professional liars both—is as subtle as it is subversive, as clever as it is courageous, as witty as it is touching. Readers will love it—but writers beware!
— Jim Crace, author of Being Dead

This is a droll, understated, ultimately sweet-tempered but also keenly savvy send-up of the much-lamented (and misunderstood) creative writing industry in America. A copy could usefully be included in the welcome kit for all new MFA candidates.
— Richard Ford

Jim Magnuson has done something remarkable—written a page-turner about the life of a writer. In his insights into the particular Famous Writer considered here, Magnuson's peerless eye has not missed a single telling detail. His comedy is huge but its also sly: just under the surface of this Portrait of the Almost-Artist as a Cranky Old Man lies a moving meditation on the quest for immortality that drives us all, the mad cry from Othello: "Reputation! Reputation! Reputation!"
— Anthony Giardina, author of Norumbega Park

A fast, fun read. Magnuson's writing is strong.

A triumphantly preposterous fish-out-of-water campus caper.
— Elinor Lipman

Addictive…. A delightful take on writing programs and American life.
— Alan Cheuse, "All Things Considered"

[A] plucky caper.

A fun-filled literary romp.

Ridiculously entertaining.
— John McMurtrie

Tantalizing … Magnuson nimbly keeps the wheel spinning, neither condemning the whole enterprise of creative writing programs, literary awards and the ambition that drives them, nor fully embracing them. He seems content to simply observe, reflect and entertain.
— Edward Nawotka

[A] gleeful look at literary affectations.
— Adam Woog
Coverage from NPR