Bluff City: The Secret Life of Photographer Ernest Withers (Paperback)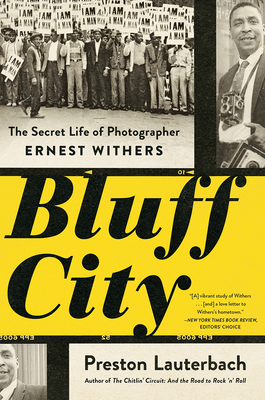 $18.95
Coming Soon - Available for Pre-Order Now
Description
---
The little-known story of an iconic photographer, whose work captured—and influenced—a critical moment in American history.
Ernest Withers took some of the most legendary images of the 1950s and '60s: Martin Luther King, Jr., riding a newly integrated bus in Montgomery, Alabama; Emmett Till's uncle pointing an accusatory finger across the courtroom at his nephew's killer; scores of African-American protestors carrying a forest of signs reading "i am a man." But at the same time, Withers was working as an FBI informant. In this gripping narrative history, Preston Lauterbach examines the complicated political and economic forces that informed Withers's seeming betrayal of the people he photographed, and "does a masterful job of telling the story of civil rights in Memphis in the 1960s" (Ed Ward, Financial Times), including the events surrounding Dr. King's tumultuous final march in Memphis.
About the Author
---
Preston Lauterbach is the author of Bluff City, Beale Street Dynasty, The Chitlin' Circuit, a Wall Street Journal and Boston Globe book of the year, and co-author of Brother Johnson: Growing Up with Robert Johnson. He is a former visiting scholar at Rhodes College and a Virginia Humanities Fellow. He lives in Virginia.
Praise For…
---
[A] vibrant study of Withers… [and] a love letter to Withers's hometown.

Lauterbach's riveting recounting of the sanitation strike, and the stranger-than-fiction role Withers may have played in the riot that threw it into chaos, would be enough to make Bluff City an indispensable work.

— Steve Nathans-Kelly

Meticulous and engrossing.
— Anjali Enjeti

Bluff City does a masterful job of telling the story of civil rights in Memphis in the 1960s, framing it with Withers' biography, and culminating with the sanitation workers' strike that would bring King to town—and to his death. Not only is it a great narrative, it's also a reminder, in these polarised times, that moral complexity is baked into human affairs, and that sometimes people do the wrong thing for what they perceive is the right reason.

— Ed Ward

[Preston] Lauterbach… provides a better feel for life in Memphis… [and] a thoughtful analysis of Withers's talent as a photographer.
— Clifford Thompson

A story vividly told.
— Alice Speri

A loose, rangy history of the civil rights movement in Memphis, using Withers and his camera as the (literal) lens. [Lauterbach's] done the work, tracking the complex, intertwined dances of the radicals and the centrists, the local ministers and visiting heavyweights like King.
— Christopher Bonanos

Through intimate reporting and effortless storytelling, Bluff City captures both the tragic ironies of FBI espionage and the fertile contradictions of Memphis, Tennessee. The photographs of Ernest Withers—spy, artist, race man, and cagey black conservative—have never looked more meaningful.

— William J. Maxwell, author of F.B. Eyes: How J. Edgar Hoover's Ghostreaders Framed African American Literature and editor of James Baldwin: The FBI File