Heating & Cooling: 52 Micro-Memoirs (Hardcover)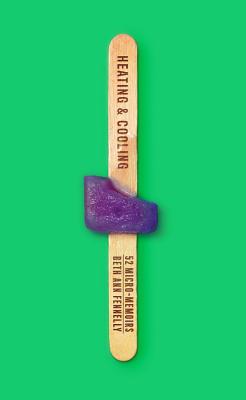 Special Order -- Email or Call for Availability
Description
---
"Morning: bought a bag of frozen peas to numb my husband's sore testicles after his vasectomy. Evening: added thawed peas to our carbonara." —from Heating & Cooling, "Married Love, IV"
The 52 micro-memoirs in genre-defying Heating & Cooling offer bright glimpses into a richly lived life, combining the compression of poetry with the truth-telling of nonfiction into one heartfelt, celebratory book. Ranging from childhood recollections to quirky cultural observations, these micro-memoirs build on one another to arrive at a portrait of Beth Ann Fennelly as a wife, mother, writer, and deeply original observer of life's challenges and joys. Some pieces are wistful, some wry, and many reveal the humor buried in our everyday interactions. Heating & Cooling: 52 Micro-Memoirs shapes a life from unexpectedly illuminating moments, and awakens us to these moments as they appear in the margins of our lives.
About the Author
---
Beth Ann Fennelly is the author of three poetry collections, Unmentionables, Tender Hooks, and Open House; two memoirs, Heating & Cooling and Great with Child; and a novel, The Tilted World, coauthored with her husband, Tom Franklin. She teaches at the University of Mississippi, and is also the state's Poet Laureate. She lives in Oxford, Mississippi.
Praise For…
---
Heating and Cooling contains essays that are sometimes as short as 10 words . . . but add up to a surprisingly maximalist portrait of a life.

— New York Times Book Review

The micro-memoirs showcase a range of emotions that belies their brevity—taken from another standpoint, their brevity is what gives them power.
— Wall Street Journal

Beth Ann Fennelly's genre-defying collection is so engaging and readable that you won't even notice how much you're learning about confronting the hardest challenge we all share: being human. Wise, irreverent, funny. . . . Everyone should read this book.
— Atlanta Journal Constitution

Consistently entertaining. . . poised, eloquent, and full of moments of tenderness.
— Electric Literature

Varying in length from a single sentence to several pages, the essays in [Heating and Cooling] are told with wry self-awareness and compassion.

— Poets & Writers

This collection will invite you into the delicate balance between the challenging, sometimes squalid, human condition and the beauty and sadness of the transcendent.
— The Rumpus

Fennelly packs a lot into each short piece, with some lighter in subject matter and others with a sudden punch-in-the-gut feel, weighted with existential exploration. . . . Potent despite their brevity.
— Library Journal, starred

[Heating and Cooling] offer[s] insight into . . . the overall human condition. . . . A sleek, delightful collection.

— Kirkus

Fennelly recounts episodes, events, or earned truths that, given her poignant reflection and graceful, often-funny telling, are sure to stop readers in their tracks. . . . This deceptively slim, convention-defying collection delivers unerringly generous rewards.
— Booklist

Imagine the hundred things you enjoy doing most in the world. Reading Beth Ann Fennelly's Heating & Cooling is more fun than 95 of them.

— Richard Russo

Beth Ann Fennelly brings a poet's sensibility to Heating & Cooling. Each entry is both insightful and precise, a perfect pearl of memory. By marking out these 52 moments, she draws a portrait of a life that is deeply felt and fully awake. I will be the first in line when there are 52 more.

— Ann Patchett