Let Us Now Praise Famous Men (Hardcover)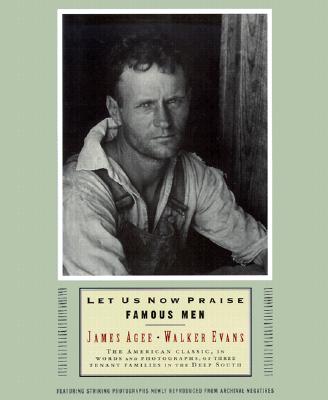 $30.00
Email or call for price.
Description
---
With its signature photographs reshot from archival negatives, an elegant new edition of the "most realistic and most important moral effort of our American generation" (Lionel Trilling) Published nearly sixty years ago, Let Us Now Praise Famous Men stands as an undisputed masterpiece of the twentieth century, taking its place alongside works by Henry David Thoreau, Herman Melville, and Walt Whitman. In a stunning blend of prose and images, this classic offers at once an unforgettable portrait of three tenant families in the Deep South and a larger meditation on human dignity and the American soul. In the summer of 1936, James Agee and Walker Evans set out on assignment for Fortune magazine to explore the daily lives of sharecroppers in the South. There they lived with three different families for a month; the result of their stay was an extraordinary collaboration, an unsparing record of place, the people who shaped the land, and the rhythm of their lives. Upon its first publication, Let Us Now Praise Famous Men was called intensely moving, unrelentingly honest. It described a mode of life -- and rural poverty -- that was unthinkably remote and tragic to most Americans, and yet for Agee and Evans, only extreme realism could serve to make the world fully aware of such circumstances. Rejected by Fortune as too unwieldy, it was published for the first time in book form in 1941. Today it stands as a poetic tract for its time, a haunting search for the human and religious meaning in the lives of true Southern heroes: in their waking, sleeping, eating; their work; their houses and children; and their endurance. With an elegant design and a sixty-four-page photographic prologue of Evans's classic images, reshot from archival negatives, the new edition reintroduces the legendary author and photographer to a new generation. Both an invaluable part of the American heritage and a graceful tribute to the vibrant souls whose stories live in these pages, this book has profoundly changed our culture and our consciousness -- and will continue to inspire for generations to come.
Praise For…
---
"Renowned for its fusion of social conscience and artistic radicality and for the way Evans's spare, tautly composed images and Agee's more extravagant prose complement and enhance each other." --New York Times The New York Times

The "most realistic and most important moral effort of our American generation." - Lionel Trilling