The Afterlives: A Novel (Paperback)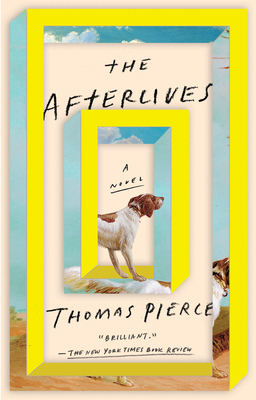 Staff Reviews
---
The Afterlives is a smart and compulsively readable blend of speculative fiction, ghost story, and a tender, real-feeling romance shot through with metaphysical crises all set in the Blue Ridge Mountains. If that sounds overly ambitious, reading it never feels that way. This is a novel with charm and heart to spare.
— From
Katelyn
January 2018 Indie Next List
---
"In The Afterlives, Thomas Pierce follows a man's quest for what comes after death. The story skillfully intersects religion, technology, philosophy, humor, love, and fear, but love and fear are what really got to me. The novel celebrates the love we're born into with our family and the love we find, but behind that is the fear of its loss. The novel doesn't flinch. Pierce's characters are so natural and so funny that at times it felt like I was reading Douglas Coupland or Elan Mastai. The Afterlives didn't feel bleak or hopeless or preachy - it was sincere and hopeful."
— Myles Mickle, Village Square Booksellers, Bellows Falls, VT
Description
---
"Ridiculously good" (The New York Times) author Thomas Pierce's debut novel is a funny, poignant love story that answers the question: What happens after we die? (Lots of stuff, it turns out).

Jim Byrd died. Technically. For a few minutes. The diagnosis: heart attack at age thirty. Revived with no memory of any tunnels, lights, or angels, Jim wonders what--if anything--awaits us on the other side. 

Then a ghost shows up. Maybe. Jim and his new wife, Annie, find themselves tangling with holograms, psychics, messages from the beyond, and a machine that connects the living and the dead. As Jim and Annie journey through history and fumble through faith, they confront the specter of loss that looms for anyone who dares to fall in love. Funny, fiercely original, and gracefully moving, The Afterlives will haunt you. In a good way.
About the Author
---
Thomas Pierce was born and raised in South Carolina. He is the author of the forthcoming novel, The Afterlives, and the acclaimed story collection, Hall of Small Mammals. His stories have appeared in The New Yorker, The Atlantic, Oxford American, and elsewhere. A recipient of the National Book Foundation's 5 Under 35 Award, he is a graduate of the University of Virginia creative writing program and lives in Virginia with his wife and daughters.
Praise For…
---
"In Thomas Pierce's warm and inventive debut novel, The Afterlives, reality is slippery, time is out of joint and profound disorientation is a feature of daily existence. In other words, pretty much how the world feels to a lot of us right now... Pierce is brilliant at painting an entire life — encompassing passion, missed opportunities, tragedy — in a few pages. He also isn't afraid to pose the biggest questions: How do we deal with loss? What are the limits and possibilities of love? What is the nature of time? In The Afterlives, Pierce has worked a similar magic, connecting us to fictional characters who seem, somehow, 100 percent real." —New York Times Book Review

"[A] touching, thought-provoking debut novel… Part love story and part speculative sci-fi, it's a meandering, albeit meaningful, look at marriage, technology and ghosts." —USA Today

"Fascinating... [Pierce's] work has a quirky sensibility that recalls Lorrie Moore or George Saunders, an ability to bring the unquestionably weird into the path of daily life without ever seeming forced.… A fluid, funny writer." —Financial Times

"Like his previous book, the short story collection Hall of Small Mammals, it's richly imaginative, quirky but not twee, and the work of an author who's determined to find the surreal behind the ordinary… [A] deeply generous, compassionate book that asks its readers to open their hearts and treat one another with understanding, even as the world grows more complicated, and more unknowable, every day." —NPR

"Excellent… The Afterlives is sprinkled with 'Black Mirror'-style futuristic touches... The Afterlives is as much a dialogue and an attempt at reconciliation between faith and science as it is a contemplation of the opportunities of second chances." —Salon

"I was enchanted by [Pierce's] thoughtful ruminations and wry comments about church and spirituality. Intercalary chapters about the haunted house's original residents vibrate with ectoplastic energy." —The Washington Post

"Thomas Pierce's humorous yet heartfelt debut novel The Afterlives is one man's journey to discover what happens after death… A unique and thought-provoking read." —Buzzfeed

"Quirky, hilarious, and heartrending." —Marie Claire

"[W]ill both haunt you and make you laugh." —Garden & Gun

"[U]tterly human (and hilarious), prodding some of life's biggest mysteries to see what truths shake loose." —Men's Journal

"This tender debut novel from Thomas Pierce explores what awaits us in the afterlife… This thought-provoking debut will make readers think about love, loss, and what happens after we die." —Real Simple

"Thomas Pierce's debut novel, The Afterlives, is a pleasant case of a ghost story… it delivers a satisfying rendering of what that supernatural world might be like, while preserving the sense of mystery that draws us to such yarns in the first place… Pierce, like every ghost-story writer, knows we crave an unreality to match the humdrum real world we're stuck in. Unlike many, though, he grasps that we chase that tension not to cross into some "other side" but to feel steadier on this one." —Minneapolis Star Tribune

"A bracingly intelligent, beautifully rendered meditation on ghosts, technology, marriage, and the afterlife. This is a remarkable novel."
—Emily St. John Mandel

"Inventive, romantic, and unsettling, The Afterlives is a story of two people who take extraordinary measures to answer the Big Questions: What is the soul? Do we ever really die? Flabbergastingly original and sublimely satisfying."
—Amity Gaige

"Thomas Pierce's fine new novel is often humorous, but Jim Byrd's search to find out what might lie beyond this life makes The Afterlives much more: a poignant inquiry into our human desire for permanence."
—Ron Rash 

"[T]his dazzlingly original novel tackles a timeless question — what happens after we die? A hilarious and resplendent story about metaphysics, technology, love, and of course, the afterlife." —Chicago Review of Books

"Told with sharp humor and big questions, it will make you laugh while simultaneously urging you think deeply about technology, loss, faith, and life." —Southern Living

"Pierce's first novel is a fascinating and beautifully rendered meditation on ghosts, technology, marriage, and the afterlife." —The Millions 

"[W]eird and charming… The Afterlives feels big and warm and inviting, an intelligent book that also lets itself be goofy, a serious book that doesn't take life too seriously. After all, none of us are getting out of it alive." —LitHub

"Pierce has a gift for probing the limits of the psychic realm to uncover the benevolence that manifests from metaphysical insight. Truly remarkable." —Library Journal (STARRED review)


Praise for Thomas Pierce's Hall of Small Mammals

"Ridiculously good... These stories never drift vaguely off into the ether. They are beautifully built, and their author has an especially deft way of finding just the right final flourish.... [There's a] feeling of being inside a bubble while reading Mr. Pierce, and it is a bubble you won't want to leave. This is such a fine collection that there's not a stinker in the bunch.... Mr. Pierce's originality, inventiveness, questing spiritual intelligence and animal fixation aren't easy to do justice to in the limited space here. But they're irrefutably good reasons to discover him for yourself." —The New York Times

"It's thrilling to find a writer with an imagination as wild and wonderful as Thomas Pierce." —Kevin Wilson, author of The Family Fang

"It will be tempting, but hard, for readers to choose a favorite among the stories here... Rich and complicated... These stories have that merry, postmodern humor, but also a classical love of real human emotion." —Rebecca Lee, New York Times Book Review

"A debut collection that reads like the work of a much older, established fiction master. The stories in Pierce's book explore the ordinary in the otherworldly, the surreal in the mundane, and the results are stunning and unexpected.... Pierce is an endlessly incisive and engaging writer. It's a book full of wisdom and emotion, with stories that explore what it means to live and die in a world filled with invisible things." —NPR

"Pierce mines the mysterious rift between fantasy and reality with the intricate skill of an archaeologist and the sheer wonder of an imaginative child." —Elle

"Pierce's stories are beautifully written and suffused with mystery." —Emily St. John Mandel, The Millions