Baghdad without a Map and Other Misadventures in Arabia (Paperback)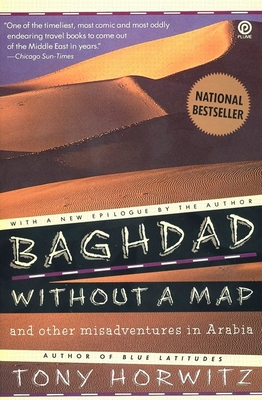 $16.00
Backordered -- Email or Call for Availability
Description
---
"A very funny and frequently insightful look at the world's most combustible region."—The New York Times Book Review

NATIONAL BESTSELLER

With razor-sharp wit and insight, intrepid journalist Tony Horwitz gets beyond solemn newspaper headlines and romantic myths of Arabia to offer startling close-ups of a volatile region few Westerners understand. His quest for hot stories takes him from the tribal wilds of Yemen to the shell-pocked shores of Lebanon; from the malarial sands of the Sudan to the eerie souks of Saddam Hussein's Iraq, a land so secretive that even street maps and weather reports are banned.

As an oasis in the Empty Quarter, a veiled woman offers tea and a mysterious declaration of love. In Cairo, "politeness police" patrol seedy nightclubs to ensure that belly dancers don't show any belly. And at the Ayatollah's funeral in Tehran a mourner chants, "Death to America," then confesses to the author his secret dream—to visit Disneyland.

Careening through thirteen Muslim countries and Israel, Horwitz travels light, packing a keen eye, a wicked sense of humor, and chutzpah in almost suicidal measure. This wild and comic tale of Middle East misadventure reveals a fascinating world in which the ancient and the modern collide.
About the Author
---
Tony Horwitz was a native of Washington, D.C., and a graduate of Brown University and Columbia University's Graduate School of Journalism. As a foreign correspondent, he covered wars and conflict in the Middle East, Africa, and Eastern Europe, mainly for the Wall Street Journal. Returning to the U.S., he won a Pulitzer Prize for national reporting and wrote for the New Yorker. He was a fellow at the Radcliffe Institute for Advanced Study and president of the Society of American Historians. His books include the national bestsellers Confederates in the Attic, Blue Latitudes, Baghdad Without a Map and A Voyage Long and Strange.
Praise For…
---
Praise for Baghdad without a Map and other Misadventures in Arabia

"A very funny and frequently insightful look at the world's most combustible region."—The New York Times Book Review

"As a document of the cultural impasse that brought on the war, this is unsurpassed."—Village Voice

"High-spirited and entertaining."—The New Yorker

"A timely and incisive insider's description of the mysterious Arab World...Tony Horwitz is an ideal guide for American Reader."—Chicago Tribune