Only the Hunted Run: A Sully Carter Novel (Hardcover)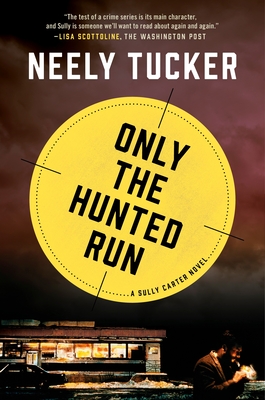 Email or call for price
Special Order -- Email or Call for Availability
Other Books in Series
This is book number 3 in the A Sully Carter Novel series.
Description
---
A Kirkus Reviews Best Thriller of 2016

"The test of a crime series is its main character, and Sully is someone we'll want to read about again and again." —Lisa Scottoline, The Washington Post

"Fast-moving and suspenseful with an explosively violent conclusion." —Bruce DeSilva, Associated Press

"Tucker's Sully Carter novels have quickly sneaked up on me as one of my favorite new series." —Sarah Weinman, "The Crime Lady"

The riveting third novel in the Sully Carter series finds the gutsy reporter investigating a shooting at the Capitol and the violent world of the nation's most corrupt mental institution
 
In the doldrums of a broiling Washington summer, a madman goes on a shooting rampage in the Capitol building. Sully Carter is at the scene and witnesses the carnage firsthand and files the first and most detailed account of the massacre. The shooter, Terry Waters, is still on the loose and becomes obsessed with Sully, luring the reporter into the streets of D.C. during the manhunt. Not much is known about Waters when he is finally caught, except that he hails from the Indian reservations of Oklahoma. His rants in the courtroom quickly earn him a stay at Saint Elizabeth's mental hospital, and the paper sends Sully out west to find out what has led a man to such a horrific act of violence.

As Sully hits the road to see what he can dig up on Waters back in Oklahoma, he leaves his friend Alexis to watch over his nephew, Josh, who is visiting DC for the summer. Traversing central Oklahoma, Sully discovers that a shadow lurks behind the Waters family history and that the ghosts of the past have pursued the shooter for far longer than Sully could have known. When a local sheriff reveals the Waterses' deep connection with Saint Elizabeth's, Sully realizes he must find a way to gain access to the asylum, no matter the consequences.
About the Author
---
Neely Tucker is the author of two previous Sully Carter novels, The Ways of the Dead and Murder, D.C., as well as the memoir Love in the Driest Season, which was named one of the 25 Best Books of the Year by Publishers Weekly. Currently a staff writer at The Washington Post Sunday magazine, Tucker lives with his family in Maryland.
Praise For…
---
"Fast-paced . . . Enthralling . . . Mesmerizingly sinister . . . Dazzling."
—The Washington Post

"Unsurprisingly, Tucker's depiction of how a crack investigative reporter works is spot-on, and the story he tells is fast-moving and suspenseful with an explosively violent conclusion. But the best thing about this novel is Tucker's pitch-perfect dialogue and vivid prose that immerses the reader inside the action."
—Bruce DeSilva, Associated Press

"Tucker's Sully Carter novels have quickly sneaked up on me as one of my favorite new series. . . . Strong, tight writing, a good sense of story and a main character who fights the good fight in journalism and in life. . . . Here Carter's on the case of a deadly shooting at Capitol Hill -- the kind of occurrence that seems all too possible now -- that transforms into a larger look at mental institutions in a way that is both authentic to the plot and to its greater theme."
—Sarah Weinman, "The Crime Lady"

"Sully Carter -- tough, sardonic, and yet compassionate -- is a marvelous creation, and Neely Tucker is a superb writer."
—Marilyn Dahl, Shelf Awareness for Readers

"[An] astoundingly well-written thriller. . . . As a lead character in the series that includes the critically acclaimed The Ways of the Dead and Murder, D.C., Sully is everything you want in a journalist and crime investigator. . . . Scenes that echo the creepiest moments of Dennis Lehane's Shutter Island."
—New York Journal of Books

"Tucker raises the stakes and ramps up the darkness in this series and makes you wonder, and even worry a little about, what's coming next."
—Kirkus Reviews (starred review)

"We can hear Faulkner . . .  in stretches of Tucker's rhythmic, acoustic prose and in the underlying message within this powerful thriller: ignore the pleas of the powerless, and awful things happen."
—Booklist

"Provocative. . . . Tucker realistically depicts the newspaper industry in this terrifying thriller." 
—Publishers Weekly

"A book yearning to be a movie, with plenty of clever jabbering, smart wisecracks and newsroom jargon between action scenes. . . . A worthy end-of-summer distraction from the heat and summer storms."
—Wicked Local Gloucester

"Long live Sully Carter, reporter, detective and all around shrewd guy. Another of Neely Tucker's brilliant tight thrillers, Only the Hunted Run finds Sully, having survived a capitol building massacre, looking into the shooter's history and motivations. The trail goes into the past and the future and Sully's the only one who can stope further carnage. Great fun!"
—New York Times bestselling author Stephen Hunter

Praise for the Sully Carter series
"The test of a crime series is its main character, and Sully is someone we'll want to read about again and again."
—Lisa Scottoline, The Washington Post
 
"Tucker at his best recalls the work of Richard Price. . . . Terrific summer reading. With his second success, Tucker has proven that his series is one to follow."
—The Miami Herald
 
"[An] invigorating series . . . The traits that will make this (one hopes) a long and strong series are evident in both books: the realistic dialogue, the vivid characters, and the portrayal of our nation's capital as a city with many facets other than the one tourists see."
—The Cleveland Plain Dealer
 
Praise for Murder, D.C.

"[Tucker] puts forth a darkly comedic vision of race and justice (or lack thereof) over generations of American history. There's no more satisfying sight than a writer who knows exactly what he's doing—and only gets better at what he does."
—Kirkus Reviews (starred review)