A Burning: A novel (Hardcover)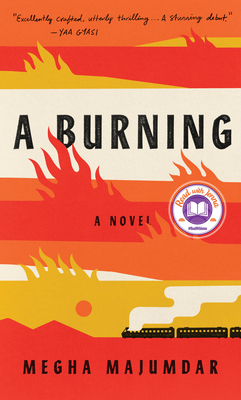 Staff Reviews
---
This taut, controlled, powerful debut, told masterfully from the three different viewpoints of the three key characters, grabs the reader from the first sentence and never lags. The conclusion is disturbing yet inevitable considering all that the novel has exposed about a corrupt society divided by distinctions of class and religion. The fate of one innocent young woman is decided by factors far outside her realm of experience and reflects a world that has basically rejected the welfare of its subjects. This is a novel of anger and an indictment, necessary in a world which has become used to being ruled by absolutes with no basis in reason.
— Bill
June 2020 Indie Next List
---
"Majumdar's suspenseful narrative holds a mirror up to society at large, reflecting the lies people tell themselves to rationalize sacrificing morality for personal gain. Unintended consequences from an impulsive social media post explode against a backdrop of deep economic insecurities and centuries-old prejudices. A searing debut, this novel is timely and timeless. It packs a punch way above its weight. Brilliant."
— Lisa Johnson, Penguin Bookshop, Sewickley, PA
Description
---
A TODAY SHOW #ReadWithJenna BOOK CLUB PICK!
A New York Times Notable Book

For readers of Tommy Orange, Yaa Gyasi, and Jhumpa Lahiri, an electrifying debut novel about three unforgettable characters who seek to rise—to the middle class, to political power, to fame in the movies—and find their lives entangled in the wake of a catastrophe in contemporary India.

In this National Book Award Longlist honoree and "gripping thriller with compassionate social commentary" (USA Today), Jivan is a Muslim girl from the slums, determined to move up in life, who is accused of executing a terrorist attack on a train because of a careless comment on Facebook. PT Sir is an opportunistic gym teacher who hitches his aspirations to a right-wing political party, and finds that his own ascent becomes linked to Jivan's fall. Lovely—an irresistible outcast whose exuberant voice and dreams of glory fill the novel with warmth and hope and humor—has the alibi that can set Jivan free, but it will cost her everything she holds dear.

Taut, symphonic, propulsive, and riveting from its opening lines, A Burning has the force of an epic while being so masterfully compressed it can be read in a single sitting. Majumdar writes with dazzling assurance at a breakneck pace on complex themes that read here as the components of a thriller: class, fate, corruption, justice, and what it feels like to face profound obstacles and yet nurture big dreams in a country spinning toward extremism. An extraordinary debut.
About the Author
---
MEGHA MAJUMDAR was born and raised in Kolkata, India. She moved to the United States to attend college at Harvard University, followed by graduate school in social anthropology at Johns Hopkins University. She works as an editor at Catapult, and lives in New York City. A Burning is her first book. Follow her on Twitter @MeghaMaj and Instagram @megha.maj
Praise For…
---
INSTANT NEW YORK TIMES BESTSELLER

A TODAY SHOW #ReadWithJenna BOOK CLUB PICK and one of the most anticipated books of summer 2020 by the New York Times, the Wall Street Journal, Entertainment Weekly, Vogue, O, Elle, The Millions, and Lit Hub

"Riveting...This is a novel of our pandemic times, an exploration of precarity in all its forms...Majumdar excels at depicting the workings of power on the powerless... Fate has rarely been so many-faced, so muscular, so mercurial, or so mesmerizing as it is in A Burning."
—The New York Times Book Review [cover]

"Powerful... propulsive...This is a book to relish for its details, for the caress of the writer's gaze against the world... The interplay of choice and circumstance has always been the playing field of great fiction, and on this terrain, a powerful new writer stakes her claim."
—Parul Sehgal, The New York Times

"The must-read novel of the summer… This all-consuming story rages along, bright and scalding… Majumdar demonstrates an uncanny ability to capture the vast scope of a tumultuous society by attending to the hopes and fears of people living on the margins. The effect is transporting, often thrilling, finally harrowing… Majumdar's outrage is matched only by her sympathy for these ordinary people… [A Burning] is a damning critique of a culture that generates constant upheaval but no systemic change."
—Ron Charles, The Washington Post

"Immersive...masterly... the elements of a thriller are transmuted into prismatic portraiture... A Burning has a similar urgency of appeal [to Faulkner's As I Lay Dying.] Its characters are at the very front of the stage, and we can feel their breath... Her spare plot moves with arrowlike determination...I can't remember when I last read a novel that so quickly dismantled the ordinary skepticism that attends the reading of made-up stories. Early Naipaul comes to mind as a precursor, and perhaps Akhil Sharma's stupendously vivid novel Family Life... It's only at the end of this brief, brave novel that one becomes fully aware of how broad its judgments have been, how fierce and absolute its condemnations. Through the gaps that open up among and behind these three characters, a large Indian panoply emerges."
—James Wood, The New Yorker

"Powerful...a gripping thriller with compassionate social commentary... It's hard not to feel intense heartache while reading A Burning. Majumdar's powerful debut is carefully crafted for maximum impact, carving out the most urgent parts of its characters for the whole world to see. This novel rightfully commands attention."
—USA Today

"In her captivating debut novel A Burning, Megha Majumdar presents a powerful corrective to the political narratives that have dominated in contemporary India."
—Time

"Propulsive...ambitious...beautiful and supple...heartbreaking."  
—The Boston Globe

"Remarkable…Early buzz is already comparing A BURNING to the work of modern literary stars . . . but the voice—or voices—here are entirely Majumdar's own."
—Entertainment Weekly

"Combines fast-paced plotting with the kind of atmospheric detail one might find in the work of Jhumpa Lahiri or Daniyal Mueenuddin. . . A highly compelling read"
—Vogue

""Majumdar's explosive first novel is an intimate epic"
—O Magazine

"Unforgettable"
—Harper's Bazaar

"A Burning by Megha Majumdar is quietly beautiful and devastating. Its tone and pacing are measured perfectly. It is as funny as it is sad. This book won't let you go, and you won't want it to end."
—Tommy Orange

"A BURNING is an excellently crafted, utterly thrilling novel full of characters that I won't soon forget.  Megha Majumdar writes about the ripple effects of our choices, the interconnectedness of our humanity, with striking beauty and clarity. A stunning debut."
—Yaa Gyasi

"Megha Majumdar's soon-to-be published A Burning is the best debut novel I have come across in a long time. Somehow Majumdar succeeds in capturing the boundless energy and starry-eyed hopefulness of the country's youth. A Burning signals the arrival of a new voice of immense talent and promise."
—Amitav Ghosh

"Polyphonic…Lovely is a particular gem…brilliant"  
—Kirkus Reviews

"This is a novel of now: a beautifully constructed literary thriller from a rare and powerful new voice."
—Colum McCann
Coverage from NPR