Your One & Only (Hardcover)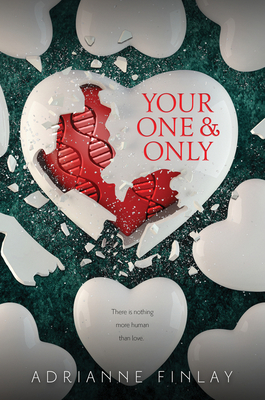 $17.99
Email or call for price.
Description
---
Jack is a walking fossil. The only human among a sea of clones. It's been hundreds of years since humanity died off in the slow plague, leaving the clones behind to carry on human existence. Over time they've perfected their genes, moving further away from the imperfections of humanity. But if they really are perfect, why did they create Jack?

While Jack longs for acceptance, Althea-310 struggles with the feeling that she's different from her sisters. Her fascination with Jack doesn't help. As Althea and Jack's connection grows stronger, so does the threat to their lives. What will happen if they do the unthinkable and fall in love? 
 
 
About the Author
---
Adrianne Finlay received her PhD in literature and creative writing from Binghamton University. Originally from Ithaca, New York, she now lives in Cedar Falls, Iowa with her husband, the poet J. D. Schraffenberger, and their two young daughters. She is an associate professor of English and the Program Director of Creative Writing at Upper Iowa University in Fayette, Iowa. When she's not writing, reading, or grading, she's making soap to sell locally, raising money for type 1 diabetes research.Visit adriannefinlayauthor.com.
Praise For…
---
"A world without disease, strife and, war. Perfect, right? But what if it's also missing its heart? We fell for Jack and Althea's romance, which is made to order for fans of The Giver,
Delirium and Warm Bodies, because woven into this fast-paced and romantic sci-fi is a thoughtful look at what it really means to be human."—Justine Magazine

"...Finlay has created a thought-provoking tale that explores conformity, individuality, and what it means to be human...With imaginative, vivid world building, this should appeal to fans of Lauren Oliver's Replica (2016)."  —Booklist

★ "Like the works of Ursula K. LeGuin, inside this lyrically written, suspenseful tale is a deeply humane thematic core."—Kirkus Reviews, starred Review

"Readers will feel fully immersed in this new reality. A great choice for lovers of postapocalyptic story lines." –School Library Journal

"Haunting, moving and provocative, Your One & Only asks questions that will linger after you're finished reading—Adrianne Finlay is a debut to watch."
—Amie Kaufman, New York Times bestselling co-author of Illuminae and These Broken Stars 

"This is such a fascinating, clever story, with characters I truly grew to love and a plot that never stopped moving! As soon as I started reading, I found myself turning pages furiously, so excited to see what would happen next. A truly original and inventive story for my fellow lovers of sci-fi."
—S.J. Kincaid, New York Times bestselling author of The Diabolic

"Fans of Kiera Cass's series, The Selection, will enjoy watching Jack and Althea-310's relationship grow into a love only humans could experience."--VOYA

"In this consistently well-structured world, Finlay weighs the cost of conformity verses rebellion, and the narrative's gracefully restrained style amplifies the story's profound underlying emotions."--Publishers Weekly