Out of the Wild Night (Paperback)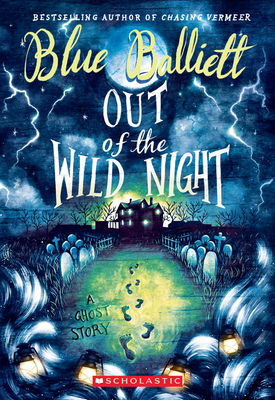 Description
---
Ghosts are alive on the island of Nantucket. You can hear them in the wind, and in the creaks of the old homes. They want to be remembered. And, even more, they want to protect what was once theirs.

The ghosts seem to have chosen a few local kids to be their messengers -- and to help save the island. But in this mystery, the line between those who haunt and those who are haunted is a thin one -- and the past and the present must come to terms with one another in order to secure the future.
About the Author
---
Blue Balliett is the author of several bestselling, acclaimed mystery novels, including Hold Fast, Chasing Vermeer (a Book Sense Book of the Year and an Edgar Award winner), The Wright 3, The Calder Game, and The Danger Box. She writes in the laundry room of her home in Chicago, Illinois, and you can find her online at blueballiettbooks.com.
Praise For…
---
Praise for Chasing Vermeer:

"Balliett is an original... Thick with devilish red herrings, this smart, playful story never stops challenging (and exhilarating) the audience." -- Publishers Weekly

"Puzzles, codes, letters, number and wordplay, a bit of danger, a vivid sense of place, and a wealth of quirky characters enrich the exciting, fast-paced story that's sure to be relished by mystery lovers." -- School Library Journal


Praise for TheWright 3:

* "Another tour de force." -- Kirkus Reviews, starred review


Praise for The Calder Game:

* "Balliett outdoes herself with this ambitious novel." -- Publishers Weekly, starred review

* "Balliett again offers readers new ways to think." -- Booklist, starred review


Praise for The Danger Box:

* "This highly satisfying story will enlighten readers even as it inspires them to think." -- School Library Journal, starred review

"A spine-tingling tale... kids are in for an adventure." -- Chicago Sun-Times


Praise for Hold Fast:

"[Blue Balliett's] latest and most heart-rending novel... [The] multi-faceted Early Pearl, ever observant and always pondering, shines as bright as any diamond." -- New York Time Book Review

* "Wonderful... will pierce all readers." -- Booklist, starred review

* "A moving story of homelessness, family, and the love of words and books... Enthralling and satisfying." -- Kirkus Reviews, starred review

* "Balliett paints a vivid picture, a literary composition reminiscent of an Impressionist painting . . . Excellent." -- School Library Journal, starred review

"This novel abounds in heart, shining a spotlight on the gritty truths about homelessness." -- Publishers Weekly

"Vivid and compelling." -- Bulletin of the Center for Children's Books