All the Crooked Saints (Paperback)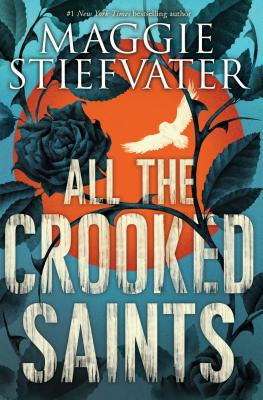 $10.99
Usually Arrives in Store in 1-5 Days
Staff Reviews
---
This lyrical foray into magical realism is a lush and intense read about family, love, and redemption. The Soria family, living on the edge of a desert, is a haven to pilgrims looking for miracles. Producing these miracles comes with at a price, however, and breaking their carefully constructed rules could destroy their family. One summer, Daniel, current saint and miracle worker, jeopardizes the future of the family, and his cousins Beatriz and Joaquin must look for their own miracles. Stiefvater's prose can't be beat, and this is no exception; her descriptive writing leaps off the page and you can really see the desert world she's created.
— From
Sami's 2017 Picks
Description
---
Here is a thing everyone wants:
A miracle.

Here is a thing everyone fears:
What it takes to get one.

Any visitor to Bicho Raro, Colorado, is likely to find a landscape of dark saints, forbidden love, scientific dreams, miracle-mad owls, estranged affections, one or two orphans, and a sky full of watchful desert stars.

At the heart of this place you will find the Soria family, who all have the ability to perform unusual miracles. And at the heart of this family are three cousins longing to change its future: Beatriz, the girl without feelings, who wants only to be free to examine her thoughts; Daniel, the Saint of Bicho Raro, who performs miracles for everyone but himself; and Joaquin, who spends his nights running a renegade radio station under the name Diablo Diablo.

They are all looking for a miracle. But the miracles of Bicho Raro are never quite what you expect.
About the Author
---
Maggie Stiefvater is the #1 New York Times bestselling author of the novels Shiver, Linger, Forever, and Sinner. Her novel The Scorpio Races was named a Michael L. Printz Honor Book by the American Library Association. The first book in The Raven Cycle, The Raven Boys, was a Publishers Weekly Best Book of the Year and the second book, The Dream Thieves, was an ALA Best Book for Young Adults. The third book, Blue Lily, Lily Blue, received five starred reviews. The final book, The Raven King, received four. Her latest book is All the Crooked Saints. She is also an artist and musician. She lives in Virginia with her husband and their two children. You can visit her online at maggiestiefvater.com.
Praise For…
---
Praise for All the Crooked Saints:

2017 Fall Kids Indie Next List
Publishers Weekly's Most Anticipated YA Books of Fall 2017
Amazon Best Book of the Month (September YA)

* "Stiefvater's lyrical, sure-footed, and often humorous prose guides readers through . . . this atmospheric tale of magic and romance." -- Bulletin of the Center for Children's Books, starred review

"Stiefvater weaves a rich history for this mythical homestead." -- Kirkus Reviews

"The desert setting, intricate family dynamics, and the power of love and music resonate." -- School Library Journal

"An amazing character study told in a bursting, lyrical style that captures your sense of wonder and leaves practicality at the door. . . A novel that feels universal and intensely personal all at once." -- The Fandom

Praise for The Raven King:

* "Expect this truly one-of-a-kind series to come to a thundering close." -- Kirkus Reviews, starred review

* "We have not yet finished loving these characters and exploring their world." -- The Bulletin, starred review

* "Stiefvater's razor-sharp characterizations, drily witty dialogue, and knack for unexpected metaphors and turns of phrase make for sumptuous, thrilling reading . . . . Readers will snap up the final installment the second it's available." -- Publishers Weekly, starred review

* "The prose is crisp and dazzling and the dialogue positively crackles." -- School Library Journal, starred review


Praise for The Dream Thieves:

* "Richly written and filled with figurative language . . . this story of secrets and dreams, of brothers and of all-too-real magic is an absolute marvel of imagination and an irresistible invitation to wonder." -- Booklist, starred review

* "Mind-blowingly spectacular . . . Stiefvater's careful exploration of class and wealth and their limitations and opportunities astounds with its sensitivity and sophistication. The pace is electric, the prose marvelously sure-footed and strong, but it's the complicated characters . . . that meld magic and reality into an engrossing, believable whole." -- Kirkus Reviews, starred review

* "A paranormal thriller . . . this installment [is] more tense and foreboding than its predecessor -- and every bit as gripping." -- Publishers Weekly, starred review

* "A complex web of magical intrigue and heartstopping action." -- The Bulletin, starred review

* "Readers who want a moody chill and appreciate an atmospheric turn of phrase will want to spend more time in Henrietta." -- School Library Journal, starred review

Praise for The Raven Boys:

"Stiefvater is a master storyteller." -- USA Today

"A dizzying paranormal romance tinged with murder and Welsh mythology." -- The Los Angeles Times

* "Simultaneously complex and simple, compulsively readable, marvelously wrought." -- Kirkus Reviews, starred review

* "A tour de force . . . such a memorable read." -- Publishers Weekly, starred review

* "One unexpected and wonderful surprise after another . . . a marvel of imagination." -- Booklist, starred review

* "The Raven Boys is an incredibly rich and unique tale, a supernatural thriller of a different flavor . . . . Fans have been salivating for Stiefvater's next release and The Raven Boys delivers." -- School Library Journal, starred review

"Equal parts thriller and mystery, with a measured dash of romance sprinkled on top . . . Maggie has woven such a unique, intriguing narrative that I struggled for comparisons." -- MTV.com

A Publishers Weekly Best Book of the Year

The Bulletin of the Center for Children's Books 2012 Blue Ribbons list