Don't Know Much About the Civil War (Abridged / Audio Cassette, Abridged)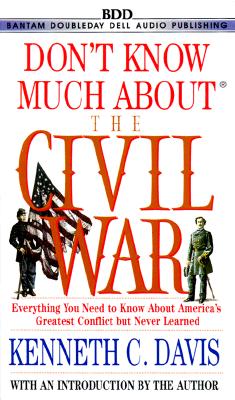 Email or call for price
Special Order -- Email or Call for Availability
Description
---
"What was the leading cause of death among Civil War soldiers? Why did Robert E. Lee resign from the U.S. Army? Which group was exempt from the Confederate draft? Whom did the Emancipation Proclamation emancipate? Was the Gettysburg Address truly written on the back of an envelope? Did General Sherman really say, "War is Hell?"

If you can't answer most of these questions, you're not alone. Millions of Americans, bored by dull textbooks, are in the dark about the most significant event in American history. Too many others thought they learned it all from Gone With the Wind.

Bestselling author Kenneth C. Davis sheds light on these and other questions about America's greatest conflict in this fascinating program, providing listeners with everything they "need to know" about the Civil War. With his deft wit and unconventional style, Davis sorts out the players, the politics, and the key events. Drawing on moving eyewitness accounts of the people who lived through the war, he brings listeners into the world of the ordinary men and women who made history -- the side of the story that textbooks never tell.

Don't Know Much About "RM" the Civil War explodes the myths and misconceptions about the war, its causes, and the men who fought on both sides. A brilliant crash course, it vividly brings to life Abraham Lincoln, Jefferson Davis, Generals Lee and Grant, Frederick Douglass and Harriet Beecher Stowe. It looks behind the battles and the tactics to the astounding human misery the war brought upon a divided nation, and includes a wealth of "hidden history," the lesser-known facts sure to fascinate even the most learned Civil War buff.