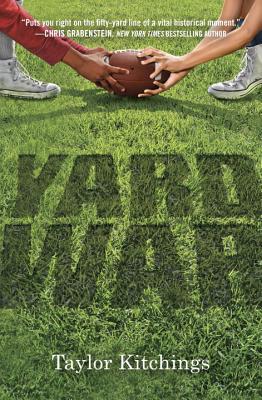 $16.99
Email or call for price.
Description
---
"Taylor Kitching's rousing debut puts you right on the fifty-yard line of a vital historical moment." --Chris Grabenstein, New York Times bestselling author of Escape from Mr. Lemoncello's Library
Perfect for readers of Christopher Paul Curtis's Bud, Not Buddy and Vince Vawter's Paperboy, Yard War explores race relations during the Civil Rights Movement from the perspective of a boy who accidentally sets off a "yard war" when he invites his maid's son to play football on his front lawn.
Trip Westbrook has spent his first twelve years far from the struggle for civil rights going on in Mississippi. The one black person he knows well is Willie Jane, the family maid, who has been a second mother to him. When Trip invites her son, Dee, to play football in the yard, he discovers the ugly side of his smiling neighbors. Trip's old pals stop coming by. He is bullied, his house is defaced, and his family is threatened. The Westbrooks will be forced to choose between doing the right thing or losing the only home Trip has ever known. Who knew that playing football in the yard could have such consequences? This engaging, honest, and hopeful novel is full of memorable characters, and brings the civil rights-era South alive for young readers. "Trip is a fine character. 1964 Mississippi leaps to life in this book."
--
Gennifer Choldenko, Newbery Honor winning author of
Al Capone Does My Shirts
"A captivating story about standing up for your friends. I loved seeing Trip learn how hard it can be to do the right thing."
--
Kristin Levine, author of
The Lions of Little Rock
and
The Paper Cowboy
"Trip's journey is a sensitive account about how one person can slowly make a difference." --
Booklist
"A challenging but worthwhile portrait of a very difficult period in American history."
--
SLJ
About the Author
---
Taylor Kitchings' roots in Mississippi run many generations deep, though it took him a while to circle back to them. As a college freshman, he recorded the original album Clean Break, now considered a collector's item. As a junior, he wrote music for mallet and giant Mobius strip, performed at Manhattan's Cafe La MaMa. In the years between his BA from Rhodes College and MA from Ole Miss, he traveled from Memphis to New York to Europe, writing and performing songs on piano. He and his wife Beth have two children and live in Ridgeland, Mississippi, where he teaches English at St. Andrew's Episcopal School. His short story "Mr. Pinky Gone Fishing" was published in the collection Tight Lines from Yale University Press. Yard War is his first novel.