Now I Rise (And I Darken #2) (Hardcover)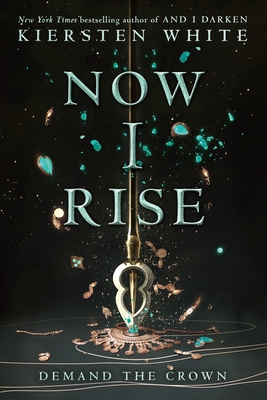 $18.99
Usually Arrives in Store in 1-5 Days
Staff Reviews
---
The sequel to And I Darken, Now I Rise is just as beautifully complicated and twisted as its predecessor. Separated for the first time, siblings Lada and Radu Dracul face nearly insurmountable challenges, made worse by their falling out. Lada, desperate to rule Wallachia, fights against convention, self-doubt, and her lingering feelings for Mehmed as she destroys anyone who crosses her path. Meanwhile, Radu is sent by Mehmed as a spy in Constantinople. Torn between his love for an emperor who does not trust him, and his respect for the people who should be his enemies, Radu longs for peace. As Lada and Radu soon learn, there is no peace to be had in the Ottoman Empire, especially for those drawn to its emperor.
— From
Sami's 2017 Picks
Description
---
The highly anticipated, mind-blowing New York Times bestselling sequel to Kiersten White's New York Times bestseller, AND I DARKEN—the series that reads like HBO's Game of Thrones . . . if it were set in the Ottoman Empire. 
 
A SISTER FILLED WITH RAGE
Lada Dracul has no allies. No crown. All she has is what she's always had: herself. After failing to secure the Wallachian throne, Lada is out to punish anyone who dares cross her. She storms the countryside with her men, but brute force isn't getting Lada what she wants. And thinking of Mehmed, the defiant Ottoman sultan, brings little comfort to her thorny heart. There's no time to wonder whether he still thinks about her, even loves her. She left him before he could leave her.

HER BROTHER CAUGHT IN THE CROSSHAIRS
Lada needs the support of her diplomatic younger brother, Radu. But Mehmed has sent him to Constantinople—and it's no diplomatic mission. Mehmed wants control of the city, and Radu has earned an unwanted place as a double-crossing spy behind enemy lines. And for the first time in his life, when Lada asks him for help, he refuses . . . leading his sister to make the darkest of choices.

THE ULTIMATE POWER PLAY
Torn between loyalties to faith, to the Ottomans, and to Mehmed, Radu knows he owes Lada nothing. If she dies, he could never forgive himself—but if he fails in Constantinople, would Mehmed ever forgive him? 

As nations fall around them, the Dracul siblings must decide: what will they sacrifice to fulfill their destinies? Empires will topple, thrones will be won . . . and souls will be lost. 

Fans of Victoria Aveyard's THE RED QUEEN and Sabaa Tahir's A TORCH AGAINST THE NIGHT won't want to miss this riveting and gorgeously written novel—the second in the And I Darken series.


★ "Gorgeous, rich, and rewarding."—Booklist, starred review

★ "Absolutely devastating in the best way."—Kirkus, starred review

"A+, 5 knives."—Amie Kaufman, New York Times bestselling co-author of the STARBOUND and ILLUMINAE FILES trilogies
 
"Fierce, epic, and crazy fun."—Melissa Albert, New York Times bestselling author of THE HAZEL WOOD

A Teen Choice Book Award nominee!


Praise for And I Darken:
 
"A dark jewel of a story, one that gleams with fierce, cunning characters—absolutely riveting." —Alexandra Bracken, #1 New York Times bestselling author of Passenger
 
"A dark, gritty, and seriously badass epic that will have you dying for more . . . required reading for every feminist fantasy fan." —BuzzFeed
 
"Evocative . . . this book takes no prisoners." —NPR
About the Author
---
KIERSTEN WHITE is the New York Times bestselling author of the And I Darken and Paranormalcy series, and many more novels. She lives with her family near the ocean in San Diego, which, in spite of its perfection, spurs her to dream of faraway places and even further away times.
 
kierstenwhite.com
Follow Kiersten at @kierstenwhite on Twitter and @authorkierstenwhite on Instagram.
Praise For…
---
Praise for NOW I RISE: 

★ "Gorgeous, rich, and rewarding."--Booklist, starred review

★ "Absolutely devastating in the best way."--Kirkus, starred review

"Lush and ominous."--SLJ

"A+, 5 knives."—Amie Kaufman, New York Times bestselling co-author of the STARBOUND and ILLUMINAE FILES trilogies
 
"Fierce, epic, and crazy fun."—Melissa Albert, New York Times bestselling author of THE HAZEL WOOD

"Kiersten White is a genius."—Justine Larbalestier, author of MY SISTER ROSA and LIAR


Praise for AND I DARKEN:
 
"A dark jewel of a story, one that gleams with fierce, cunning characters—absolutely riveting." —Alexandra Bracken, #1 New York Times bestselling author of Passenger
 
"Kiersten White at her absolute best. The epic story will thrill you, the Transylvanian setting will transport you, and the characters (especially the fierce, take-no-prisoners Lada) will capture your heart. Don't miss it." —Cynthia Hand, New York Times bestselling author of the Unearthly series
  
"Sweeping and epic, AND I DARKEN is a gender-bent take on history that gives us a fierce and brutal heroine, a fascinating time period, and a beautifully intelligent look at love, family, and power. I loved every twisty, bloody moment of it!" —Rachel Hawkins, New York Times and USA Today bestselling author 

"As richly complex and glittering as the Ottoman Empire itself, AND I DARKEN is daring in its scope and brilliantly executed. The fiercely dark Lada is a razor-edged sword tempered in the blood of family betrayals and the fire of her own passions. I was instantly and utterly smitten. She haunted me long after I turned the final page and left me craving more." —Robin LaFevers, New York Times bestselling author of the His Fair Assassin series

"A jewel of a book—a jewel embedded in the hilt of a blood-soaked sword. A brilliantly envisioned alternate history that is meticulously detailed but compulsively readable, this is a story I could not put down. I demand the sequel like Lada demands Wallachia!" —Beth Revis, New York Times bestselling author of the Across the Universe series

"An intense, risky, passionate novel that dragged me through love and danger with the force of its heroine's heart and the power of its hero's faith." —Tessa Gratton, author of the Gods of New Asgard series
 
"Girls with teeth and priorities. I want to read this book forever." —E. K. Johnston, author of A Thousand Nights

★ "Full of sword fights, assassination plots, and palace intrigues, this novel is ambitious in scope and concept and reveals a fascinating, important, and somewhat obscure slice of history . . . the novel is breathtakingly good." —School Library Journal, Starred review

★ "White deftly weaves historical fact into this complex concoction of love, war, politics, homosexuality, religion, loyalty, and friendship." —Booklist, Starred review
  
An Amazon Best of the Month Selection
 
"A dark, gritty, and seriously badass epic that will have you dying for more . . . required reading for every feminist fantasy fan." —BuzzFeed
 
"Evocative . . . this book takes no prisoners." —NPR
 
"An addictively readable book with a depth and richness that justifies every one of its 496 pages." —The Salt Lake Tribune
 
"A dark, vicious book with beautiful storytelling, well-developed characters, and a fast-paced, intricate plot." —Paws and Paperbacks
 
"Fantastic." —One Page at a Time
 
"Dark, mesmerizing, and addictive." —A Cupcake and a Latte
 
"Fascinating." —Cracking the Cover
 
"A feast for the senses." —Book Swoon
 
"The twists become gut wrenching . . . I can't wait to see what else White has in store for us!" —Under the Covers

"And I Darken was incredible . . . amazing alternate history because it felt SO real . . . it's all so complicated in the best way, sometimes loving and sometimes toxic." —Gone With the Words

"Vicious and unforgiving and ruthless and oh so enthralling. Also, the FEELS." —Star-Crossed Book Blog

"A jewel. . . . I personally love this book to the core." —When Curiosity Killed the Cat

"White does everything right. . . . Fast-paced, exquisitely detailed enough to bring this familiar era to life, and with the added benefit of revisiting one of history's most infamous warrior-rulers, there is nothing not to love in And I Darken. Waiting to see how the rest of Lada's story unfolds is going to be excruciating." —That's What She Read

"A dark, twisted, savagely beautiful story almost gothic in its imagery and fearless in its storytelling. It is an immersive experience; one I fully intend to revisit often. It's witty, at turns touching, more than occasionally funny, and unapologetically violent. . . the beginning of a journey of self-discovery, romance, angst, loyalty, betrayal, sacrifice, and war." —Shelf Envy