Hayley the Hairy Horse (Fables from the Stables) (Paperback)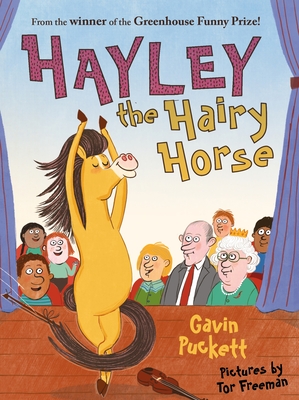 Description
---
Hayley the Horse is a beauty
Her sleek tail was glossy, her black mane perfection.
Her coat shone so bright you could see your reflection. And when she gets a haircut . . . she is proud to see her locks used to make fine paintbrushes and bows for violins. But when the famous violinist La Rue comes to town and spots Hayley, he hatches a plan to steal her whole tail. So Hayley has to be strong - this horse couldn't fail. There was no way on earth he was taking her tail She is going to put on a performance that the Queen will never forget
A laugh-out-loud horsey fable.
About the Author
---
Gavin Puckett lives in South Wales with his wife, his young son and their cat, George. He spends his days working as a school liaison officer with the police. Tor Freeman is a Londoner and a freelance illustrator since she graduated from Kingston University with a BA in Illustration in 1999. In 2012 she was awarded a Sendak Fellowship.