What Is Left the Daughter (Hardcover)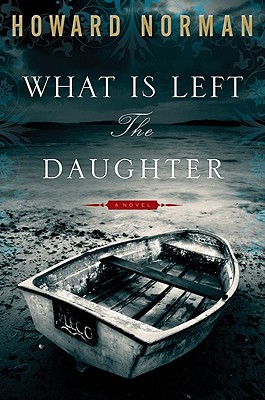 $25.00
Email or call for price.
July 2010 Indie Next List
---
"In a letter to his daughter on her 21st birthday, Wyatt Hillyer tells his intense life story, along with that of his parents, in elegant prose belying astonishing events. After his parents' almost simultaneous suicides as the result of a love triangle, the teenaged Wyatt falls hard for his lovely cousin Tilda, while she only has eyes for the mysterious German student Hans. In a tiny Nova Scotia village during WWII, suspicion and violence play out along with the passions of this intimate circle of rich, distinct characters you will not forget."
— Carla Jimenez, Inkwood Books, Tampa, FL
Description
---
Howard Norman, widely regarded as one of this country's finest novelists, returns to the mesmerizing fictional terrain of his major books--"The Bird Artist," "The Museum Guard," and "The Haunting of L"--in this erotically charged and morally complex story.
Seventeen-year-old Wyatt Hillyer is suddenly orphaned when his parents, within hours of each other, jump off two different bridges--the result of their separate involvements with the same compelling neighbor, a Halifax switchboard operator and aspiring actress. The suicides cause Wyatt to move to small-town Middle Economy to live with his uncle, aunt, and ravishing cousin Tilda.
Setting in motion the novel's chain of life-altering passions and the wartime perfidy at its core is the arrival of the German student Hans Mohring, carrying only a satchel. Actual historical incidents--including a German U-boat's sinking of the Nova Scotia-Newfoundland ferry "Caribou," on which Aunt Constance Hillyer might or might not be traveling--lend intense narrative power to Norman's uncannily layered story.
Wyatt's account of the astonishing--not least to him-- events leading up to his fathering of a beloved daughter spills out twenty-one years later. It's a confession that speaks profoundly of the mysteries of human character in wartime and is directed, with both despair and hope, to an audience of one.
An utterly stirring novel. This is Howard Norman at his celebrated best.
Praise For…
---
"The quiet power of this book comes on slowly and unrelentingly, offering a mesmerizing look into one man's past. Creating one of the most captivating and effective uses of the retrospective letter format in recent memory, Norman's prose is understated, eloquent and perfectly chosen, and his novel paints a picture of one man's legacy that will not soon be lost." 
—BookPage "The latest from master of precision Howard Norman is again set in the gray majesty of Nova Scotia, where 17-year-old orphan Wyatt Hillyer moves in with his devoted aunt and uncle and their adopted daughter, Tilda, the love of stoic Wyatt's life. The ravages of Hitler and his dastardly German U-boats lurking beneath Canadian waters hit their home hard. In What Is Left the Daughter, Norman writes with spare elegance and dry humor, and the extraordinary emotional power of his slim new novel is earned with authentic grace. Grade: A" 
—Entertainment Weekly "Fans of Howard Norman's THE BIRD ARTIST will recognize the venue and the oddball characters in the author's beautiful new novel, WHAT IS LEFT THE DAUGHTER....Norman turns a tiny town into an entire world in which even the most heinous sins can—almost—be forgiven." 
—O, The Oprah Magazine "Howard Norman has captured the fear and suspicion that World War II brought to the East Coast perfectly, as news reports circulate and the silent and spooky threat of the U-boats is ever-present….Norman also captures the speech and texture of life in Nova Scotia with gentle humor and deft description…No improvement needed [for WHAT IS LEFT THE DAUGHTER]; it is perfect." 
—Shelf Awareness "[A]n expertly crafted tale of love during wartime…Norman's writing is effortless, and his plot is grand in scope but studded with moments of tenderness and intimacy that help crystallize the anxiety and weariness of life on the home front. That Norman is able to achieve so much in 250 pages is a testament to his mastery of the craft."
—Publishers Weekly , STARRED
"Norman (best known for The Bird Artist, 1994) scores again with this gripping account of a family ripped apart by obsession and murder...It is extraordinary that a story which carries such a weight of sorrow is never depressing, but Norman the master craftsman pulls it off." —
Kirkus,
STARRED "Norman's piquant insights into life's wildness, human eccentricity, and love's maddening persistence are matched by rhapsodic and profound descriptions of everything from perfectly baked scones to pelting rain and the devouring sea, while anguish is tempered with humor, thanks to rapid-fire banter and marvelously spiky characters." 
—
Booklist, STARRED
"Howard Norman's new novel, WHAT IS LEFT THE DAUGHTER, is the best story of love in the time of war I've ever read. And yes, that includes COLD MOUNTAIN AND A FAREWELL TO ARMS....WHAT IS LEFT THE DAUGHTER affirms what many of Howard Norman's readers have known since he published his magical first novel, THE NORTHERN LIGHTS. Norman is most certainly one of America's three or four best novelists, with a uniquely wise and tolerant vision of his characters and all human beings everywhere. So let's not mince words. WHAT IS LEFT THE DAUGHTER is a literary masterpiece that will, I guarantee it, live on in your heart, and mine, forever." —Howard Mosher, Amazon.com "Howard Norman is a master storyteller, packing provocative details into virtually every sentence of this short, but hardly slight, novel....What is left the daughter--and the reader--here is the gift of one man's utterly human, heartbreaking life story." 
BookBrowse.com
"This saga of sorrow, love, and a father's desire to meet his grown daughter displays power...moving" —Boston Globe 

"You lean in, trying to catch every word, lulled by [Norman's] voice as he describes the most ordinary lives that just happen to be punctuated by macabre accidents. . . . Norman offers a kind of rough-hewn poetry throughout [with an] ardor that shimmers just below the surface." —Washington Post

"Reminiscent of a classic Robert Frank black-and-white photograph, this candid, everyday portrait discloses intricate webs of wistfulness and resignation. Norman raises absorbing moral quandaries, particularly about the possibilities of forgiveness...The epistolary form of this novel is a cri de coeur from an author faithful to the printed word in a time of promiscuous texting, friending and tweeting. Students today who can't write in cursive are able to e-mail across the world. The reflective, personal storytelling in "What Is Left the Daughter" reminds us of the potential beauty, intimacy and wisdom offered by two endangered genres—the letter and the novel." —Los Angeles Times